CAPCLAVE
CHRONICLE
Issue #2: Saturday Morning
Missing in Action
The following scheduled panelists will not be able to attend:
Scott Edelman
David Hartwell
Paul Levinson
Dr. Dave Theison
Their panels will still go on but with some lineup changes.
Panel Changes
Bioscience (Severin: Sat 1 - 2) Add Perrianne Lurie and Sam Scheiner

25 Years of Stan (Council: Sat 2:30 - 3:30) Add Fran Van Cleave

Crossing the Genres (Severen: Sat 2:30 - 3:30) add Tee Morris

Appeal of Mars (Severen: Sun 10-11) add John Hemry

How Do You Make Fans (Severen: Sun 1-2) add Lawrence Watt-Evans and Will Ludwigsen

Reading (Assembly: Sun 1 -2) Replace Paul Levinson with Tee Morris
Fast Forward
The Science fiction interview cable television show Fast Forward can be viewed in Arlington and Fairfax counties. They now have a website. http://www.fast-forward.tv. They will show the October episode, featuring Roger MacBride Allen, Saturday night in the Council Room, after the NASA Presentation.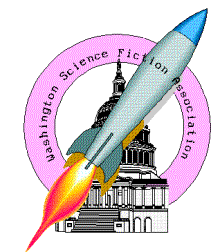 WaterClave II
The water leaks on the second and third floors were caused by the Friday night's showing of Waterworld -- thou shall not mock Kevin Costner.
Free Magazines
Stanley Schmidt generously brought several boxes of recent issues of Analog and Asimov's magazines. They are available in the Assembly room.
Get Well Charles
Local writer, Charles Sheffield is seriously ill with a brain tumor. We will put a card in the Assembly room for people to sign.
No Hallway Hollering
Although the 7th floor is our party room, there are non-sf fans occupying some of the rooms. Please be quiet while traveling between panels.
Tip the Maids (Not the Cows)
It is customary to tip the maids $1 per person in the room.
Assembly Room Closed
Assembly Room closed 8 - 9 PM to set up for the autographing party.
Reminder
The NASA Presentation on the Hubble and James Webb Space Telescopes will take place Saturday from 8 PM to 9 PM in the Council Room.