---
Getting There

The Holiday Inn College Park is on U.S. Route 1, due north of DC, just outside (and visible from) the Beltway [95]. GPS or mapping location: N39°1.2', W76°55.6'.
It is really VERY easy to get to the hotel. Just get on the DC beltway and get off at exit 25 on Rt.1 going North. These Instructions are probably too detailed.
Note that 95 turns into the eastern DC Beltway and 495 goes around DC on the west.
From the North, take 95 South to the Beltway. When 95 forks, take the leftmost lane in the right branch, under the signs for 495/Rt. 1/exit 25. From the West, via 495 follow the signs to Rt. 1 North at exit 25. The lane for Rt. 1 splits off a long ways before you get to the exit, so watch the signs and generally stay right.
On the ramp at exit 25 bear left onto the lane which loops under Rt. 1 to Rt. 1 North. Take the first left beyond the traffic light; just past the hotel. Enter the parking lot to your left.
From the South or East, take the DC beltway[95] around to exit 25. The hotel will be right in front of you at the top of the ramp, turn right, take the next left, and enter the parking lot to your left.
By Air or Train: From National Airport, take the DC metro to the Greenbelt station [on the Green line], the hotel is a short taxi ride from the station, or ask the hotel about their shuttle bus when you arrange for your room. Greenbelt station also serves MARC. At other Airports, take a commercial shuttle. Amtrak's Union station is a convenient place to switch to a Metro train. Airport Shuttles: Airport Connection 800-284-6066 Super Shuttle 800-258-3826 Aero Shuttle 800-673-0174 All shuttles serve BWI, Super & Aero serve National, but only Aero serves Dulles.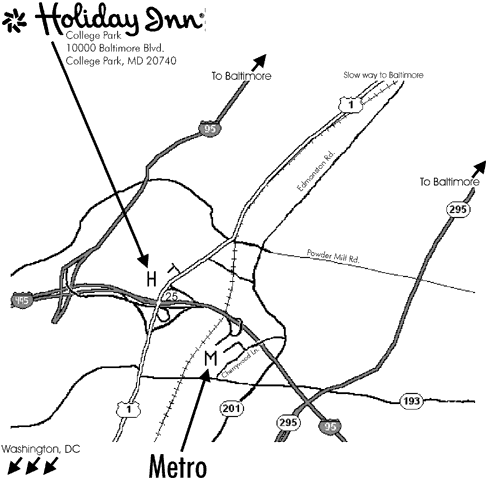 ---
Last updated 11/3/97 [Disclave Home] [WSFA Home]
---