WSFA meeting, October 3, 2003. Notes taken by Lee Gilliland; thanks Lee!
Judy Kindell presiding. No Bob. No Sam. Commentary ensued regarding the last named items.
The entertainment committee reported that Rush Limbaugh self-destructed entertainingly.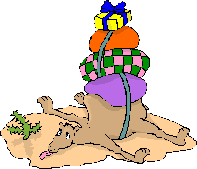 World fantasy convention-in 30 days it's all going to be over. The convention will have taken place. Jack Williamson will unfortunately be unable to attend, but the artist guest of honor is sending a postcard with an illustration of one of Jack's stories to Jack, and he will be signing them and returning them to the convention for distribution. Fred Pohl, in this case a "younger collaborator", will be attending. So will "a boatload of authors". Garth Nix and Charles de Lint will also be in attendance. They have made the room block.
Mike has been whacking at a camel's nose. He claims the camel deserves it. He claims the volunteer rate for the convention is more than mere money is worth. This last was a quote.
Capclave present wasn't. However, Lee stopped in valiantly and ask for show of hands on how many people have hotel rooms. Three hands were raised. Lee then gave them hell. Capclave future had no phone in until Thursday, and so was unable to contact the hotel in order to sign a contract. She therefore felt unable to release details. Her new cell phone number 571/643-2842.
Publications committee: The September 1988, February 1989, May 1989 and June 1989 Journals are needed for website. Everything later than that is available on line.
The website needs sponsors. Barry Newton is sponsoring November, George Shaner will have December. The WSFA e-mail list has a dearth of people. The question was raised whether it was possible to get a daily digest of messages, because when we had all lot of messages, some people(me) had difficulty with the amount their e-mail would allow. Keith wanted to know if this was a current problem. Considering on good days the e-mail list has two messages it is not a current problem. It was a past problem. We dropped it.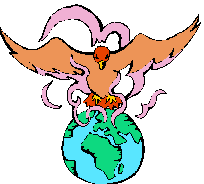 Announcements: The hostess at her usual announcement. Elizabeth is stuck in Phoenix in October and has nothing to do. She was wondering what to do in such a place with no car. Judy Kindell, who is from Phoenix, said she's screwed. Elizabeth said she would be playing with her members.
Cat announced that her family is organizing a Return of the King party at the Uptown Theater on December 16. The theme is the threesomes of gollum in fancy dress. Nicki Lynch announced copies of Mimosa for sale
We have visitors: Anne Reed, Dennis Casolo, Mike Patterson, and Otis Brooks.
Steve Smith announced Kit is having a showing of her art at the Savory Cafe in October. Mike Walsh announced he was selling a book of Avram Davidson's Limekiller stories.
Eric Jablow read the winners of the Ig Nobel prizes. This can be found at http://www.improb.com/ig/ig-pastwinners.html
Attendance: President Judy Kindell, VP Cathy Green, Trust. Adrienne Ertman, Trustee Steven Smith, Trustee Keith Lynch, 2004 Chair Lee Gilliland, 2005 Chair Mike Walsh, Alexis and Charles Gilliland, Scott Hofmann, Eric Jablow, Jim Kling, Elspeth Kovar, Bill Lawhorn, Nicki and Richard Lynch, Wade Lynch, Keith Marshall, Cat Meier, Walter Miles, Larry Pfeffer, George Shaner, Bill Squire, Michael Taylor, Elizabeth Twitchell, James Uba, Ivy Yap, Madeleine Yeh, Dennis Caswell, Michael Pederson, E.C. "Stan" Field, F.L. Ahsh, Otis Brooks, Anna Reed.
Abhorsen by Garth Nix
Reviewed by Samuel Lubell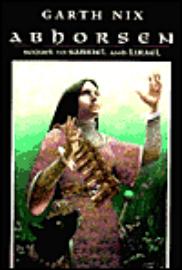 Abhorsen claims to be a sequel to Lirael: Daughter of the Clayr which itself was a sequel to the excellent Sabriel. In reality however, it is the missing climax to Lirael, an otherwise wonderful coming-of-age fantasy novel that was missing the final confrontation. Unfortunately, that is all Abhorsen is. Clearly we have a case where someone decided there was too much story for one novel (but not enough for two) and cut it anyway. I believe it was the wrong decision, a shortened form of Abhorsen would have worked well as the ending of Lirael but does not fully satisfy as book by itself.
What I liked about Lirael were the two main characters' search for identity. These are YA novels and reflect the "who am I, what will I be" concerns of adolescents. The female lead, Lirael, had grown up in the ice-fortress of the Clayr, a clan of female mystics who all have the ability to see the future - all except for Lirael. Instead, she has powerful mage abilities that allow her to explore secret areas of the library and have adventures with her only friend, the Disreputable Dog, a magical construct in the shape of a talking dog (and a wonderful character). But she still longs for the abilities of the Clayr and considers nothing as important as the Sight, even when she defeats monsters and saves others' lives.
Meanwhile Prince Sameth, who is supposed to be training to be the Abhorsen-in-Waiting and assume his mother's job of defeating necromancers and the undead who infest the kingdom, has an adventure that leaves him almost dead and with a debilitating fear of going into death, a vital part of the Abhorsen job. But when a friend of his is captured by the necromancer as part of a plot to awaken a forbidden power, Sameth (called Sam) runs away from the castle (as much to escape his duties as to help his friend) and encounters Lirael who is following a vision from the Clayr. The book ends with the two besieged at Abhorsen House, where Lirael learns her true identity and destiny.
All that happens in Lirael. In Abhorsen, Sam and Lirael fight their way to the border, while Sam's parents deal with an assassination attempt, fight their way to the necromancer, while Sam's friend gradually realizes that something is wrong, and then fight the necromancer. Most of the rich texture and questioning of identity that went on in Lirael is lost here, in favor of straightforward conflict. There are still many interesting bits on the relationship of the Old Kingdom with the lands where magic doesn't work and the revelation of the true identity of the Disreputable Dog.
The two previous books, Sabriel and Lirael, were so good that one ignores the flaws in this one just to see how everything turns out in the end. But no reader should read this without at least first reading Lirael as this does not stand alone. Still, I strongly recommend the series as a whole, and the flaw in Abhorsen failing to be more than the missing end of Lirael is easily overlooked when the two are read one right after the other which is the way I think all readers should do it.
Stars, Edited by Janis Ian and Mike Resnick (DAW Books)

Reviewed by Samuel Lubell

Stars is an unusual anthology. Unlike most anthologies, it is not a collection based on a theme (alternate history, dinosaurs, nanotechnology etc.) or a "best of the year". Instead, it is a collection of original stories based (or more accurately loosely inspired by) the songs of Janis Ian, a pop/folk singer who is also a science fiction fan. Also, while most original anthologies, and for that matter magazines, have a few big names to put on the cover but fill much of their contents with lesser-known names, practically all the writers here are major names (which is fortunate as the stories lack any introduction and description of the writer are all, for some strange reason, at the back of the book). The authors include:

The stories are very high quality with a good mix of classic sf and fantasy with stories that are dreamlike images. Bisson's "Come Dance With Me" tackles teen-age suicide, Tad Williams retells Joan of Arc, Haldeman (and many of the others) tackles racial prejudice, Varley gives a new twist on alien invasions (the aliens care nothing for humans, they want our butterflies), Mercedes Lackey contributes a Valdemar story, Kage Baker has an unusual fairy-tale romance etc. Alexis Gilliland has cartoons.
This will probably be the stand-out anthology of 2003 and I would not be surprised to see a couple of these on the Hugo and Nebula ballots. Highly recommended.
Review of Spider Robinson's Callahan's Con.
Reviewed by Samuel Lubell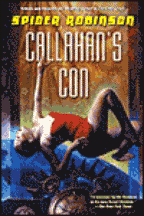 Previous books in the popular Callahan's series had the various dysfunctional and/or unusual patrons of The Place fending off alien invasion and saving the universe (or at least the world) while learning how to open up to each other and become telepathic. In this book, the patrons of the bar, including a talking dog, a merman, a talking deer, the bulletproof veterans of previous adventures, and a time-travelling supergenius 12-year-old face off against a single mobster. Worse yet, a single mobster is described as exceptionally stupid. The main problem is not defeating him, but defeating him in a way that does not reveal their secret superpowers. But even so, the method chosen seems overly complicated, using time travel to simulate the fountain of youth.
As usual in this series, the plot is more an excuse to portray jokes, puns, and smart people having fun with friends. Perhaps recognizing the weakness of the plot, Robinson provides a couple of subplots about a bureaucrat investigating the homeschooling provided for the supergenius and the illness of a longtime fan-favorite character, but these rarely intersect the main story. Also, there's a surprise emergency starting about page 230, caused by a character behaving abnormally stupidly (enough that the other characters have to rationalize it). Unfortunately, much of this surprise is ruined by being portrayed on the cover and hinted at in the jacket copy.
This book is cotton candy fluff `science' fantasy. The time travel, talking animals, bulletproof characters etc. is dismissed with the minimum of explanation. At this point the series is not so much science fiction as it is a Justice League comic book (the `80s funny incarnation). There is, however, one bit of real science - the need to compensate for the motion of the Earth when doing time travel. This becomes a major plot point.
I liked Callahan's Key, the previous book in the series, because it broke with the formula (the characters engage in a long road trip for most of the book) and because of the wonderful character of Erin, the then-baby supergenius. Erin is the best thing in Callahan's Con, but she is not enough to compensate for the formula feel of much of this book. It's a nice enough book, but just average for this series. Fans of the Callahan series will read it and wait for the next one but I doubt it will be many fans' favorite. Everyone else can safely skip it.
Review of Rosemary Kirstein's The Steerswoman's Road (Del Rey 2003)
A review by Colleen R. Cahill
What if I told you of a book about a woman searching for magical blue jewels in a feudal land, fighting off dragons and wizards with the help of her trusty barbarian friend: you would call it a fantasy, right? And that is how Rosemary Kirstein's The Steerswoman's Road seems to start. But appearances can be deceiving and soon you realize this is a science fiction story in fantasy clothing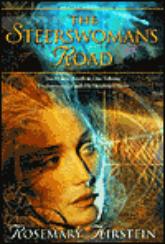 Rowan is a steerswoman: she travels through the In Lands and Outskirts seeking knowledge and will answer any question ... as long as you are willing to answer any from her. She keeps a detailed notebook, recording flora and fauna, culture and custom, with just about any data that seems useful. She and her fellow steerswomen and steersmen send their logs back to a central archives, where the information is gathered, cataloged and shared with all. All who are not under ban, such as the wizards, who have refused to share their learning with anyone, just the opposite of the Steerswomen.
It is the way Rowan looks at the world that tells me the book is science fiction. In just a half dozen pages, she displays skills of a trained observer, an analyst and a researcher. This is a person after detailed, logical knowledge, building a hypothesis on reports and hard evidence. Through the story, Rowan runs into wizard "magic" which the reader will eventually recognize as technology - such as the eastern and western guidestars, that never move in the sky, or a wizard's magically guarded box that shocks anyone who tampers with it. What Kirstein has done is not make Rowan a genius who can see it all. Rather, she gathers pieces of the puzzle and sometimes follows the red herring. Only after careful study, with many notes and tests, does she reach a conclusion, but not always the one we reach.
Rowan is believable because she doesn't figure out technology at one, two or even three exposures. Her search for the blue gems brings her to the attention of the wizards, especially one wizard who decides that the world would be a better place with one less steerswoman. While there is a hierarchy to the wizards, they are often at war with each other and Rowan has to learn who can be trusted at least as some level and with what information.
One distraction I felt with the book was the complete altruism of the steerswomen. As Rowan states "Whatever doesn't affect our work, doesn't matter." This means they seem immune to the temptations of power, the battles of ego and the desire for personal gain. Unlike the research community of today, the Steerwomen don't bicker, fight or backstab. This is not a fatal flaw to this intriguing story, but I do wish some of them would show a bit more self-interest.
The Steerswoman's Road is actually two novels originally published between 1989 and 1992. This IS science fiction; don't let the background mislead you. It also includes some good fight scenes and an interesting alien world. As for what those magic blue gems are ..., well, I did not figure it out until the end of the first book; why not see if you can do better?
Editor's Note: This book was included in many of the World Fantasy Bookbags.
By Ted White
Fanzines are a basic part of science fiction fandom, having been in existence as long as fandom itself - the past 70 years. Fanzines are a reflection of many fans' interest in the printed word and amateur publishing. The publication you are reading this in is a fanzine, but a specialized one. A variety of other fanzines are also available - many of them by request - and this column will cover some of them each issue.
All fanzines are published as a hobby and lose money. Their editors appreciate money to defray their expenses and sometimes list single-copy or subscription prices, but they appreciate even more your written response - a Letter of Comment, or LoC. Feedback - better known in fandom as "egoboo" - is what fanzine publishing is all about.
Check out the fanzines below and broaden your participation in fandom.
This time around we're going to look at four fanzines, each of which has had previous issues reviewed here.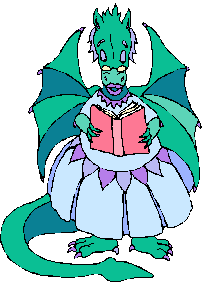 MIMOSA #30 (Rich & Nicki Lynch, P.O.Box 3120, Gaithersburg, MD 20885; email to fiawol@cpcug.org; $4.00 a copy) is the final issue of Mimosa, coming after two "best of" issues (#s 28 & 29) and it features 21 (!) contributions plus editorial and no letter column, in 68 pages. This is Mimosa's swan song and goodbye, but it is so jam-packed with material that none of its contributions stands out; all are swamped by the surrounding material. That's a shame, because much of the material deserves more attention than it will get here. I'm reminded of a friend who had a story published in a fat Barnes & Noble mystery anthology - his story was but one among 100, all new and none over 3,000 words long. "I wish I'd sold it somewhere where it stood a chance of being noticed," he lamented. Mimosa #26 was reviewed here in February 2001 and #28 in August 2002.
THE KNARLEY KNEWS #101 (Henry L. Welch, 1525 16th Ave, Grafton, WI 53024-2017; email to welch@msoe.edu; $1.50 or adequate response) has been plugging along steadily, six times a year, and has now passed its 100th issue. By keeping his sights low and relatively unambitious (averaging 20 page issues) and by maintaining a regular stable of contributors and columnists (Gene Stewart and Rodney Leighton contribute columns to this issue), Welch is able to produce a consistent fanzine on a regular schedule. What The Knarley Knews lacks in excitement it makes up for with an ongoing community of readers and contributors. The Knarley Knews #86 was reviewed here in April 2001.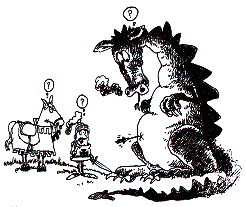 ARGENTUS #3 (Steven H Silver, 707 Sapling Lane, Deerfield, IL 60015-3969; email to shsilver@sfsite.com; published once a year for $5.00 a copy or "the usual" - letters, contributions, other fanzines in trade) has been developing as a fanzine faster than an avowed annual schedule might suggest. Silver has abandoned the running heads which cluttered the first issue and Argentus has evolved into a looser and less-pretentious but more solid fanzine which has established its own distinct personality. This issue has 56 pages (counting covers) and nine articles before the letter column. Following the letters is Argentus's special feature, the "Mock Section" in which fictitious books or movies are reviewed. This time four fictitious places are visited in "Travel Reports." Argentus #1 was reviewed here in November 2001.
CHUNGA #5 (Andy Hooper, Randy Byers & Carl Juarez, 1013 N. 36th St, Seattle WA 98103; email to fanmailaph@aol.com, rbyers@u.washington.edu, or cjuarez@myrealbox.com; $3.50 a copy) is also maintaining a roughly bimonthly schedule, although Byers was the most recent TAFF winner and managed to squeeze in a trip to England. Chunga's 34 pages (including excellent covers by D. West) are the best-designed and best-looking of these four fanzines. The five articles include two by Brits (Dave Hicks and the long-vanished Graham Charnock - what a delight to see him in a modern fanzine!), and maintain a high standard complementary to their visual presentation. In other words, this is what a really good fanzine is like. Chunga #1 was reviewed here in September 2002.
Editor's Note: Ted has informed me that this may be his last column. Speak to him about how much you want this to continue and what fanzines he should review.
The 10/17 Third Friday meeting was delayed while Lee Gilliland, Capclave chair for 04, spoke with Mike Walsh, the '05 Chair. "Shut up everybody," said Cathy Green, chairing the meeting. It started at 9:23 with no old business. Treasury was $1,269.61.
Sam reported on progress toward Capclave. To avoid penalty clauses, we need 80% of 60 rooms. Cathy said the status was 15-20 rooms. Mike Walsh said that people procrastinate, some people are concentrating on this other convention. Bob said some of us are dual-headed. Mike said, "Able to multi-task." We decided not to throw a party at WFC since it is a different crowd. Elspeth suggested making a WFC specific flyer. Sam Lubell asked for the addresses of local publications. Elspeth suggested contacting Kojo Nombi. The Nth Degree website will have something up.
Lee for Capclave Future announced a hotel and a date. 10/15-10/17 at the Marriott Tyson's Corner. This is a small hotel. The Cabana area will be available for parties. Maybe will be Mike Walsh's hotel too. We get a free webpage. Room rate of $84. She has email address capclave2004@comcast.net. There will be an art show with a game area etc.
Far Future had nothing.
World Fantasy reported 4,000 pounds of free books. Those on Wednesday who help pack will get the best selection. There will be a cd-rom of David Drake's books. Robin McKinley, James Baylock etc. People will get $192 worth of books and a big totebag. We have close to 800 people paying full rate. Elspeth met with the hotel. The sales head calls it a good strong convention. We have 100 rooms above what is needed. Officially the cut-off is over but will go ahead. If problems getting the con rate, contact Elspeth. Our website was handed out as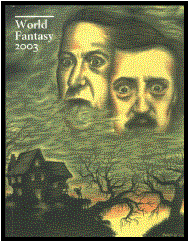 a model at the hotel's sales meeting. I had done a write up of the hotel that was also handed out at the sales meeting with the words you do this. I fee smug. Buffet will be a chocoholic extravaganza. Pay $11 and pile on the stuff. Mike Walsh summarized. "The convention is lurching forward. I'm looking forward to the 3rd."
Keith asked about volunteers. Mike said, "Wednesday we need people to fill the truck up and then do the art show hangings. I'll email. Probably after five but guessing." Paul said the program is up on site. 95% agreed to by the participants. Got a `skilled person' to do the pocket program. Mike Walsh promised this would be "More accurate than Torcon," but Bob said, "All that'd take is to get one right." Aly said that a fifth to a quarter of the books handed out will have authors there. Mike said, "Ed Bryant is attending. So be nice to him or he'll show you his scars. Jack Williamson will not attend." Elspeth said, "The hotel is looking forward to having us." Mike said, "A boatload of small presses are premiering books there."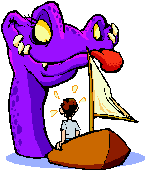 The entertainment committee reported that civilization as we know it came within a few innings of ending. If it had come to a Cubs/Red Sox game, the world would have ended.
Publications committee reporting missing some 1988 and 1989 issues.
Austerity said to bring food, bring money, pay our electric bill.
Announcements: Mike Nelson got shanghaied to the Bahamas for a cruise by his children to celebrate his 50th birthday. It was four days of heavy drinking. A good time was held by all. Mike Walsh had a birthday too.
Black Rose of Disclave infamy had a convention scheduled in Ocean City. Clergymen said "Sinners are coming to town. Are we gonna let them?" They had sold out the main hotel but the clergy persuaded them to go elsewhere. They were run out of town and not allowed to like it. Friday at WFC, the Gillilands are holding an anniversary party separate from WFC. The Red Cross now allows those who have been to Toronto to donate again. The meeting adjourned unanimously at 9:05.
Attendance: VP Cathy Green, Sec and 2003 Chair Samuel Lubell, Treas. Bob MacIntosh, Trust. Adrienne Ertman, Trust. Keith Lynch, 2004 Chair Lee Gilliland, 2005 Chair Mike Walsh, Carolyn Frank, Alexis Gilliland, Erica and Lydia Ginter, Scott Hofmann, Eric Jablow, Jim Kling, Elspeth Kovar, Bill Lawhorn, Nicki and Richard Lynch, Wade Lynch, Candy and John Madigan, Cat Meier, Walter Miles, Larry Pfeffer, Evan Phillips, George Shaner, Elizabeth Twitchell, Ivy Yap, Michael Pederson, Cate Twohill, Bill Mayhew.