THE WSFA JOURNAL
----------------------------------------------------------------------
THE OFFICIAL NEWSLETTER OF THE WASHINGTON SCIENCE FICTION ASSOCIATION
----------------------------------------------------------------------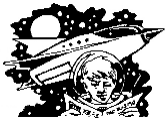 SEPTEMBER 1987 Editor: Joe Mayhew. [censored], Bladensburg, MD 20710 ISSN 0894-5411
----------------------------------------------------------------------
----------------------------------------------------------------------

August 7, 1987

At Gilliland House: Mike Walsh presiding. The meeting was called to order at 9:16. The minutes published in the August WSFA JOURNAL were approved as printed. A letter from Avedon Carol was noted as being of particular interest to those planning on attending the WorldCon in England. The Treasurer reported a balance of $13,358.23.

The next meeting was announced to be at the home of Barry and Judy Newton (directions in WSFA JOURNAL).

COMMITTEES

DISCLAVE'88: Tom Schaad announced he has begun negotiations with the Sheraton New Carrollton for the 1988 Convention.

DISCON III Joe Mayhew has Bid T-Shirts with Vicki Wyman artwork at $7.00 each. 48 were ordered in the first batch to be printed in purple on lilac 50/50 shirts. Of these, eleven remain. A second batch of 36 (Navy print on light blue for most) will be ready on the 21st in time for England. Badge stickers have been ordered. 3/4ths inch circles on silver foil with the logo in black and "DC in 1992" on them. 25,000 were ordered because the price break there made that amount less expensive than, say, 16,000. We'll find creative uses for them... any suggestions?

Jack Heneghan asks anyone wanting to help out with bid parties to tell him which cons they will have available rooms at, and which ones they could take promotion stuff to, etc.

ENTERTAINMENT Doll Gilliland suggested that WSFA go on a boat cruise sometime next fall.

NO OLD BUSINESS

NEW BUSINESS:

Joe Mayhew asked the club to help him frame a motion to buy a computer for use by the Disclave and the Treasurer, and for other Club purposes. The mailing list needs to be put onto a generally compatible and widely used system. Disclave members are currently Associate Members of WSFA, and those wishing to become or continue to be voting members of WSFA must now become Associate members first. The Treasurer can not accept voting dues from anyone who is not already an associate member. Thus the Club membership list is a great deal longer than in recent years. A discussion resulted in the following motion, which was passed by a vote of 23 in favor; 3 opposed:

I move that WSFA authorize me, Joe Mayhew, to spend up to $2,000.00 of its funds to buy an IBM compatible ("XT clone") computer, with hard-disc, appropriate printer, monitor, data base software, and such other items necessary for its operation. This computer is to be used for club and Disclave business.

Joe invited discussion and suggestions after the meeting.

Joe Mayhew moved "That the 1988 DISCLAVE Chairman be elected at the second regular meeting in October." That motion was carried: 23 in favor; 3 opposed. Kathi Overton reported the following, as previously requested:

FILMS AT WSFA MEETINGS

Proposal: Showing a collection of short films and/or a feature at WSFA meetings, utilizing existing WSFA equipment. Showings can be arranged to alternate between Virginia and Maryland meetings. Films will be chosen (and announced in THE WSFA JOURNAL) several weeks in advance by a committee and/or written suggestions submitted by club members. Genre works by local filmmakers may also be shown - though a prescreening requirement is highly recommended. The main supplier of films will probably be Union County Films of Union County, New Jersey.

BUDGET

5 Showings (over a 12 month period)
Film rental costs                            $50.00
Shipping, handling, Insurance                $20.00
                 Total cost per showing      $70.00
                      Total cost per year   $350.00

This proposal will be introduced by Kathi at a future meeting.
The meeting was adjourned at 9:53.
***
At Newton House: Erica Van Dommelen presiding. The minutes of the previous meeting were summarized. The WSFA treasury was reported at $13,358.23.
committees
COMPUTER Joe Mayhew reported that he had purchased an XT Clone with hard disk etc, as well as database software as well as word processor software but not the printer. So far less than $1,000.00 has been spent. Thanks to Evan Phillips, John Sapienza, Bill Jensen, Peggy Rae Pavlat and others for their suggestions and other help. Evan is already Working on getting the 1987 mailing list electronically manageable. Joe expects to come in well below the $2,000.00 budget.
DISCON III
Plans for parties at both the WorldCon and nasfic were in progress. A new 4 page flier, DISCON STUFF was available, as well as little silver foil badge stickers. A new batch of the Wyman T-Shirt had been made up: 30 blue on blue and 6 white on black. The white on black were mostly sold before the meeting was over. Jack Heneghan wanted to plan future Con parties and asked everyone who would be available to help at forthcoming cons to give him their names and schedules.
POKER TABLE: Kent Bloom reported that nothing had been done. (Most present feigned surprise).
THERE WAS NO BUSINESS CONDUCTED.
The Secretary announced he would be at NASFIC during the first meeting in September. Erica Van Dommelen had volunteered to take minutes. The WSFA JOURNAL would be distributed at the second meeting in September at the home of Mary Morman & Kent Bloom.
The meeting was adjourned at 9:28.

September 4, 1987
Meeting at Gilliland House, Michael Walsh presiding, Vice President Erica Van Dommelen taking minutes. The meeting was called to order at 9:09. No minutes of the previous meeting were available, but Secretary Joe Mayhew sent word that the WSFA JOURNAL containing those minutes would be available at the 3rd Friday meeting. Treasurer Bob MacIntosh reported $16,470.42 in the account.
COMMITTEES
DISCON III: "We went to England and had a great time." They also held 2½ parties, and sold 100 buttons and pre-supporting memberships and nearly all the T-shirts. The next meeting is scheduled for September 27 at 3:00 PM at Peggy Rae Pavlat's.
Neither Disclave Chair was present.
THERE WAS NO BUSINESS CONDUCTED.
ANNOUNCEMENT: Jul and Mark Owings have moved. Their new address is:
[censored]
Baltimore, MD 21211
Phone: (301) 234-4561
The meeting was adjourned at 9:24.
************
WRITERS WORKSHOP
The next Writers' Workshop will take place Saturday, Sept. 26 at 11 AM. Our professional guests will be Steve Miller and Sharon Lee. Both are well known to the Baltimore SF and Fantasy community. In addition to the "Kinzel" short-story series now collected in a trade paperback, THE NAMING OF KINZEL, they have a new SF series beginning with AGENT OF CHANGE, Due out from Del Rey Books in 1988.
As usual, we ask for short manuscripts from all the participants. Please send your manuscripts to BSFS, marked "Writers' Workshop" -- or place them in the Writer's Workshop box in the clubhouse office. Please include a check payable to BSFS, Inc. for 50 cents per page, to cover the costs of mailing and copying. The deadline for submissions to this Workshop is Friday, September 4. [Note from WSFA J: at least you know what they're doing. Perhaps, if interested you can get in on their next one].
THE COMPTON CROOK (STEPHEN TALL) MEMORIAL AWARD
The Compton Crook Committee, established by the Baltimore Science Fiction Society, gives an annual award to what it judges to be the best science fiction, fantasy or horror first novel by an aspiring author. The award is presented at Balticon, held in, or around, Baltimore City, usually over Easter Weekend.
BSFS invites WSFAns and other Fen to send in their own evaluations to be counted by the committee in determining the winning novel.
Please send your evaluation(s) to:
BSFS
Compton Crook Committee
Att: David Odenwaller
Box 686
Baltimore, MD 21203.
The rating scale is as follows:
0) Given to a book that is an insult to the paper it is printed on.
I) Dreadful
2) Really bad
3) Poor
4) Below average
5) average
6) Above Average
7) Good
8) Really good
9) Excellent
10) Nearly perfect!
BOOK LIST FOR THE COMPTON CROOK AWARDS COM.
THE MODEL. Aikman
AFTER THE ZAP. Armstrong
TIME CAPSULE. Berman
THE AMERICAN BOOK OF THE DEAD. Billias
THE MOVEMENT OF MOUNTAINS. Blumlein
THE PIG, THE PRINCE & THE UNICORN. Brush.
WAR FOR THE OAKS. Bull.
MINDPLAYERS. Cadigan
KNIGHT LIFE. David
MS. FAUST. Dubbs
A ROSE RED CITY. Duncan
TO MAKE DEATH LOVE US. Falconer
NIGHT HUNTER. Faulcon
IN CONQUEST BORN. Friedman
CAT'S PAWN. Gadallah
TEOT'S WAR. Gladney
THE PHOENIX BELLS. Grant
THE PUPPET MASTERS. Greene
THE ANOINTED. Halevi
THE BURNING STONE. Harris
LIEGE-KILLER. Hinz.
PROJECT: MILLENNIUM. Hoffman
SOLAR KILL. Ingrid
ARROWS OF THE QUEEN. Lackey
THE HARLEQUIN'S SON. Launay
BIMBOS OF THE DEATH SUN. McCrumb
THE NET. MacGregor
NIGHTMARE. Murphy
THE BURNING GROUND. Nolan
FRAME OF REFERENCE. Oltion
STICKMAN. Pfefferle
STEPFATHER BANK. Poyer
THE LEESHORE. Reed
NEXT AFTER LUCIFER. Rhodes
THE HARVEST BRIDE. Richards
MEMOIRS OF AN INVISIBLE MAN. Saint
BYZANTIUM'S CROWN. Shwartz
WILD CARD RUN. Stamey
LAST FALL. Stolbov
REINDEER MOON. Thomas
THE MISPLACED LEGION. Turtledove
FIREBIRD. Tyers
WOLF DREAMS. Weaver
NUMBERLAND. Weinburg
DEVOTION. Westerly
LINCOLN'S DREAMS. Willis
WARRIOR PLANET. Wismer
MASTERPLAY. Wu.
*********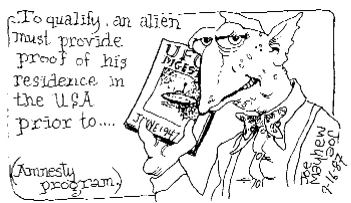 5-25-87
...Congratulations on an enjoyable DISCLAVE'87. The Prom, and the ad hoc presentation on superconductivity by Sheffield were superb; the Con Suite and film program were a bit below average.
Donald L. Day
---
ED: I wonder WHAT he was comparing our Con Suite to. The Film program was not casually put together, and the film physical quality and projection equipment were better than average. As to the selection: De gustibus non est disputandum.
******
July 29, 1987
An open letter to the Washington Science Fiction Association regarding DISCLAVE'87.
I was disappointed in my attempt to attend DISCLAVE'87 with my family.
After driving seven hours in a car from Cleveland, Ohio, I proceeded to register for the convention. I walked up to the registration desk and filled out a card.
I asked if I could have badges for my kids, (ages 3 and 5) assuming that at the most it would cost half price for them to get in. Customarily the cost is free at most of the cons I have attended in the past.
The reply I got was "That will be $60.00."
Needless to say I was stunned. When I asked why children were being charged full price, I was told, "I just work here, I don't make the rules," (I later found out that this person was the brother of the chairperson). Then I was directed to Con Ops. I went there and got pretty much the same story.
I attempted to locate the chairperson, Joe Mayhew, but I was unable to locate him either Friday or Saturday at the con (I didn't attend on Sunday)
The decision was made, I am told, by the same Joe Mayhew, who was said to have called a meeting to set convention policies on a major family oriented holiday so that major objectors (committee members with families) could not attend.
My main gripe is that the policy was not publicized in pre-registration information.
In popular comprehensive con listings such as Filthy Pierre's, and even in their own flyer, instead of putting this announcement under membership and registration information, it was buried under an insignificant little paragraph at the bottom of the page titled "babysitting."
Nowhere in any of the literature I saw was it stated that babysitting was mandatory, as I was told at the registration desk.
Where is the logic of having a pre-registered only babysitting service when 40-60% of con attendees show up at the door?
I was told by committee members that this policy was invoked deliberately to discourage the inclusion of children in the lives of their fandom oriented parents. Quote "The con chair hates kids and doesn't want them at the con."
That is why I am sending this letter to people I feel should know about and address this important issue before some irreversible damage is done to fandom's reputation.
Must we draw lines?
Must we chose sides?
First the "Media Nimbos," then the gamers, now the rugrats.
The whole foundation of fandom is based on being different, being misunderstood, feeling alone. Now has fandom grown so blueblooded as to reject the very reasons it was formed?
Children are such an easy target to stab at. There are laws to protect the Blacks, the Hispanics, the Mentally ill, etc. But it seems that children are fair game.
The main thing that really worries me is that the same Joe Mayhew is bidding for a Worldcon.
If someone with this attitude should actually chair a Worldcon, will this mean that children will be banned from Worldcon as well?
In the past couple of years, cons have recognized that children in fandom are growing larger in numbers. They have added programming suitable for PAYING children that attend the con.
That's my point. Go ahead, charge full price for kids, but there darn well better be something there for them in return for the money they have paid.
It's not that hard to do. You don't even have to run an entire track of kids programming. Just designate certain hours to show video that is suitable for children under 13. Also, run some panels and things for kids throughout the day. There may be a need for more as the number of children in fandom increases.
It's time we realized that children have a place in our lives and they are not merely "Furniture with diapers."
I have no objection to making parents accept responsibility for their kids' behaviour. I think the ransom idea that some of the midwest con are doing is a great one. But being responsible for my kids is also why I don't "dump" them into babysitting with strangers at an out-of-town convention--state certified or not.
The number of children in fandom is growing larger. To shut them out of that part of our lives is contrary to everything fandom stands for.
I invite all comments on this issue -- pro or con. I would like to see discussions at committee meetings and convention, letters in editorials and APAs, and comments of all kinds.
Please write to me with your comments on this important issue.
Michele Canterbury
P.O. Box 5641
Cleveland, Ohio 44101
---
ED: I tried something new with babysitting. Eva Whitley felt so strongly that it was wrong that she resigned as head of the Senior Prom. Mrs. Canterbury was offended by it as well, and I regret that she felt Disclave's policy was unfair to her. It was an experiment trying to deal with some real problems facing conventions which want to provide something in the way of proper childcare. There are two reasons for baby sitting services at cons. 1) to provide for the safety and comfort of small people who aren't old enough to appreciate most of what goes on at conventions (which are and will most likely continue to be directed to grown-ups.) Disclave is for readers. If your 10 year old is likely to enjoy panel discussions, etc., bring him! We won't serve him beer. We'll ask that he be supervised in some activities (particularly after 10PM). Still, Disclave is put on by a limited number of volunteers and has a finite amount of programming time and space: our programming thrust is likely to remain reader-oriented. We did have some activities for kids at Disclave, both in and out of babysitting. The information Mrs. Canterbury may have gotten about Disclave may have not mentioned that all persons attending would have to have memberships, but that was included in our flier, and in more than one place. Sorry she missed it.
Mrs. Canterbury's letter was written in anger, and so much of the illogical in it should be dismissed as a product of frustration and, I believe, misinformation. But there is one area I take strong exception to: her idea of what fandom is about.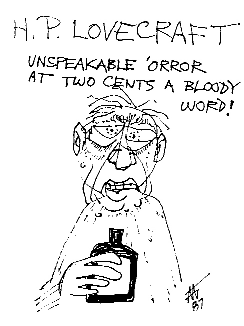 Fandom is a community of people with similar tastes and enthusiasm for SF and the horse it rode in on. They enjoy each other's company and like to talk about books, movies, etc, to meet the authors, artists, etc. who are involved in it. They like to relax together and form almost a subculture, a family. An increasing number of fen seem to be having children and need or prefer to bring them to cons. Cons aren't quite used to this yet, and are trying to develop new approaches to deal with this fact. The second reason providing child care: 2) To allow programming to proceed without unnecessary disturbance of the speakers and audience from restless, uncomfortable and sometimes, neglected children, prompted me to do everything I could to encourage parents to avail themselves of our service. Tom Schaad, Chairman of DISCLAVE'88 will try another way.
I pondered whether to publish this letter or not, because of the possibility of embarrassing Mrs. Canterbury. But as she has apparently circulated it widely herself, and as the person criticized in it is me, I felt as both Chairman of DISCLAVE'87 and as Secretary of WSFA that it could be published without deletions.
Those who know how Disclaves are run know that it would have been utterly unnecessary for me to schedule any meetings on inconvenient days to avoid input from angry parents. I consulted and accepted advice from both Laura Jones (who ran this year's babysitting) as well as from Kate Terrell, who ran it the previous year. Eva was the only member of WSFA to express her objection to DISCLAVE'87's babysitting policy to me. If I had it to do over again, I would not do it the same way. Fans resent anything which is mandatory: no matter how pleasant and inexpensive. Oh, well, people who don't try to do anything rarely get hate mail.
- The Same Joe Mayhew.
*******
PHILCON'87: November 13 - 15, The Adam's Mark Hotel. Guests: ROBERT SILVERBERG, TIM HILDEBRANDT, TIMOTHY ZAHN. $15.00 until November 1st. $20.00 at the door. Hotel Rates: Single: $75, Double $78, Triple $81, Quad, $84, Rollaway bed $12 per stay. Suite $125 and up. Address:
PHILCON'87
P.O.Box 8303
Philadelphia, PA 19101
Note: No children under 16 will be admitted except in the company of a parent or guardian; a waiver of the conference's responsibility will be required of the parent. Reservations must be received by 10/20/86: Phone (800)231-5858 or (215) 581-5000. Rates do not include taxes. Max 4 persons in room. Contact Philcon for suites. Better yet, get a flier for full details.
IT IS UNFANNISH TO SKIP PHILCON.
Their hotel is a long way from downtown but it is quite nice and large. I miss Chinatown, but there's something special just about everywhere.
*******
HEXACON 10: January 8 - 10, 1988. GUESTS: MARVIN KAYE, LEE MOYER, BEN BOVA. Memberships: By mail $10; at the door: $15. Checks payable to Hexacon 10. No mail-in after December, 18, 1987. Send Checks to:
Bruce & Flo Newrock
[censored]
Flemington, NJ 08822
HOTEL: Shawnee Lancaster Resort. Suites: $60, Rooms $44. Hotel phone: 717-656-2101. Address: Route 272 North Oregon Pike, P.O. Box 4687, Lancaster, PA 17604.
No official food function. Lifeguards needed for pool duty.
New Hotel, perhaps new con; but the old Hexacon was always a lot of fun. Small, around 300 or so at largest. Give it a whirl.
BOSKONE XXV January 29-31, 1988. Sheraton Tara, Monarch Place and Springfield Marriott SPRINGFIELD (not Boston). GUESTS: GREG BEAR, DAVID MATTINGLY, ELLEN ASHER. Get flier for further details, membership restricted this year. Membership $25.00 until December 7, 1987. $40 afterwards, if available. Boskone is trying to focus itself to a more precise audience, due to its need to reduce its size. The audience they seem most interested in is the habitual reader of SF. Other interests and activities will probably be better pursued at another Con. NESFA is NOT a bunch of nasties. They are doing what has become necessary, and for those who do attend, will provide a gracious and well managed convention, as usual. YOU NEED A FLIER (not copy) TO REGISTER.
SMOFCON 4 November 20-22, 1987. Quality Inn, Columbus Airport: 4801 E. Broad St. Columbus, OHIO 43213 (614)867-0321 Rooms: $39 flat rate. Registration: $35 to:
FANACO
c/o Liz Gross
[censored]
Worthington, Ohio 43085
This is another in the series of Convention Planning seminars which grew out of CONCON (Smofcon I) held in Crystal City. It is not a relaxacon. It is for people who are serious about trying to improve methods and results of worldcons and regionals. Don't go unless you expect to attend the program.
*******
BALTICON 22: April 1 - 3, 1988: GUESTS: SPIDER ROBINSON, TOM KIDD. Memberships: $20 until March 1st; $25 at the door. Make checks to: Balticon 22. Address:
BALTICON 22
P.O.Box 686
Baltimore, MD 21203
Back at the HUNT VALLEY INN. Less function space but more function.
*******