THE WSFA JOURNAL
The Official Newsletter of the Washington Science Fiction Association
March 1990 ISSN 0894-5411
------------------------------------------------------------
Available from the secretary: Rachel Russell,
[address censored], Arlington, VA 22204
------------------------------------------------------------
2 Feb. 1990, 1st Friday
President Erica Van Dommelen called the meeting to order at 9:20 pm, at the Gilliland's house.
Committee Reports:
Publications: Secretary Rachel Russell passed out the latest Journal.
Treasurer: Dues are due and payable. Bob MacIntosh says we have $4574.93 in the kitty.
Disclave Present: Eva Whitley said she had copy for the flier and at the next meeting we'll fold, label, bend, and mutilate, or something like that.
Disclave Future: Peggy Rae Pavlat hasn't heard from the Artist GoH, but Lewis Shiner accepted being our Writer GoH.
Entertainment: Dolly Gilliland is working on a preview of "Hunt for Red October."
Committee to Spend a Lot of Money on Something Incredibly Expensive and Extremely Controversial: John Pomeranz reported that the committee is amused by the exploits of Marion Barry and wants to cover his salary and expenses in his new job as a snow removal person at federal prisons. The committee was also directed to look into buying Fort Meade.
New Business: Meetings Changes--
3rd Friday March is at Jack Henighan and Elaine Normandy's
5th Friday March PARTY at Peggy Rae Pavlat's
1st Friday April is at Gilliland's
3rd Friday April is at Kent Bloom and Mary Morman's
1st Friday May is at Kent and Mary's---Elections!
Old Business: No.
Announcements: Pray for John P. to get into the law school of his choice. Matt got a job at the World Bank. Humans equal Ground Hogs?? 3rd Friday discussion group needs a new secretary.
Meeting unanimously adjourned at 9:40 pm
ATTENDANCE: Robyn Rissell, Ewen Allison, George Shaner, Lee Strong, Michael J. Walsh, Bob MacIntosh, Covert J. C. Beach, Susan Cohen, D.B. Mongo, Roger MacBride Allen, Dolly Gilliland, John C. Randolph, Edmund, Lord Blackadder, Alexis A. Gilliland, Irvin Koch, Jack Chalker, Ted Rosenberg, Larry Baker, Patrick E. Paul, John Sapienza, Barry Newton, Meridel Newton, Nicki Lynch, Terilee and Jim Edwards-Hewitt, Barbara Jackson, D.B. Burgess, Peggy Rae Pavlat, Walter Miles, Chris Callahan, Steve Smith, Kit Mason, Dale Sharrick, Dick Lynch, Sheryl Birkhead, Crystal Hagel, Dick Roepke, Beth Zipser, Mike Zipser, Dan Hoey, John Pomeranz, Matt Leger, FLAHSH, Mel Scharadin, Rachel Russell, Erica Van Dommelen, Joe Mayhew, D.S. Hastie, Tom McCabe, Ronald Reagan, Eva Whitley, David Chalker, Jack Chalker, Brian Lewis, Keith W. Marshall, Michael Enoch.
16 February 1990, 3rd Friday
President Erica Van Dommelen called the meeting to order at 9:19 pm at the Gilliland's.
Committee Reports:
Publications: If you have new addresses get them in. I plan on doing one more mailing list around the end of April.
Treasurer: Dues due and payable. $4526.70 in the Kitty.
Trustees: Steve Smith has had no submissions lately.
Disclave Present: There will be "origami" next time (folding and mailing the fliers). Committee meeting next month. Heads of committee need to get staff lists in. Resnick book may make a profit: 500 copies will be printed, it is $30, but it is 20% off before the con. Get money to the treasurer and a book from Jack Chalker when they're done. The book has several short stories, anecdotes, etc.
Disclave Future: No report.
Entertainment: No luck with "Red October."
Committee to Spend a Lot of Money on Something Incredibly Expensive and Extremely Controversial: John Pomeranz reported that the committee has invested in junk bonds with Drexal Burnham and is sorry.
Old Biz: see about meetings in the previous minutes.
New Biz: no.
ANNOUNCEMENTS: Sherri Tepper keeps goats. Lee Uba is now a "designing woman." Robyn got a raise.
Meeting unanimously adjourned at 9:38 pm.
ATTENDANCE: Rachel Russell, Covert Beach, John Pomeranz, Kathi Overton, Tom Schaad, Eva Whitley, Jack L. Chalker, David Chalker, Alexis Gilliland, Dolly Gilliland, Leonell C. Strong III, Bob MacIntosh, Don Bienewicz, D.J. Hastie, Brian Lewis, Susan Cohen, Lady Jane Pottle, Edmund Blackadder, Igor, Rebecca C. Prather, Irvin Koch, John T. Madigan, Steve Smith, Oriana the Fierce alias Kiri Kalawi XIV, Hal Haag, Naomi Ronis, Walter Miles, Steven Fetheroff, Bob the Wonder Rat Snyder, Lee Uba, George Shaner, Patrick E. Paul, Charles D. Gilliland, Nicki Lynch, Dick Lynch, Denny Carroll, Matt Leger.
A WSFA SURVEY
Have you ever wondered just what we all have in common? And what exactly is it that makes us different from non-WSFAns? A few months ago, USA Today the TV Show ran a brief bit about the Worldcon attendees--according to their survey, Worldcon featured older men, making $50,000/yr, usually working with computers. This survey got me thinking of REALLY interesting questions and the following is the result. (Special thanks to Erica Van Dommelen and Dan Burgess for help with the questions.) I'll collate the results and publish interesting answers, soon-or-later.
Are you ____ male? or ____ female? Do you live in ____ MD or ____ VA or ____ DC? Do you go to ____ all the meetings? ____ only MD meetings? ____ only VA meetings? ____ Very few meetings? oo-you have a cat? ____ (How many? ____) Do you have a dog? ____ Do you live at home? ____ Do you live with fen? ____ Do you live alone? ____ How many jobs have you had in the last 5 years? ____ Are you above the poverty level? ____ Did you finish college? ____ Grad school? ____ Are you looking for a boyfriend/girlfriend? ____ Are you looking for the meaning of life? ____ Have you found the meaning of life? ____ If yes, BRIEFLY describe:
If you could colonize a new planet (with a group of people), what 5 things would you take beyond the survival equipment?
1.
2.
3.
4.
5.
What was the first SF Book you read?
What are your 3 favorite SF books?
BRIEFLY, how would you communicate with an alien?
TALES FROM THE WHITE HART SF & FANTASY BOOKSTORE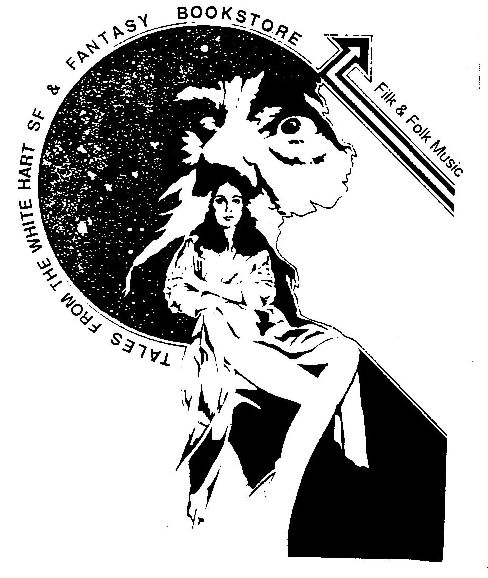 Filk & Folk Music
In the heart of Baltimore's Bookstore Mecca (shop with us and we'll direct you to the others)
near the 61 & 11 buslines
on the #8, 3 & 22 buslines
Baltimore's Only
Science Fiction & Fantasy Bookstore
New and used
thousands of different titles
to choose from
3360 Greenmount Ave. (down York Road)
Baltimore, Maryland 21218
(301) 889-0099
Mon-Fri. SAT 10 11 a.m. - 9 p.m.