THE WSFA JOURNAL
A PUBLICATION OF THE WASHINGTON SCIENCE FICTION ASSOCIATION INC, WASHINGTON, DC
March, 1992
ISSN 0894-5411
TOM SCHAAD REMEMBERS THE NEW TRADITION
Parliamentary News
Science News
Reviews
Advertisements
Funds Authorized;
Committee Covers Issues
SCHAAD REMEMBERS TRADITION
Second and Third Traditions Violated
MIKE ZIPSER PAPER TRAINED
The regular First Friday meeting in February meeting convened at 9:17, 7 February 1992. President Tom Schaad proclaimed, "It's time to make the magic." The squeaking began early.
Tom turned to Secretary Lee Strong, paused dramatically, and asked for a review of the minutes. Lee flipped thru the latest WSFA Journal and proclaimed it "really fine". Again baffled by our silly Secretary, Mike Zipser moved that the reading of the minutes be waived. Tom asked that all those who wished to waive the minutes should wave the minutes. Not only did this meet the parliamentary requirement, but it improved the air circulation no end.
Treasurer Bob MacIntosh reported that we had $7733.93 in the club general fund. There were calls to have a party or to buy two George Bush health vouchers. Both motions failed for lack of seconds.
Alexis Gilliland, Chairfan of the Entertainment Committee, reported a couple of items. First, the Government Accounting Office (GAO) reported that the Federal Government has obtained 4030 convictions in the ongoing Savings & Loan scandal. These convictions yielded $1.3 billion in fines. However, only 0.02 billion has actually been collected. The GAG is shocked, shocked to discover that the Government is inefficient. A voice in the back discretely muttered, "Captain Renault, your winnings."
Second, NASA has developed an acoustic refrigerator. When a loud sound, such as rock 'n' roll at 10,000 times normal volume, is pumped into a special tube, one end gets hot and one end gets cold. Coming soon to your neighborhood!
Crystal Hagel added an entertaining item. Doonsbury's latest attack on George Bush included a mock application for Texas residence in order to avoid taxes. The Texas state government received over 22,000 of them in the mail. Joe Mayhew asked if this was an example of "death and texas"? Rowdie Yates stated that anyone wishing to be a Texas resident, deserves it.
* CBS News reported the same item but a week later, on 13 February. They also used Joe's pun without credit.
Lance Oszko, Chairfan of the Fine Arts Committee, reported a slide showing of the Committee's collection after the regular meeting. This is rated PG-13.
In another example of fine arts in action, Eva Whitley and David Chalker requested a chair. Mike Zipser proved that there is at least one gentleman in WSFA: he forced Mike to give up his chair for Eva and David.
Disclave Reports
Asked for a report, Michael Walsh, Chair of Disclave Present, said, "Ah. Me." and reported various tidbits. There will be a hotel walk thru on Sunday. In order to break people in gently, we will start at the Sheraton Put-on in New Carrollton, MD and walk to D. C. Michael suggested we start at 1 or 2 p.m. Jack Chalker suggested 11 or 12 as Michael will be on the road to Albany. This was ironed out at a Disclave committee meeting after the regular meeting. So, there will be a Disclave.
There will also be a fun Disclave book. Michael said, "A lot of you haven't bought the book...." Joe rejoined, "But, we've all paid for it!" The club chuckled.
Michael showed a mock up of the book, with its deep burgundy and gold cover. "Redskin colors," noted one cultural maven.
Michael stated, "We need some money." Joe asked, "Is this book going to consume all our money? Will we bloat the book until it's everything that the club does?" Michael responded, "We could do a cheap book. We have the typeset pages. If the club wants to pull the plug, this is the night to do it."
Joe asked, "Can we reduce the price? It's pretty expensive. We should have a fixed contract." Mr. Walsh replied, "We have no contract; we can cancel." Tom brought up the idea of a separate fund. The flyer will bring in an influx of money. The book can be paid for from incoming money. We will generate a nest egg."
Dan Hoey asked about our track record with these books. Alexis and others referred him to page 9 of the February WSFA Journal. Tom pointed out that the Shiner book has not broken even yet.
Walter Miles asked if the Publication Committee was planning to recommend new ideas? Is this request a bridge loan? How much does the club have to advance?
Michael pondered a moment and answered, "$2500. I honestly expect to pay for it." Joe asked what the original allocation was. Bob responded, "$2100." Winston noted that this was a prestige item but that he also wanted to make a profit.
Erica Van Dommelen stated, "We're eventually breaking even so there's no problem. We don't charge for DisCave (TM) as some cons do. This is a worthy cause which does not cost us anything in the long run."
Mike Zipser agreed, "I have no problem with this amount of money. What are our choices on this book?" Michael responded, "This is a binary situation. Yea or Nay."
Jack stated that there were cheaper ways to go. Karl Ginter stated that he had not read any WSFA Press book.... Michael suggested that they made nice wedding presents. Karl asked, "What is the downside? The potential liability?" Tom answered, "If we're exposed, the convention will absorb the cost of the Disclave book." Joe asked what the total price tag was. Michael stated, "It will run, I believe, $10-12 thousand dollars total." Tom noted that this was less than the price of the Shiner book. In the worst case, we would be out $8000. There was some discussion of cost cutting ideas.
Eva stated that there was some resentment over the price. Some Mirage Press sales come from collectors. Are our sales coming from any WSFA Press Collectors? Michael stated that the books were not sold as a set; they are pricy.
Joe asked for a report from the committee appointed to investigate the separate book fund idea. Lee stated that the Publications Committee was not thru with its discussions. However, the Committee agreed that the club wanted to publish books and that a separate book fund was the way to manage the money. Other details were still being worked on. (Also see special reports in this issue.)
Walsh reported that the press run was 500 slipcased copies. Jack remarked that 90% of the cost was in the first 100 copies. Tom Veal suggested that we dispense with the first 100 copies. The club laughed at Mr. Veal's management insight. Jack said that he had been trying to do that for years. Mr. Schaad stated that a Mr. George Bush had a job for Mr. Veal if he could accomplish that.
Joe asked who bought the books. A show of hands revealed that 40-50% of the club members bought WSFA Press books. Michael asked for a Go/No Go decision. Tom Schaad referred the decision to New Business.
Covert Beach, Vice Chair of Disclave 1992, will have flyers on the book and needs help folding them. Karl volunteered a mechanical folder. Covert warned that Karl was stomping on an ancient tradition. Many former folders began chanting, "Stomp! Stomp! Stomp!" Covert pronounced Karl to be a "high tech pervert". So are most science fiction fans, fellow.
Covert Beach, Chairfan of Disclave 1993, reported that he is correcting spelling and phrasing errors in his letter to the potential GOH. Covert does not have an Artist GOH, Almost Artist GOH or Fan GOH yet.
Old and New Business
There was no Old Business.
Under New Business, Michael Walsh moved that the club allocate $2500 to the production of the 1992 WSFA Press book. Joe Mayhew seconded the motion. The vote was 27 for, none opposed, and 1 abstention. President Schaad directed the Treasurer to increase the WSFA Press line of credit to a total of $4600.
New Tradition
No one reminded Tom of the New Tradition. This violated the Third New Tradition. Since he was not reminded, Tom remembered the First New Tradition by himself. But, remembering the First Tradition violated the Second New Tradition. However, violating the Second Tradition upheld the First Tradition, which is now traditional. Violating the Second Tradition may be a Fourth New Tradition.
(It was suggested that The WSFA Journal publish a flowchart to the New Tradition. I'm not sure we can flowchart the last paragraph, much less the New Tradition.)
No one was attending their first WSFA meeting. Gary Romain was attending his second WSFA meeting.
Tom crossed himself and asked if any were attending their third WSFA meeting. Joan Wendland allowed that she was now eligible to join WSFA. Tom shouted, "Don't hurt her!" Turning to Joan, he invited her to give us some money (which, according to Michael, we need). Dave Wendland also is attending his third meeting. Obviously, wendlands travel around in groups.
Announcements
President Schaad called upon Perrianne Lurie for the first announcement. He then reversed himself and called upon the Secretary for the traditional announcement about announcements, apologizing profusely and alleging that he would pay for it later. That's okay, Tom; publication in the Journal is free to members of WSFA. You won't have to pay a thing. Not one penny. Not a mill. Not a milray. Nothing.
Lee announced that those who would like their announcements to appear as they would like should submit, in writing, to the Secretary after the meeting. Mike Zipser asked if people should submit in paper. Lee stated that he was more flexible than that. Beth Zipser stated that Mike was paper trained. The owners of our meeting places are glad.
Lee also announced that the Publications Committee would meet after the business meeting to discuss the remaining WSFA Press book issues.
Perrianne Lurie was at last allowed to announce that she was seeking articles for the Disclave Program Book. Articles are due at the end of the month. She is also seeking volunteers for the Balticon Green Room. She also has a hotel room at Balticon which she is willing to share. Please see Perrianne off line.
Joan Wendland announced live role playing at the con co-authored by Messrs. Gilbert & Silicon.
Crystal Hagel announced that the NASA acoustic refrigerator could be used to make a real sonic screwdriver. The club groaned at this misuse of science.
Elspeth Kovar announced




and told the Secretary not to write it down. The audience laughed at Lee, who rejoined, "That's okay; I can have fun with it for months."
Elspeth also announced that the Mew of the Pink Pigasus appreciates donations, but please pick up and remove your property. Among other things which were probably not intended as donations were potting soil, Legos, and Shiner books. Tom didn't want to know what WSFAns were doing with potting soil. (Probably getting potted.)
Mike Zipser had three announcements. First, Beth and he have the schedule for Mystery Science Theatre 3000 on their Genie. The Comedy Channel is coming to Montgomery County.
Second, Fast Forward, a local TV show co-produced by Tom Schaad and Mike Zipser, will air at 9:30 Thursdays and 5:30 Fridays. The current episode is an interview with Shariann Lewitt. Still to come is an interview with Alexis Gilliland.
Third, Mike's company is looking for a PC type. PC stands for "personal computer". The individual must know COBOL and Microforms.
Eva Whitley offered congratulations to Alexis Gilliland for appearing in the recently published Alternate Presidents [along with Jack Chalker].
In addition, Eva stated that not every event which she hosts is an official WSFA function. A complete stranger showed up at her New Year's party uninvited Joe asked, "So how was Jeffrey Dahmer?" Eva continued that she would rather have had WSFAns rather than a stranger so please note carefully which parties are private and which are general invitation WSFA functions.
Walter Miles stated that the Contact science fiction/educational foundation has set up a BBS for students to ask questions of serious scientists. There is an article in the January Analog.
Winton noted that Sercon listed The Neat Books of 1991. (They missed The Edges of Things!)
Joe announced books for $1 each. Michael Walsh also has nice books.
Jack Chalker plugged The Science Fantasy Publishers, by Mark Owings and, ahem, Jack Chalker. The work is a 746 page history and bibliography of small presses. At $75, it is cheap for a book of this size. The tome will be updated with annual paperback supplements.
Jack further announced that the book is eligible tor a Best Nonfiction Hugo. Michael suggested we embarrass Charlie Brown, of Locus, who dislikes Jack's work.
George Shaner mentioned The Naked Lunch movie. It's surrealistic rather than "ordinary" science fiction.
Covert delivered a message from Peggy Rae Pavlat: the Maryland political primaries are on 3 March. Vote early, vote often. Tom asked if the "None of the Above" option had been installed in Maryland. Informed that the answer was No, he remarked, "Too bad. None of the Above would win easily."
Michael announced that he has Pulphouse paperbacks at $1.95 each. You can read about them in Jack's book.
The University of Pennsylvania has published Enterprising Women, a study of fan contributions to Star Trek. Among other novelties, fan literature can "change existing relationships among established characters". Examples were not provided. You have to buy the book for $17.95.
Perrianne announced that Until the End of the World has doubled its exposure. It is now appearing at two area theaters. A review appears in this issue of The WSFA Journal.
Charles Gilliland, Life Member of WSFA and all around nice guy, had no announcement but I'm putting his name in The Journal anyway.
John Randolph is selling a box of Samurai Cat T-shirts.
Matt Leger is back on crutches again. His sciatic nerve is being pinched and generating massive amounts of pain. The club Ohh'd in sympathy.
The club business meeting unanimously adjourned at 10:14.
Committee Notes
Following the business meeting, the Disclave 1992 Committee met for several days. This meeting was highlighted by a discussion of autonomy which will serve Chairfan Michael Walsh well in his new career as Ambassador to the Palestine Entity.
Following the Disclave 1992 meeting, the Publications Committee met for about an hour. The discussion focused on organizational issues. The committee agreed to recommend a permanent WSFA Press Committee with a book production manager nominated by the current Disclave chairfan. An expanded Publications Committee will review WSFA Press proposals prior to committing the club's money. Secretary and Chairfan of the Publications Committee Lee Strong appointed himself a subcommittee of one to develop written recommendations for the club to consider. Nothing is official until approved by the club as a whole.
------------------------------------------------------------
Fans Confused by Novelty
Politicians Still Active
WSFA MINUTES
Minutes of the regular Third Friday meeting held at Dan Burgess' Mew of the Pink Pigasus on February 21, 1992. Tom Schaad called the meeting to order at 9:15. Notes were taken by Joe Mayhew at Tom's request in the absence of the WSFA Secretary. Bob MacIntosh, WSFA Treasurer, reported that the current balance of the club account was $4,414.85.
COMMITTEE REPORTS
DISCLAVE 1992: Covert Beach, Vice Chair, reported (Chairfan Mike Walsh was not present) that the flier had not been completed in time for Boskone and was still being worked on. He showed a cover design supplied by Wendy Lindboe. A meeting with Mr. Harris of the Washington Hilton had been scheduled by Karl Ginter at the Hotel at 11:00 AM on Saturday, the 22nd.
ENTERTAINMENT: Alexis Gilliland reported that 10% of the voters for George Bush in the New Hampshire Primary were unwilling to admit to having voted for Mr. Bush when questioned at the "Exit Poll".
(Mr. Mayhew notes that the New Hampshiremen displayed candor quite out of character for men of those parts. A more typical Down Easter response would have been simply to ask the pollsters to step out of the way. "Eayah " is the New Hampshire universal expression for "I noticed you've stopped talking". )
FINE ARTS: Lance Oszko has received more slides from artists wishing to participate in a show he is soliciting. No site has been fixed as of yet for the show.
PUBLICATIONS: Lee Strong is preparing a written statement concerning proposals for book publishing fiscal arrangements.
BUSINESS
None was conducted.
NEW TRADITION
Tom asked if any new fen were in attendance. Chris Holte was at his second meeting and Gary Romain was at his third.
ANNOUNCEMENTS
TOM SCHAAD offered a complete set of Pacioli software free to any who wished to have serious pottery management stuff.
COVERT BEACH got a letter from Maryland University informing him that he would graduate at the end of this term (BS in Computer Science).
DAN BURGESS reminded those parking not to park in numbered spaces as the owners of those spaces are prone to having the offender's vehicle towed. He noted that the downstairs hall door should be left open as the cats need access to their litter box which lies beyond it.
PERRIANNE LURIE said that articles for the Disclave 1992 Program Book should be in her hands no later than the First Friday meeting in March. Ads must reach her by March 31st. She also asked for volunteers to help her at the Balticon Green Room, and said she needed a suitable roommate for Balticon.
MIKE NELSON reported that Fantasy & Science Fiction announced that the WSFA Press book would be the next out from Pat Cadigan (1992 Disclave GOH).
LANCE OSZKO said that Kitty Jensen's Balticon party would have a pirate theme this year; that he had Captain Morgan clocks available for $50.00; and Plaques for $60.00 contributions to his Baltimore World Con bid. While he admitted that the bid had lost the Baltimore convention Center, he said he intended to appeal to the city to force to let him have it.
PEGGY RAE PAVLAT said she'd be away most of the foreseeable future.
LEE UBA announced that her 27th birthday anniversary would occur on February 22nd. JM notes that George Washington used to have been born on that date, after they adjusted the calender, and until the Federal Government adjusted it again to suit the Monday Holiday schedule.
DAN HOEY and WALTER MILES made announcements. See them for the content.
The meeting unanimously adjourned at 9:39.
------------------------------------------------------------
MR. HOOVER, CALL YOUR OFFICE: Gay Balfour, a clever entrepreneur in Cortez, Colorado, has invented a machine that vacuums prairie dogs from their holes and deposits them in a truck. They are "somewhat confused" after the ride, he says, but otherwise unharmed. Prairie dogs become pests in residential areas out West, and Mr. Balfour was digging for an opportunity to strike it rich quick. The machine is called DogGone.
------------------------------------------------------------
The WSFA Journal is the official newsletter of the Washington Science Fiction Association (WSFA), Inc. Violate our copyright and Mr. Balfour will visit your house next!
Publisher ...................... Tom Schaad
Editor-in-Chief ................ Lee Strong
------------------------------------------------------------
NASA TACKLES THE REAL FINAL FRONTIER
by Joyce Price
The first man and woman to have sexual relations in space at zero gravity will provide valuable research data, some experts say.
"Sex and reproduction have become real important issues because of the plans for long-term missions in space," said Dr. Lynn Wiley, an obstetrician who's worked with NASA since the early 1980s.
Married astronauts Mark Lee, 39, and Jan Davis, 37, will be part of the seven member crew on a shuttle mission in August and could be studied for changes in heart rate and other vital signs during sexual intercourse. But Barbara Schwartz, a spokeswoman for the Johnson Space Center, said shuttle sex is not feasible because there's "no privacy" and stressed NASA plans no sexual experiments involving humans.
Dr. Wiley said she understood NASA's objections, "They don't want to come across as sponsoring lewd behavior in space. In spite of Masters and Johnson, sex is still a very private issue." She said she has no doubt there will be sexual relations on long missions. What's essential for sexually active astronauts on space excursions extending over months or years, Dr. Wiley said, is effective contraception. "If a woman became pregnant going out to Mars, you'd have to scotch the whole voyage," she said because there would be no facilities aboard to deal with a woman in labor or to address pregnancy complications.
Neither Ms. Lwaxana Troi nor Lt. Commander Data could be reached for comment.
A Film by Wim Wenders
Reviewed by Perrianne Lurie
"Nineteen ninety-nine was the year the Indian nuclear satellite went out of control." So begins wim Wenders' latest film, "until the End of the World". While the Earth totters on the brink of both armageddon and the new millennium, we are introduced to a bizarre international cast of characters. Claire (Solveig Dommartin, the aerialist in "Wings of Desire") is a young Frenchwoman who has left her British husband (Sam Neill) behind in Paris. She has been driving around Europe (in his car), wandering from party to party in an orgy of aimless decadence. In the south of France she is involved in a car accident with Chico (Chick Ortega) and his accomplice, Raymond (Eddy Mitchell), who have just robbed a bank in Nice. They persuade her to take the loot back to Paris for them in exchange for a 30% cut. Along the way, she meets an American stranger, Sam Farber (William Hurt), who is running from an Australian bounty hunter. Claire gives Sam a ride to Paris. He steals some of the money and disappears.
We later discover that Sam has stolen a top-secret "camera", which records images that can be seen by the blind, from the American government. This camera was invented by Sam's father (Max von Sydow) to enable his mother (Jeanne Moreau), who has been blind since childhood to see the faces of her friends and relatives. Sam has been travelling around the world to record these images for his mother.
Claire hires a German detective (Rudiger Volger) to track down Sam, ostensibly to recover her money, but in reality she is intrigued by him. This motley crew follows Sam from Paris to Lisbon to Moscow to Beijing to Tokyo to San Francisco and finally to the Australian Outback. Along the way they become enmeshed in a complex web of shifting alliances (and pick up some nifty gadgets -- watch for the computer Eugene buys in Moscow with its highly advanced "Vietnamese chips" and Russian search program).
World events finally overtake them in Australia when something happens to the satellite (they think the Americans blew it out of the sky) and they lose contact with the rest of the world. After a long trek through the Great Australian Desert, they reach the Aboriginal enclave where Sam's parents have been hiding for the past several years. It is portrayed as a utopian community, but it, too, is doomed.
Sam's father has a secret underground laboratory and is able to proceed with the experiments on the "camera". The device actually records the brain wave patterns of the "photographer" and overlays them with the patterns of the same person when (s)he views the image again. The area of overlap indicates the pattern associated with the image. After some fancy computer manipulation, the reconstituted image is fed into the visual cortex of the recipient. The experiment eventually succeeds (with a little help from Claire), but Sam's mother discovers that her memories are more pleasant than the present day reality.
Sam's father insists on continuing with his research, which we now discover is intended not to bring sight to the sightless, but to create images of dreams. They are abandoned by the Aborigines while Claire, Sam, and his father become addicted to the dream images and it is up to Eugene to save Claire from herself. The dream images displayed on the screen are created by some sophisticated computer graphics and are visually stunning.
The complex plot (only briefly summarized here) is propelled along by the characters and the mood shifts from slapstick to tragedy while we are constantly bombarded by futuristic images. The screenplay, by Wenders and Peter Handke is based upon an original idea by Wenders and Dommartin, and is full of clever dialogue (in several languages) and the actors seem perfectly cast. Dommartin is wonderful as Claire, who grows from a frightened and confused child, through a tortured adolescence to reach adulthood. The score by Graeme Revell is appropriately futuristic, as are the songs on the sound track (including original pieces by U2, R.E.M., and Patti Smith).
Although 1999 will almost certainly not look like the world portrayed in "Until the End of the World", it is a reasonable extrapolation and Wenders seems to have captured the mood of the time quite well. It is a lighter version of the "Blade Runner" world (despite the threat of nuclear holocaust) with some updating and newer special effects.
This is a movie worth seeing not once, but many times (if only to catch more of the details of the 1999 Earth). It has something for everyone -- comedy, action, sex, romance, intrigue, and philosophy. If it gets the recognition it deserves (which may not happen due to its limited release), it should be a strong contender for next year's Hugo award (and the Oscars as well).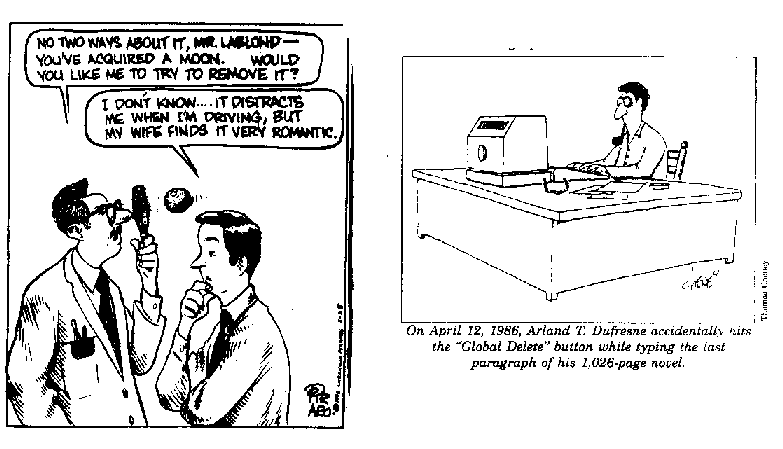 As discussed at Sercon 6 in Austin, Texas
January 17-19, 1991
1. Barrett, Jr., Neal; The Hereafter Gang
2. Bell, Shane; Nicoji
3. Bell, Doug; Mojo and the Pickle Jar
4. Bova, Ben; Mars
5. Bull, Emma; Bone Dance
6. Cadigan, Pat; Synners
7. Crichton, Michael; Jurassic Park
8. de Lint, Charles; The Dreaming Place
9. de Lint, Charles; The Little Country
10. Denton, Bradley; Buddy Holly is Alive and Well on Ganymede
11. Dexter, Pete; Deadwood (western)
12. Faludi, Susan; Backlash
13. Fowler, Karen Joy; Sarah Canary
14. Hiassen, Carl; Native Tongue
15. Jablokov, Alexander; Carve the Sky
16. Jacobson, Marie; Gojiro
17. Jones, Robert F; Blood Tide (pirate adventure novel)
18. Jones, Dianna Wynne; Black Mariah (British title), Ann Mariah (American title)
19. Kandel, Michael; Captain Jack Zodiac
20. King, Stephen; Needful Things
21. Leonard, Elmore; Maximum Bob
22. Lindholm, Hegan; Cloven Hooves
23. McCammon, Robert; Boy's Life
24. McDonald, Ian; King of Morning, Queen of Day
25. McHugh, Maureen; China Mountain Zhang (1992)
26. McMurty, Larry; Buffalo Girls (western)
27. Palwick, Susan; Flying in Place (1992)
28. Payne, Michael; The Colors of Hell
29. Pinkwater, Daniel; Chicago Days, Hoboken Nights
30. Simmons, Dan; Summer of Night
31. Spinrad, Norman; Russian Spring
32. Tepper, Shari S.; Beauty
33. Tyler, Anne; St. Maybe
34. Wilhelm, Kate; Death Qualified
35. Willard, Nancy; Pish Posh, Said H. Bosch
36. Wilson, Robert Charles; Bridge of Years
37. Wolverton, Dave; Serpent Catch
38. Wood Gordon S.; The Radicalism of the American Revolution
[Handwritten addition:] Shiner, Lewis and Alicia Austin; The Edges of Things
[ A photocopy of page 85 of the January 22, 1992 issue of Publisher's Weekly, which consists of 31 publication notices, with the following notice circled: ]
WSFA Press
Home by the Sea (May, $49.95) by Pat Cadigan. The award-winning author's second collection is limited to 500 signed, numbered copies.