THE WSFA JOURNAL
A PUBLICATION OF THE WASHINGTON SCIENCE FICTION ASSOCIATION INC, WASHINGTON, DC
March 1993
ISSN 0894-5411
MASSIVE INFARCTION PROPOSED
ENTERTAINMENT COMMITTEE IN COURT AGAIN
Committee Does Slapstick
INFARCTION PROPOSED
The regular First Friday in Feb-brew-ary business meeting of the Washington Science Friction Association convened at 9:22, 5 Feb-brew-ary 1993. Before the meeting, Lee Uba suggested, "Hey, Steve, let's have a meeting." President Steve Smith asked, "Why?" An ominous sign.
Secretary Lee Strong stated that the minutes of the last meeting were still in his apartment. (Doesn't do much good.) <Neither does Lee.>
Treasurer Robert MacIntosh reported $3004.12 in the Treasury. There was a call for a party but this failed for lack of a second.
Steve asked for a report from Disclave Past. No one from Disclave 1992 was present. Previous Disclave Chairfan Alexis Gilliland asked, "How far past?" This provoked laughter from the club.
Steve then asked for a report from Disclave Present and ran into the same problem. Terilee Edwards-Hewitt, Chairfan of Programming, announced that we have a lot of guests. No junk mail, tho. "We can fix that," threatened the club.
Steve asked for a report from Disclave Furniture. Chair John Peacock is negotiating for Tysons Corner. He has a guest of honor (GOH) short list.
Alexis, Chairfan of the Entertainment Committee, announced that Lee Uba sued her husband for child support. The Entertainment Committee went to court and made faces. The judge wondered who she was and why. Lee Uba announced that the Entertainment Committee was in deep doo-doo.
Lance Oszko, Chairfan of the Fine Arts Committee, announced that his report was in the same state as the Secretary's minutes.... "In Lee's apartment?" asked Steve.
Joe Mayhew announced that his word processor has a spell-slovak rather than a spell-czech.
At this news, Lee Uba's chair leg fell apart. Well, she is on the Entertainment Committee. The chair was repaired. The crowd gave Lee a drumroll as she sat down again.
Steve hollered, "Yo!" to restore a semblance of order. There was no Old or New Business. Steve got the word "Announcements" out of his mouth before being hooted down for forgetting the New Tradition.
The New Tradition
Tom Schaad recapped the old/new/old/new traditions. (He should: he started most of them.)
Sarah and Judy were here for their first visit to WSFA. The club went, "Hi, Sarah! Hi, Judy!" We're nice.
Patrick Maloy was here for his second time. "Hi, Patrick!" The government sends him up on odd occasions. "I trust we help make them odder," stated our very odd President.
Mark and Vanessa Loney the Australians were here for their third time. (Finally! Someone who understands the Australian ballot!) The Trustees made distinctive gestures "if, for some reason, you want to join this organization."
Announcements
The Secretary warned everyone against expecting reality in The WSFA Journal He also announced that he had been appointed to run publicity for his agency anniversary ball. He used science fictional themes in the publicity and 24% more people bought tickets than previously. Are mundanes really undeveloped fans?
Lee Uba announced that she had been upstaged by the Entertainment Committee's report of her victory in court. She found it pretty entertaining. She also invited everyone to say, "...hello to my son. He was number one in the science fair."
Vicki Smith passed her CIA test and is now a CIA. Lee Uba announced that Vicki could be shot. There was an Ohhhh of dismay. Vicki clarified that she is now a Certified Internal Auditor. Dan suggested we have an audit.
Lance Oszko announced a protest outside the White House in support of the space station. The Baltimore Worldcon bid is selling medium, large and extra large T-shirts.
Dan Hoey announced Filthy Pierre's List of Conventions. He suggested we buy Filthy a laser printer so the list is readable by human beings.
Rebecca Prather has slides and viewers of the Taj Mahal in gorgeous pink and white.
Perrianne Lurie announced that Ed Bryant reviewed Where Is It Now? in Locus. Actually, he reviewed WSFA Press book Home By the Sea, pronouncing it to be the best small press book he's ever read.
Issue #2 of Babylon Five the newsletter is out even tho the show isn't. Please tape something.
Perrianne then did her Columbo impression, pausing, rumpling her raincoat, and saying one more thing: she's looking for a ride to and crash space at Lunacon.
Joe Mayhew told his 144th gross joke.
Tom Schaad of Fast Forward had a long talk with the head of Horrorcon, which will appear on Memorial Day weekend opposite Disclave Present. The list of attendees takes up 1/2 column in Filthy Pierre's. Rooms are $69/night. Three national television networks have applied for press credentials. 3-4 TV specials are planned. All known B horror movie hosts will attend. Programming will run until one a.m. Friday, until two a.m. Saturday, and until midnight Sunday.
Martin Wooster announced that the Star Trek exhibit closed. William Shatner is now singing "Mr. Tambourine Man."
Erica Van Dommelen got a fax from Columbia Motion Pictures announcing a new film Wolf, in which a New York book editor turns into a werewolf. <So what's the fantasy element?> They would like covers of Bioscience magazine for props. Has Bioscience ever done an article on werewolves? Erica mentioned a proposed article on men who acted like werewolves.
Charles Gilliland reviewed Loaded Weapon 1. "The best acting William Shatner has done in any movie!" Laughter greeted this assessment.
Matt Leger has lost his job. There was an Ahhh of sympathy. He is looking for work in computer graphics (preferably opposite Jessica Rabbit).
The Washington Post Weekend Section had an article on zines. It mentioned Hugo award winning Dick and Nicki Lynch. Matt also announced something or other about Comedy Central and Star Trek: The Next Generation. What? Nothing about Deep Angst Nine? B. Dalton has re-started its SF and F newsletter. Current articles include Piers Anthony and Roger MacBride Allen.
Dick Lynch announced balloting for the Trans-Atlantic Fan Fund. Award winning Mimosa #13 is out as are space fantasy stamps.
Joe Mayhew moved we have a huge infarction. This was not understood much less seconded.
Eva Whitley announced that the Baltimore Sun (Carroll County edition) had an article on Jack Chalker.
Lee Uba seconded Alexis' motion. Alexis then moved that we adjourn. The club unanimously adjourned at 9:51. Parliamentary procedure in WSFA is a strange and wonderful thing.
The WSFA Journal is the official newsletter of the Washington Science Friction Association (WSFA), Inc. All contents are © 1993 WSFA, Inc., except as noted.
* * *
Publisher...........Steve Smith
Editor-in-Chief......Lee Strong
People Who Know What an
Infarction Is.................2
People Who Care...............1
Bill Clinton's Economic Plan...
...Sacrifice the Taxpayers
The Republican Alternative...
...Sacrifice Bill and Hillary

SKEPNA CONDUCTS COUP
Cats Keep Meeting Moving
BOSKONE WEEKEND
Pirates of Boskone Kidnap WSFAns
The regular Third Friday in Feb-brew-ary business meeting convened at 18 minutes after 9 p.m. in Stately Ginter Manor. President Steve Smith hollered "Yo!" Everyone else hollered, "Why?" and Steve hollered "Because we're here." There was a slight bureaucratic bobble about the traditional bhottle accompanied by the usual babble.
* Before the meeting, Skepna conducted a coup, taking over the Presidential chair. Matt Leger bravely scared the cat off, making the chair safe for mere humans. Steve left the house until the bloodshed was over.
* Someone who shall remain nameless suggested that the Secretary record the events prior to the meeting. The Secretary rejoined that he'd been writing for 5 minutes before the suggestion was made.
Secretary Lee Strong presented the minutes which were then waived. Steve noted that many things were being waved, including a cat's tail.
Treasurer Robert MacIntosh reported $3009.21 in the Treasury. There were three weak suggestions that we have a party but each failed for lack of a second.
Committee Reports
Covert Beach, Vice Chairfan of Disclave Past, had no report. Steve stated "We have no past."
Covert Beach, Chairfan of Disclave Present, is mailing the flyer. Robyn is chairfan of the film program.
Disclave Future had no report.
Alexis Gilliland, Chairfan of the Entertainment Committee, listened to the Republicans' response to the President's State of the Union address. "I was entertained," he stated.
Lee Uba, Chairfan of the Entertainment Subcommittee on Bheer, visited the Capital City Brewery. "I don't know where this belongs..." she said. Robert ordered, "Speak!" Lee woofed in response. Anyway, Capital City bheer compares with Iron City bheer.
There were no Trustees present.
A call for Old Business produced silence as did a call for New Business. "This is looking nice," opined our overworked President.
The New Tradition
Steve forgot and said the word before Lee reminded him. This upholds the Second and Third New Traditions if not the other five. No one was here for her or his first or third time. Pete Miller was here 4 weeks ago. "Hi!" hollered the club.
Announcements
According to my notes, the Secretary said, "Announcement."
Matt Leger is looking for work as a computer graphic. The second Jay Omega mystery is on the shelves. It is accurate in its portrayal of fandom.
Lee Uba has her feet back. Her foot will be stored in Riggs Bank for safekeeping in the future.
Hugo Award winner Dick Lynch was aghast to see that no one was selling books at a previous WSFA meeting, so we brought 2 boxes. Give your money to the little lady. What Dick did not know was that a cat had been sitting on his books before the meeting! Fortunately, there were no accidents. Heh, heh, heh.
Bill Bowers is in the hospital.
Barry Newton was aghast to learn that no one was selling books at a previous WSFA meeting and brought 3 bags of books. Just give your money to his little lady.
Dick Lynch and Covert Beach announced that the Boston Worldcon bid lost the use of Hynes Auditorium. The American Association of Political Scientists booked the Sheraton for 1998. The Hynes wants them back. Baltimore Worldcon's chances just grew exponentially.
Babylon Five was on TV this week.
Alexis moved we adjourn and we adjourned unanimously at 9:30.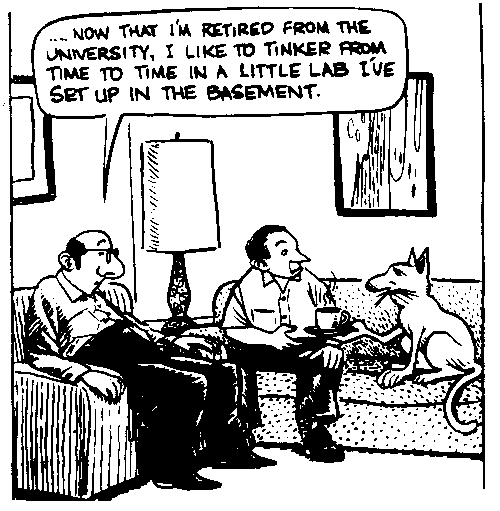 ARMY OF DARKNESS
Well.... Pictures moved across the screen for 90+ minutes. This must be a movie. Just not a very good one. Which is a pity because there were some good things hidden in this very uneven effort.
This is movie #3 in a series of too many. However, a quick recap fills you in on the previous adventures. In this episode, the smart aleck hero is transported to the Middle Ages where he talks down to everyone, takes advantage of the heroine, and is a general jerk. There's a reasonable fantasy plot here in which the hero must recover a magic book from its resting place, defying various supernatural dangers along the way. When he bungles the protective spell, the title army of darkness rises up to besiege the castle. Fairly basic stuff but done with a lot of energy, some good special effects, and some snappy dialogue.
What does this effort in is incredible logic and its underlying contemptuous attitude. The hero starts off with a chainsaw, a missing hand and an old car. He quickly loses the chainsaw without accomplishing anything, builds a new hand and converts the car into a war machine. Conveniently, the car's trunk is stocked with a complete library of chemistry manuals, welding equipment, and other deus ex machinas! A certain amount of help from the scriptwriter is reasonable, but this is going too far. The logic doesn't work and neither does the film.
I rate Army of Darkness Below Average fantasy. -- LS
National Lampoon's LOADED WEAPON 1
I gave up reading National Lampoon several years ago. This film reminded me why. It's just not very funny. This effort is a parody of police/action movies such as Lethal Weapon and Die Hard. A crazy white cop is teamed with a straight arrow black cop in order to solve a murder allegedly disguised as a suicide. Along the way, the heroes lay waste to huge amounts of property and the audience's brain cells.
On the positive side, the story moves along with a fair amount of energy and action. Some of the jokes are fairly good, and there are lots of big name actors in cameo roles for those who like that sort of thing. (I'm not one.)
On the other hand, most of the jokes seemed rather strained and strung together rather than flowing from a coherent plot. Effective humor demands a certain veneer of logic, and that veneer is lacking here. Too many gags are isolated one liners instead of being parts of a larger whole. It seems as tho every conceivable plot device was used exactly twice -- never less often or more often -- and then dropped. If something is good, we don't see it enough; if something is bad, we see it too often. Related to this problem, a lot of scenes seemed to be transitional devices rather than integral plot elements. Weak pacing further wasted some good talent here.
Avoid this misfire. I rate Loaded Weapon 1 as an Inferior film. -- LS