The WSFA Journal May 5, 1995
The Official Newsletter of the Washington Science Fiction Association -- ISSN 0894-5411
Edited by Joe Mayhew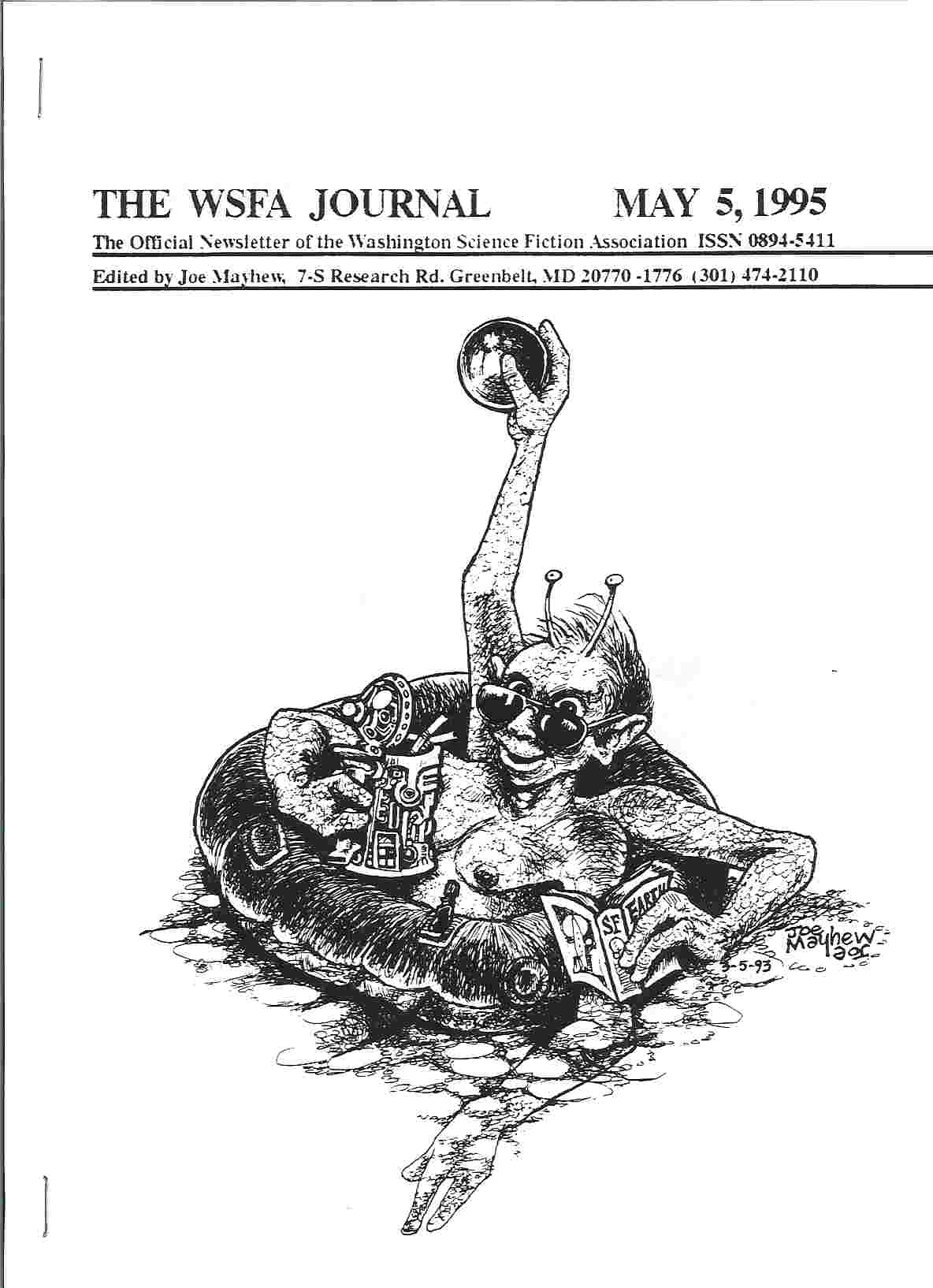 WSFA Trustee Dan Burgess gave me the following over the phone, for:
PRESIDENT: Covert Beach
VP: Terilee Edwards-Hewitt
SEC: Joe Mayhew
TREAS: Bob MacIntosh
TRUSTEES:
Jim Edwards-Hewitt
David Grimm
John Pomeranz
This slate is required by the WSFA Bylaws in order to insure there will be at least one candidate for each office. Nominations are accepted from the floor at the time of the election.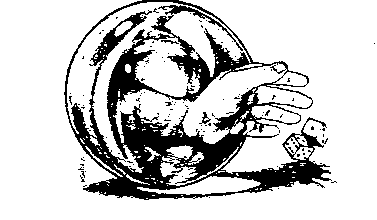 Kathi Overton J
John Pomeranz
[ censored ]
Falls Church, VA 22046
1-703-538-5239
Eric T. Baker
Rachel A. Russell
[ censored ]
Vienna, VA 22181
1-703-281-7955
Jack Heneghan
Elaine Normandy
[ censored ]
Colorado Springs, CO 80921
Robyn Rissell & Sylvia Thayer
have Gotten engaged.
Their phone: (313) 663-2341
NOVEL: Greg Bear
"MOVING MARS" [ Tor ]
NOVELLA: Mike Resnick
"Seven Views of Olduvai Gorge"
[OCT/NOV 94 F&SF]
NOVELETTE: David Gerrold
"The Martian Child" [F&SF]
SHORT STORY: Martha Soukup:
"A Defense of the Social Contracts" [SF AGE]
GRANDMASTER AWARD:
DAMON KNIGHT
As so many WSFA members were admitted without the approval of all three Trustees, due to the fact that all three have not been at most meetings, I propose that we change the Bylaws from:
"(Associate members are eligible for Charter membership if they attend three meetings,) are sponsored by an existing Charter member, are approved by all three (3) trustees, and (pay the differential in dues between those for Associate and Charter members.)"
to:
...are sponsored by three (3) existing charter members, approved by one (1) Trustee, and ...
Submitted by Joe Mayhew, Charter Member. The required petition is being circulated at the May 5th WSFA meeting.
Attending: Pres. Covert Beach, Sec. Joe Mayhew, Treas. & 96 Chair Bob MacIntosh, 95 Chair Dan Hoey, Chris Callahan, Susan Cohen, Chuck Divine, Karl Ginter, Erica Ginter, Jack Heneghan, Samuel Lubell, Dick Lynch, Nicki Lynch, Barry Newton, Lance Oszko, Peggy Rae Pavlat, Sam Pierce, John Pomeranz, Dick Roepke, Gary Rumain, John Sapienza, George R. Shaner, Michael J. Taylor, Ronald C. Taylor, Michael J. Walsh.
The meeting was called to order at 9:25. There was nothing pending on the agenda.
The secretary noted that the April 21, 1995 WSFA JOURNAL had a page order error: page 2 and 3 were reversed.
John Sapienza and Peggy Rae Pavlat brought copies of the 1992 - 1994 Disclave program books and Peggy Rae said she would provide a copy of the Lewis Shiner book for the WSFA archives. The Secretary thanks them on behalf of WSFA.
Bob MacIntosh said that the Treasury held $6,262.71.
TRUSTEES' SLATE: None of the Trustees (Dan Burgess, Paula Lewis and Jim Edwards-Hewitt) Were present, neither had they transmitted their constitutional slate of candidates for the election of officers. The Secretary will try to contact them in order to publish their slate in the WSFA JOURNAL.
DISCLAVE 1995 Dan Hoey said that his Disclave party at Balticon had been a success. He also said that the meeting with the Hotel scheduled for May 29th needed to be moved to the afternoon of May 1st. He would contact committee members as soon as a time could be made definite. Registration stood around 280.
DISCLAVE 1996 Bob MacIntosh said he still did not have a contract with the Hotel. F.L. Ettlin had agreed to be his registrar.
No business was conducted.
The meeting was adjourned at 9:40 without incident.
Pat Cadigan's FOOLS won the Arthur C. Clarke Award for Best Science Fiction novel published in the United Kingdom.
Ian Banks won the BSFA award at last week's Eastercon for his novel FEERSUM ENDJINN (the US edition will be out in June or July).
"A new science fiction magazine is available at the following WWW address: http://naveg.fcaglp.unlp.edu.ar/naveg.html Or via gopher or ftp at : aleph.fcaglp.unlp.edu.ar. You only need MS Windows, a full HTML version is coming soon." (neep...neep...neep).
Novel
MOTHER OF STORMS by John Barnes (Tor)
BRITTLE INNINGS by Michael Bishop (Bantam)
MIRROR DANCE by Lois McMaster Bujold (Baen)
BEGGARS AND CHOOSERS by Nancy Kress (Tor)
TOWING JEHOVAH by James Morrow (Harcourt Brace)
Novella
"Cri de Coeur" by Michael Bishop (Asimov's) "Melodies of the Heart" by Michael J. Flynn (Analog)
"Forgiveness Day" by Ursula K. Le Guin (Asimov's)
"Seven Views of Olduvai Gorge" by Mike Resnick (F&SF)
"Les Fleurs Du Mal" by Brian Stableford (Asimov's)
Novelette
"Cocoon" by Greg Egan (Asimov's)
"The Martian Child" by David Gerrold (F&SF)
"The Singular Habits of Wasps" by Geoffrey A. Landis (Analog)
"The Matter of Seggri" by Ursula K. Le Guin (Crank!)
"A Little Knowledge" by Mike Resnick (Asimov's)
Short Story
"Mrs. Lincoln's China" by M. Shayne Bell (Asimov's)
"Dead Man's Curve" by Terry Bisson (Asimov's)
"None So Blind" by Joe Haldeman (Asimov's)
"Understanding Entropy" by Barry N. Malzberg (SF Age)
"Barnaby in Exile" by Mike Resnick (Asimov's)
"I Know What You're Thinking" by Kate Wilhelm (Asimov's)
Non-fiction Book
I. ASIMOV: A MEMOIR by Isaac Asimov (Doubleday)
SPECTRUM: THE BEST IN CONTEMPORARY FANTASTIC ART by Cathy Burnett & Arnie Fenner (Underwood Books)
SILENT INTERVIEWS: ON LANGUAGE, RACE, SEX, SCIENCE FICTION, AND SOME COMICS by Samuel R. Delany (Wesleyan University Press)
MAKING BOOK by Teresa Nielsen Hayden (NESFA Press)
THE BOOK ON THE EDGE OF FOREVER by Christopher Priest (Fantagraphics)
Dramatic Presentation
"All Good Things" (STAR TREK: THE NEXT GENERATION)
INTERVIEW WITH THE VAMPIRE
THE MASK
STARGATE
STAR TREK: GENERATIONS
Pro. Editor
Ellen Datlow
Gardner Dozois
Mike Resnick
Kristine Kathryn Rusch
Stanley Schmidt
Professional Artist
Ian Burns
Thomas Canty
Bob Eggleton
Don Maitz
Michael Whelan
Professional Artwork
LADY COTTINGTON'S PRESSED FAIRY BOOK by Brian Froud & Terry Jones (Pavilion UK)
Cover for GUN, WITH OCCASIONAL MUSIC by Jonathan Lethem, by Michael Koelsch (Harcourt, Brace/NEL UK)
(Cover for FOREIGNER by C. J. Cherryh, by Michael Whelan (DAW/Legend UK)
Semiprozine
INTERZONE edited by David Pringle
LOCUS edited by Charles N. Brown
THE NEW YORK REVIEW OF SCIENCE FICTION edited by David G. Hartwell, Donald G. Keller, Robert K.J. Killheffer & Gordon Van Gelder
SCIENCE FICTION CHRONICLE edited by Andrew I. Porter
TOMORROW SPECULATIVE FICTION edited by Algis Budrys
Fanzine
ANSIBLE edited by Dave Langford
FILE 770 edited by Mike Glyer
HABAKKUK edited by Bill Donaho
LAN'S LANTERN edited by George Laskowski
MIMOSA edited by Dick & Nicki Lynch
Fan Writer
Sharon Farber
Mike Glyer
Andy Hooper
Dave Langford
Evelyn C. Leeper
Fan Artist
Brad W. Foster
Teddy Harvia
Linda Michaels
Peggy Ranson
Bill Rotsler
Campbell Award
Linda Dunn (2nd year of eligibility)
David Feintuch (1st year of eligibility)
Daniel Marcus (2nd year of eligibility)
Jeff Noon (2nd year of eligibility)
Felicity Savage (1st year of eligibility)
The Hugo Subcommittee of Intersection decided to cancel the Best Music category due to a marked lack of interest that category: only one nominated item received more than 7 nominations.
LADY COTTINGTON'S PRESSED FAIRY BOOK received votes in both the categories of Best Non-Fiction Book and Best Original Artwork; we have decided to assign it to Best Original Artwork.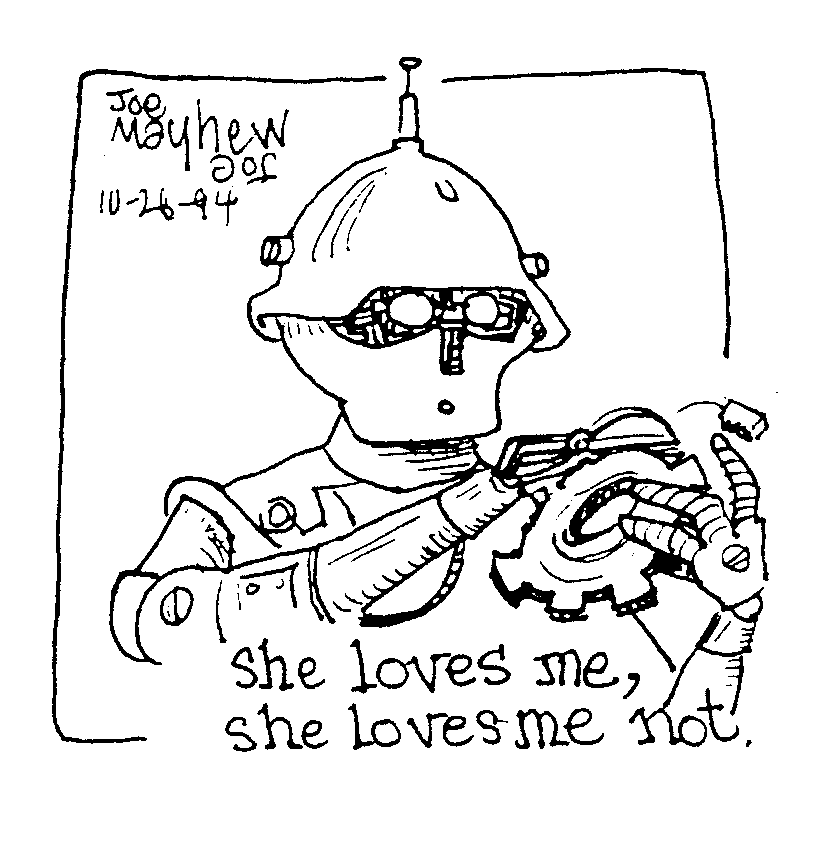 The line between science fiction and fantasy may seem clear cut, but the distinction sometimes is harder to make in practice than in theoretical description. For example, most readers would put a book with Faerie, witches, the evil one, and retellings of the stories of Sleeping Beauty, Cinderella, the Frog Prince, and Snow White firmly in the fantasy camp. Likewise, a book with a time traveling camera crew travelling back in time to escape a dystopian future where all animals and plants are dead and humans eat wafers from large yeast cultures (shades of SOYLENT GREEN) would be classified as science fiction. But how does a fan classify a book containing both plotlines at once and makes it work as a unified novel?
I'm speaking of Sheri Tepper's BEAUTY, which starts out as yet another fantasy retelling of a fairy tale, albeit with a perky loquacious narrator, until, after the castle is put to sleep, the time travellers enter and take Beauty back with them, ruining the plot of certain of the Faerie. More than that would be telling .The book is well written with a number of surprises and speculations on ecology, disasters, and the inner soul. The novel takes the best of science fiction and fantasy and makes it work together.
-------
The heroine of Nancy Springer's LARQUE ON THE WING has a problem -- her inner child is no longer inner. And she disapproves of her adult self and how she has given up all her dreams. I'd call it magical realism since, while the book seems set in the real world there are some fantasy elements that are very visible, but no one blinks or is surprised. The heroine is a fortyish artist who has the unconscious ability to make temporary doppelgangers of herself. This causes problems when she accidentally creates herself as a child and this doppelganger can talk back and even run away. Her mother is one of those people with very stubborn ideas about what other people are like and what is best for them, but has the unique ability to force reality to yield to her perceptions. There's also a magical street where dreams and total makeovers are possible. A second story about two gay men, woven throughout that of Larque, doesn't appear to connect to the plot but then surprising revelations develop. This is a fascinating character study and a book to hand out to those who say that science fiction can never develop characters the way literary fiction can. It is a very literary book in its language and themes.
------
Some adult readers might pick up Pamela Dean's new book THE DUBIOUS HILLS, realize the main characters were children, and put it aside. If so, they missed a deep, philosophical, and dare I say adult novel. Although not as good as her TAM LIN (a wonderful, magical tale of English majors coming of age in a slightly mysterious college) it shows Dean's flair for language and quotes (all the spells are quotations with the more powerful spells being the best poetry.) In this village, everyone has a special role -- only one person in the town could teach, only one could feel pain, only one could remember the past etc. This forced a lot of the plot of the novel to be going from character to character to use their special abilities on the problem. But Dean's books use plot only as a jumping on point. Most of the book centers around the heroine's trying to understand the meaning of pain and its various forms and gain an understanding of evil and if (and how) it can be fought as her village is invaded by shapeshifting wolves.
------
A COLLEGE OF MAGICS by Caroline Stevermer is an excellent low key fantasy. It is the story of a reluctant college student (she'd rather be contesting her evil uncle for rule of the duchy). And magic isn't really taught in the college, it is assumed somehow that being at the college will make magic part of the person; and since the heroine never goes home during the summer, she absorbs more of the magic. And when she leaves the college to try to gain control of her duchy, she finds that her destiny (and her heritage from her parents) is different from what she had thought.
But this isn't a David Eddings supermagic hero saves the world type story. It takes place in the 19th century, the characters travel by train, read THREE MEN IN A BOAT and other real world books, and face bombs and guns in addition to magical threats. There is a lot of atmosphere and a light tough in the writing too and a strong hint of romance but nothing overpowering. The descriptions of the college and college life are especially strong as are the heroine's reactions to what her uncle has done to the duchy.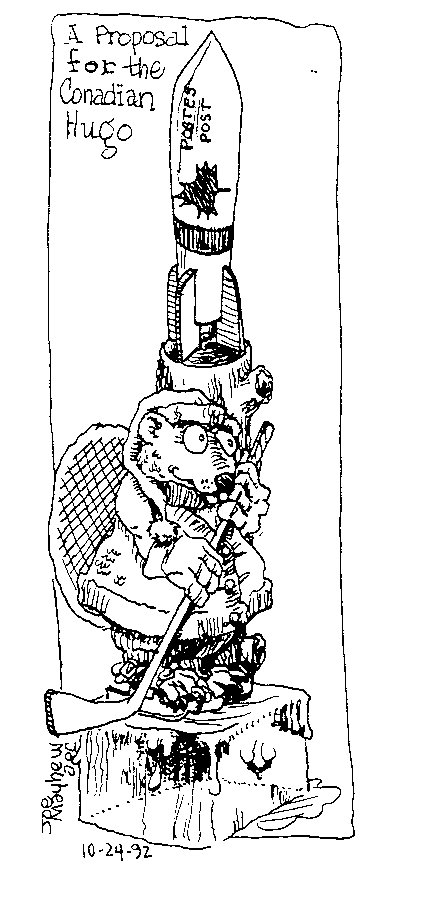 MARCH 14-16, 1998
[Actually April 14-16, 1995 -- KFL]
by Michael Nelson
First, some background on my trip to Minicon. I'm a member of the Baltimore in 1998 Worldcon Bid Committee. Last summer, I decided to support our bid by attending some distant convention to convert the natives to our holy cause.
But which convention? I wanted a big con that I had never attended. And one that other members of our committee had not "officially" visited yet. There were many choices since I haven't attended any cons away from the East Coast except for Worldcons such as Chicon V.
Minicon seemed like an excellent choice. It has over two thousand attendees and my friend Bruce from Chicago recommended it highly. Plus, by attending Minicon I would miss Balticon. This was a good thing since I was doing the pocket program for Balticon and I would be in Minneapolis if anything went wrong.
I talked Bob Mac-like-the-computer-Intosh into going with me on my quest (I promised him that we would sign up many pre-supporters and make lots of money). I got memberships and started to make room arrangements with the Minicon Hotel Liaison, Karen Cooper. In the course of our e-mail correspondence, we experienced a "My, What a Small Universe" twist of fate. Guess which friend of mine has recently moved from Chicago and is now living with Karen?
Traveling with Bob is very entertaining but should be avoided by persons with weak hearts. It's like going on a field trip with Oscar the Grouch from Sesame Street. Bob enjoys yelling at all the other drivers on the road and complaining excessively about airports. But all the kids know that there's really a nice guy under that fur. Our trip out to Minnesota was uneventful and we reached the hotel shortly after 11 am on Good Friday.
We discovered that many of the Minicon attendees had arrived on Thursday to get an early start on their parties. Minicon is like Spring Break with an art show and dealers room. Visualize a large two-story enclosed annex of rooms surrounding an indoor pool just off the hotel lobby with lots of deck area and an olympus-sized jacuzzi. All the people throwing parties had banners, strings of lights, Borg spacecraft, telephone booths, and all sorts of other decorations on their balconies.
It was a larger indoor version of the old Disclave party setup at the New Carrollton Sheraton. Karen had given us an excellent corner cabana room on the first floor near the con suite with a great view of the jacuzzi. To be fair, she gave the Boston in 1998 people the room on the opposite end of the jacuzzi.
I wish I could give you a review of Minicon 30 (Oh... Is that what you thought this was?) but I am a embittered and covetous O.F. without a kind word to say about Minicon.
After we had registered, Bob and I borrowed Bruce's car and did our party shopping. Do you have any idea of how difficult it is to locate a cheap styrofoam ice chest in Minneapolis in March? We ended up buying a styrofoam bait bucket for our ice.
Then we spent the entire weekend being completely ignored by everyone!
Don't these people realize how important Worldcon bids are! Don't they know that conventions are for serious business? WE HAD RUM LEFT OVER ON SUNDAY!!!
Hey, we were the big city guys from Baltimore. Everyone was suppose to flock to our bid table and our excellent room parties. There were over 3,450 attendees, a new record for Minicon. And ninety-nine percent of them paid absolutely no attention to us! The other 34.5 people came over to ask, "What's a Worldcon?" What is wrong with these people?
Oh sure, Minicon is run by the most efficient and competent group of fans I've seen west of Boston. These guys seem to operate by the principle of "How can we make this Minicon even better than past Minicons and let's have lots and lots of fun doing it!" All the divisions were superbly run. Yet it was all done with a sense of humor and a touch of whimsy. Everyone was just so cheerful and bursting with energy that it made me ill.
So Bob and I spent a quiet weekend sitting around drinking the bid's rum and watching everyone around us have fun. We were in such a foul mood that we didn't attend any of the other parties and we skipped all the program events. We missed the Minneapolis in '73 party suite, the Dark Star Cafe, the dances, the CD release party, and all the other events in a very crowded weekend of fannish celebration.
Our only consolidation was that the other bidders from Boston (1998), Las Vegas, Niagara Falls, and Chicago were all equally overlooked. Chicago and Las Vegas (run by people from Chicago) had slightly better attendance but they were closer to Minneapolis.
The majority of the people attending Minicon were there for the parties. The rest of the con functions such as the programming, art show, and dealers room seemed to be sized for a convention with about a thousand attendees.
Everything associated with Minicon was totally first class from the construction of their badges to the programming. Well, I do have to say that more than half of the program items and most of the stuff in the dealer's room, art show, and masquerade was media fluff but it was very good fluff.
This is why I can't give a real review of Minicon 30. We were so upset that we forgot how to have fun. I'm jealous that they have such a great relationship with their hotel. Minicon has been at this particular hotel for eleven years now. They are allowed to do things that most eastern con committees would find unthinkable. Allow people to pound on drums next to the pool until 4 am! Flyers cover ing every empty vertical surface (and a few ceilings) in the hotel? Serve beer in the con suite... well, skip that example.
And surprisingly, most of the attendees worked hard at observing the convention's few rules. For an example; every time I used one of the three elevators to the 22nd floor, everyone was carefully counting to make sure they didn't exceed the twelve-person limit. The people at Minicon were not just attendees, they were members who cared about their convention.
Minicon 30 was a rotten convention... for worldcon bids. Actually it wasn't quite as bad as I have made it sound. We were just victims of the current balkanizing of fandom. We did get seven pre-supports and we did collect enough money to cover the cost of the party supplies.
We concluded on the way home that the Minicon participants interested in Worldcons must have attended ConAdian in Winnipeg last year. They may already be pre-supporting the bids of their choice. So if Baltimore does win the 1998 worldcon bid, Bob and I plan to return to Minicon to have some fun and maybe sell a few memberships on the side.