The WSFA Journal November 17, 1995
The Official Newsletter of the Washington Science Fiction Association -- ISSN 0894-5411
Edited by Joe Mayhew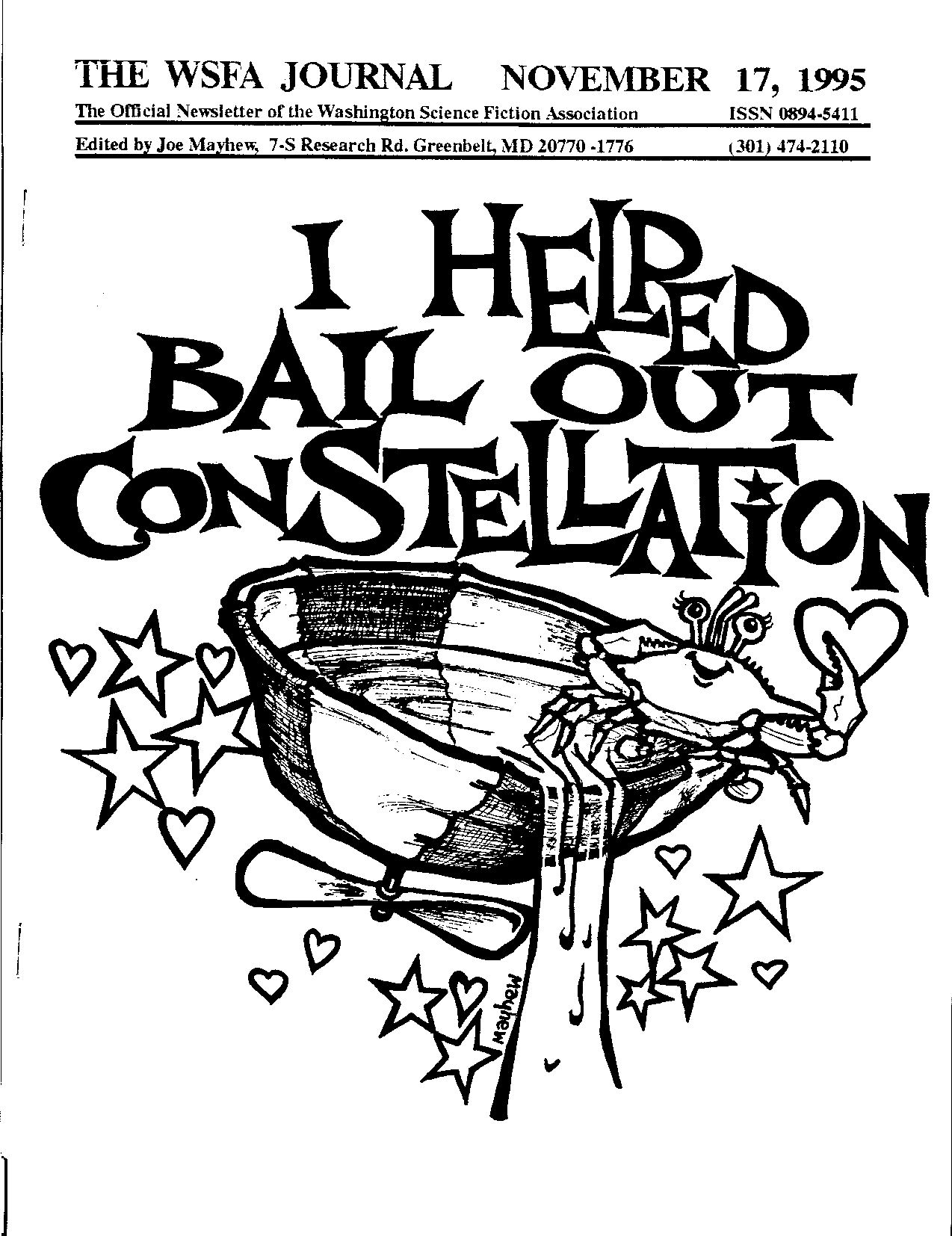 May 24-27, 1996
GOH: Michael Swanwick and Hannah Shapero

Location: Downtown Washington                 PREREGISTRATION:
Hyatt Regency Washington - Capitol Hill       DISCLAVE '96
400 New Jersey Ave., NW                       [ address censored ]
Washington DC., 20001

Adult Membership are $20 until 12/31/95, $30 until 4/30/96, then $40.
Children: $10 6-12 years old.  $5 under 6 years (must be "in tow")
Hotel is $99 single/double, $114 triple/quad.  Hotel phone: (202) 737-1234

MEMBER'S NAME  _______________________________________________

STREET ADDRESS _______________________________________________

CITY, STATE, ZIP _____________________________________________

MEMBER'S PHONE _______________________________________________

Buyer's Name (If Different From Member's) ____________________

Please list below the names for additional memberships purchased at
the same time for persons living at the first member's address.  (Use
other forms for separate addresses.)  Please give children's birth
dates (mm/dd/yy) next to their names.  At this time, we regret that
we cannot provide babysitting services at DISCLAVE.

AMOUNT(S) RECEIVED:        PLEASE MAKE CHECKS OUT TO:
                                     DISCLAVE '96
Membership  1    $________
Membership  2    $________  Name 2____________________________
Membership  3    $________  Name 3____________________________
Membership  4    $________  Name 4____________________________
Membership  5    $________  Name 5____________________________
TOTAL AMOUNT     $________  Cash _  Check _  Received By _____
**************************************************************

HELPERS HAVE MORE FUN!  CHECK HERE TO HELP US DO THE
__ Art Show     __ ConSuite     __ Green Room    __ Programming
__ Information  __ Publication  __ Registration  __ Technical

You are welcome to contact the head of the department where you'd like
to work directly, many will be listed in the DISCLAVE flier mailed
in the Winter.  Is it too early to decide?  That's fine - come over
Thursday night before the con and help us set up.  Or just go to the
information/ gopher tables when you arrive and ask where help is needed.

NEED SPECIFIC INFORMATION ABOUT A DISCLAVE DEPARTMENT?

Art Show           Dealers Room           Giving Parties     Programming
Judy Kindell       Scott and Jane Dennis  Covert Beach       Joe Mayhew
[address censored] [address censored]     [address censored] [address censored]

Attending: Pres. Covert Beach, Sec. & 98 Chair Joe Mayhew, Treas. & 96 Chair Bob MacIntosh, 97 Chair Mike Nelson, Eric Baker, Grinner Cleveland, Alexis Gilliland, Lee Gilliland, Karl Ginter, Erica Ginter, Mike Harrington, Eric Jablow, Kitty Jensen, Quinn Jones, Judy Kindell, Richard Lynch, Nicki Lynch, Keith Marshall, Winton Matthews, Walter Miles, Lance Oszko, Peggy Rae Pavlat, Rebecca Prather, Rachel Russell, John Sapienza, Tom Schaad, Colette Schleifer, George R. Shaner, Steven Smith, Lee Strong, Michael J. Taylor, James Uba, Michael J. Walsh, Miles Weissman, Mike Zipser, Beth Zipser, Ben Zuhl.
Covert called the meeting to ordre at 9:15. Secretary Joe Mayhew said that he would need a scribe (or Pharasee) for the next meeting as he would be at Philcon. George T. Shaner volunteered and was given a convenient roll sheet to fill out while taking minutes at the November 17th meeting.
Bob MacIntosh reported the treasury balance as $7,300.17.
DISCLAVE 1996. In his role as Chair, Bob then pointed out that the price of a Disclave membership will go from its present (until 12/31/95) $20.00 to $30.00 which, in turn will be good until 4/30/96 whereafter it will go up to $40.00.
DISCLAVE 1997 Chair Michael Nelson announced that his program will be done by Judy Kindell, assisted by Rachel Russell.
DISCLAVE 1998 Chair Joe Mayhew announced that TERRY BISSON had accepted to be Guest of Honor for '98 and that Gene & Rosemary Wolfe would be special guests.
MEETING SCHEDULE: The December meetings will NOT be reversed this year. The December 1st meeting will be held at Gillilands'; the December 15th meeting will be at Ginters'.
NO BUSINESS WAS TRANSACTED
The Meeting was adjourned at 9:40 (or so).
@@@@@@@@@@@@@@@@@@@@@@@@@@@@@@@@@@@@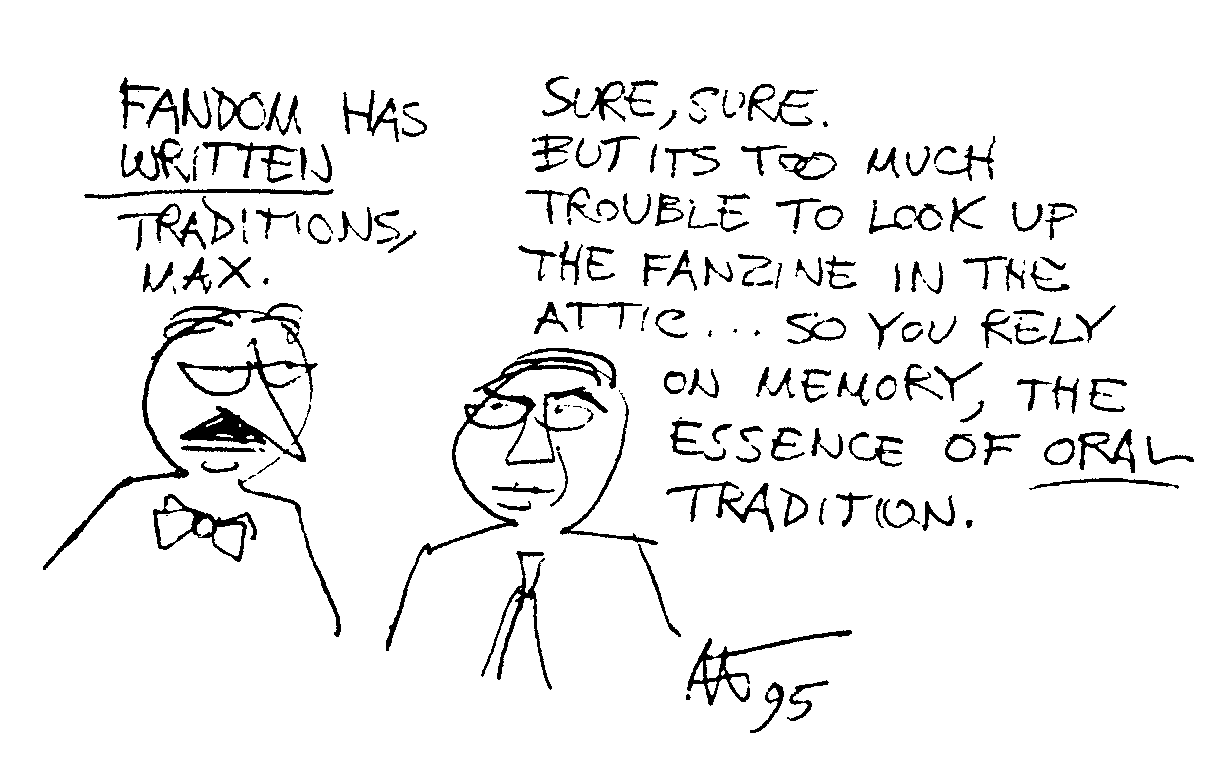 Goodwill Industries Guild
Thurs, November 16th & Fri 17th 10 am to 8 pm. Saturday - Sunday 18 & 19: 10 am to 6 pm. Mon 20th, 10 am to 6 pm = Half Off Marked Prices Tues 21st 10 am to 3 pm = Bag Day.
100,000+ books, CDs, records, cassettees, etc. Up to 90% off cover prices FREE ADMISSION at: Washington Convention Center, Hall B [H Street, NW] Use Metro Center or Gallery Place Metro stop. MC and VISA accepted. For information, Call (202) 636-4225, ext. 1255
They usually have six or more tables of SF and fantasy books there. - Michael Nelson
The following in a selection of upcoming SF Conventions for which I happen to have the fliers:
SMOFCON `95
December 1-3 at the Red Lion Hotel in Austin, Texas. "A conference devoted to running better conventions." Memberships rates $45.00 through November 20, $50 at the door. Mail to:
SMOFCON `95
c/o FACT, Inc
P. O. Box 9612
Austin, TX 78766-9612

More information:
Phone (512) 835-9304 (before 10PM)
Mail = meschke@chinacat.Unicom.com

Hotel: $70 single, $80 double
res = (512) 323-5466 mention SMOFCON

Traditionally, a peculiar ser-con with very fancy Consuite food for WorldCon megasmofs and wannabees. This'n's related to the San Antonio WorldCon. Not usually a good con for kids, gamers, costumers or Goths.
BOSKONE 33
February 16-18, 1996 at the Sheraton Tara, Framingham, MA. GOH: Lois McMaster Bujold; Official Artist: Gary Ruddell; Special Guest: Bob Madle. Membership $33.00 until Jan 15, 1996 (Checks payable to Boskone 33 -also accept Visa & Mastercard (no hotel info on the flier, but it's the same hotel as last year. Mail to:
Boskone 33
P.O. Box 809
Framingham, MA 01701-0203

Rather a bookish Con very well run by NESFA, There's usually a Regency Ball, but no other costume activity. A first class art show, interesting programming and usually free of hostile lobby louts.
JOHNCON `96
March 1-3, 1996 at Johns Hopkins University. GOH Margaret Weis. Marion Zimmer Bradley, Comic GOH Walt Simonson. $30.00 for adults, $15.00 children (5-12) until Feb. 1st, at the door $40.00. Children $20.00 One day $20.00 Hotel acommodations The Inn at the Collonnade, 4 W University Parkway (410) 235-5400. Mail to:
JohnCon '96 Registration
c/o HopSFA
Office of Student Activities
(122 Merryman Hall
3400 North Charles Street)
Baltimore, MD 21218
E-mail = Marcus_d@cs.jhu.edu

This is their first offense. They offer 24 hour gaming, filk, movies, anime and con suite. Live action Vampire: the Masquerade game, Magic: the Gathering tournament, Art show, Dealer's room, Masquerade and "Up to-date Panels with Authors and Artists."
BALTICON XXX
Aril 5-7, 1996 Omni International Hotel, Baltimore, MD. Robert Jordan, GOH, Lubov Art GOH, Marty Gear, Fan GOH, Frank Hayes, Filk GOH, Doranna Durgin, 1995 Compton Crook Award Winner. Membership until postmarked 12/31/95 is $30.00, kids = $15. goes up to $35 and $18. babysitting available at $40.00. Mail to:
Balticon XXX Registration
P.O. Box 686
Baltimore, MD 21203-0686

This is a local Con, get their flier, which is extensive and informative.
READERCON 8
July 12-14, 1966 somewhere in Eastern Massachusetts - hotel to be picked. GOH = William Gibson. Membership $35 until 12/31\95 (supp = $10. Contact:
Readercon
P.O. Box 381246
Cambridge, MA 002238

E-Mail = Readercon@aol.com
World Wide Web
=http//www.mit.edu/user/t/e/terra/www/rcon.html.

This is the most literary of the Cons on the East Coast, probably in the country. It is about SF/F in print, and focuses on the more carefully written works. No costumes, games, films, art show or filking. Not one for the kiddies.
1966 WORLD FANTASY CONVENTION
October 31st - November 3rd at Woodfield Hyatt Regency, Shaumberg, IL: GOHs = KATHERINE KURTZ & JOE R. LANSDALE, Toastmaster = BRIAN LUMLEY. Attending membership $80 till Dec 31st, 1995; $90 till Sep 1, 1996 then if still available $100. Membership is limited to 850 people. Supporting (get the pubs) is $25. They take Master Card, Visa and American Express by mail or phone. You can even purchase your banquet tickets now. Mail =
World Fantasy Convention 1996
P.O. Box 423
Oak Forest, IL, 60452
Phone at 708-687-5765 (11 am til 8 pm Central Standard Time)

Hotel reservation cards will be sent out with the 2nd Progress Report.
RATES = single $99 , double $109 quad = $129 The hotel will not accept direct suite reservations.
Art Show contact:
Stan and Nancy Bruns
World Fantasy '96 Art Show
4956 Sherifield Drive
Marrietta, GA 30068
770-587-4572 (call before 9 p.m.)

DEALERS ROOM :
Alice Bentley
c/o The Stars Our Destination
1021 W. Belmont
Chicago, IL 60657-3302
312-871-2722
(11 a.m. - 9 p.m.Mon.-Sat., and 12N - 6 p.m. Sun.)

AWARDS BANQUET $40.00
The art show is for professionals and isjuried. This is a serious professional event, no costumes, gaming, films or fuzzy critters. It is about books and publishing. Horror is included.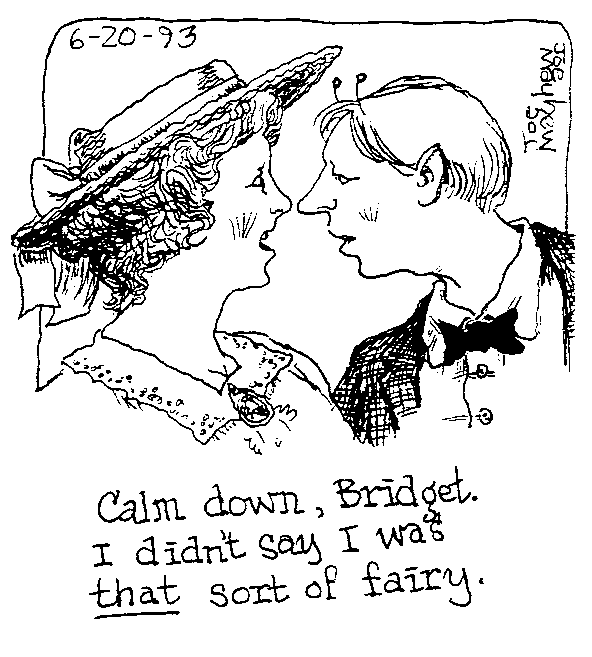 by Joe Mayhew
According to H.W. Fowler in A Dictionary of Modern English Usage. London: Oxford/Clarendon (1926) corr ed 1937. "Alright. see ALL RIGHT" q.v. "ALL RIGHT. The words should always be written separate; there are no such forms as all-right, alright or alright, though even the last, if seldom allowed by the compositors to appear in print is often seen (through confusion with already & ALTOGETHER) in MS. This rule holds not only when the two words are completely independent, as in The three answers, though different are all right, but also where they may be regarded as forming a more or less fixed phrase. So: The scout's report was `All right' (i.e. all is right)./` will you come for a walk?' `All right'. /All right, you shall hear of this again. / Oh, I know them apart all right."
Webster's New World Dictionary of the American Language (College Edition) Cleveland/NY: World Publishing Co. 1962, says alright is "a spelling much used but still generally considered substandard usage." They admit it exists but curl their lip in scorn.
Webster's New World Compact School & Office Dictionary (Updated Edition) NY: MacMillan USA, 1995 says that alright is "a disputed usage." At least, they think there is some valid difference of opinion.
The Shorter Oxford English Dictionary, 3rd Edition, Revised with addenda London: Oxford/Clarendon Press, (1933) 1956, cites: "Alright, frequent sp. of all right 1893." The Oxford folks have come a long way to simply giving it as a variant.
Finally, Merriam-Webster's Collegiate Dictionary Springfield: Merriam-Webster Inc, 10th ed, 1993 say, " The one-word spelling alright appeared some 75 years after all right itself had reappeared from a 400 year-long absence. Since the early 20th century, some critics have insisted alright is wrong, but it has its defenders and its users. It is less frequent than all right but remains in common usage esp. in journalistic and business publications. It is quite common in fictional dialogue and is used occas. in other writing < The first two years of medical school were alright - Gertrude Stein>. Thus the word seems to be gaining approval. Should it?
Is there any good use to which it could be put? I think so. For instance in the following context: Student: "Were my answers all right?" Prof: "No, but they were alright; you passed."
Fowler's examples seem stilted and absurd to me. There is a difference between the literal "all right" and the colloquial "alright." All right means literally means `all correct' or `all dexter' (e.g. "The turns were all right.") The figurative usages often do not come out as having the same meaning. "Alright, admit you were wrong." or "It was alright to turn left." seem to justify a different spelling.
There is a theory that new words find acceptance only when the Dons find them used by cute students they want to favor. In any case, alright is commonly used in the newspapers, technical manuals and in business letters. Fowler grandly states that there is no such form as alright. Even in his own day he was wrong. It did exist. Whether he thought it should have existed or not, it DID.
by Kitty Jensen
No shit, there we were, washing cheese and cutting grapes, or something like that. Anyway, we were in a tiny bathroom in Scotland doing food prep for SFWA on our night off from running pirate parties, overhearing conversations like:
"You're Bob Eggleton? I think you did a cover for me. Nice to meet you."
When all of a sudden, a roving gang of Pros led by Joe Haldeman burst in and congratulated us on winning the WorldCon for Baltimore. At this point, it had only been two hours since the voting closed, so we were somewhat skeptical.
We made polite noises like: "Thank you" and "Wait and see how the official numbers come out, some time after midnight."
After all, it had been a hard fought four way race we thought that there was no way the ballots could already have been counted this early. Yet they told us it was over and that we had won. While two of us stayed at the SFWA party, two of us raced to the Moat House to see if this could possibly be true the fifth went off to take his two hour nap shift.
When we got to the room where the rest of the bid committee was, we found out that it was really true. We had won! The counting was finished and we really had a WorldCon thrown into our collective laps. It was a great, OVERWHELMING feeling, So, to make a long story short, [ I think I hear a smart-alec bartender, who thinks he's an editor, saying, "Too late!" ] We'd like to thank all the people who knew we were going to win before we did, who clapped and clapped (and drank and drank) to keep Bucconeer alive and kicking (in our sleep-- )
@@@@@@@@@@@@@@@@@@@@@@@@@@@@@@@@@@@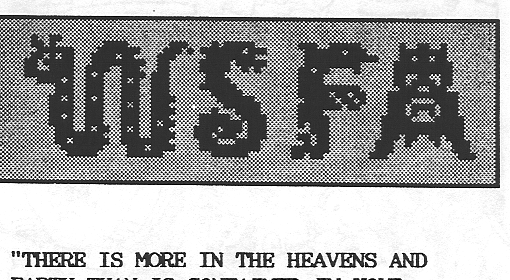 "THERE IS MORE IN THE HEAVENS AND EARTH THAN IS CONTAINED IN YOUR PROGRAMING, ARTOO".
Michael J. Walsh, the bookseller, gave the following item from THE BOOKSELLER (27 October 1995, page 35):
The last week of entries before the final judging of the Diagram Prize for the Oddest Title of the Year has brought a flurry of late entries. Pat Smith of THE BOOKSHELF in Holsworthy, Devon, has nominated "THE BIBLE, BLACK PUDDING, MAD COW DISCEASE AND THE HUMAN SEXUALITY REPORT"; John Franks of Waterstones in Worcester has sent in "PROBLEMS OF VEGETABLE PLUMBING" and Patrick Gallagher of Allen & Unwin in Australia has suggested "POST MODERN WETLANDS" as a possible winner
He also provided an ad for "ANDROID EPISTEMOLOGY" from which the following is extracted: "Epistemology has traditionally been the study of Human knowledge and rational change of human belief. Android epistemology is the exploration of the space of possible machines and their capacities for knowledge, beliefs, attitudes, desires and for action in accord with their mental states."