The WSFA Journal December 15, 1995
The Official Newsletter of the Washington Science Fiction Association -- ISSN 0894-5411
Edited by Joe Mayhew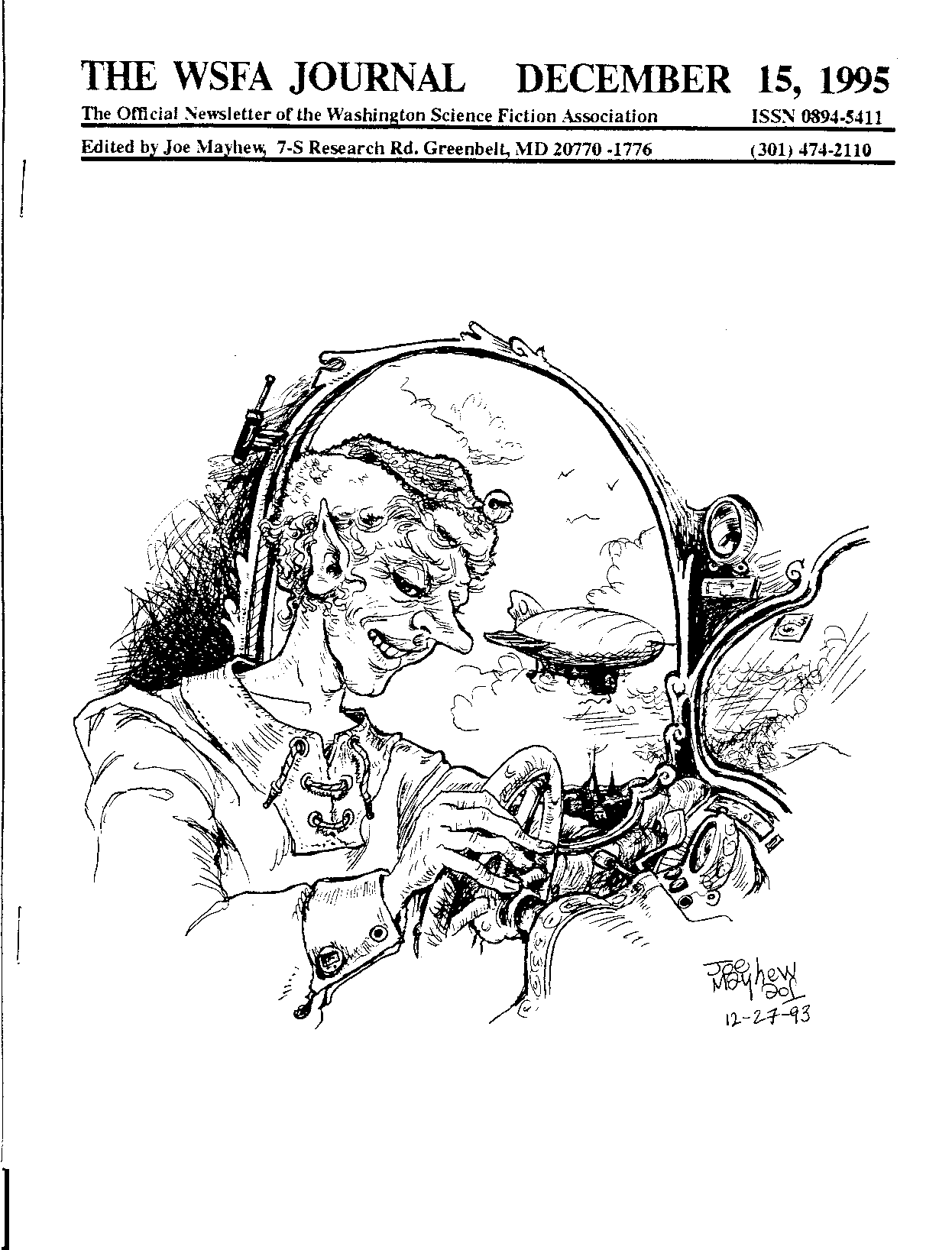 Friday April 5th thru Sunday April 7th 1996
The Baltimore Omni Inner Harbor Hotel
101 West Fayette Sr - Baltimore, MD 21201
410/752-1100 or 800/843-6664
Note on Room Types:
The Room rate us the same, $95.00 + 12% Sales Tax for Single, Double, Triple, or Quad OCCUPANCY (i.e. 1, 2, 3, or 4 people in the room) which has nothing to do with the number or types of beds available in the room.
The bed types available are: King (72"x80"), Queen (60"x80"), Double (48"x78"), and Double/Double (2 Double beds) There appears to be only 28 Rooms, all in the South Tower, that are Double/Doubles (have two Double Beds). Non-Smoking Floors are 11 thru 18 in the North Tower, and 11 thru 21 in the South Tower.
Special Handicap Access are rooms Numbered numbered 25 and 31 (i.e. 1625, 1731 etc.) on floors 16 and up in the South Tower.
The Hotel will accept requests for room type at the time of reservation, however they cannot guarantee their availablility. Make your reservation early.

Name__________________________________________________________

Address_______________________________________________________

City_________________________________State________Zip_________

Phone_____________

Arrival Date:__April____1996__Departure Date:__April____1996__

Room Type:______________ Smoking or Non-Smoking (circle one)
           (Bed Type)

To guarantee your reservation fill out the credit card information
below, or include a check (made out to the Omni Inner Harbor Hotel)
for the first night's occupancy.

Credit Card Type:  Master Card / VISA / American Express / Discover / Diners

Credit Card Number _____________________  Exp ________________

Attending: Pres. Covert Beach, VP. Terilee Edwards-Hewitt, Sec. & 98 Chair Joe Mayhew, Treas. & 96 Chair Bob MacIntosh, Trust. Jim Edwards-Hewitt, Trust. David Grimm, 97 Chair Mike Nelson, Bernard Bell, Elspeth Burgess, Steven desJardins, Christine Fatula, Alexis Gilliland, Charles Gilliland, Lee Gilliland, Erica Ginter, Eric Jablow, Bill Jensen, Kitty Jensen, Judy Kindell, Lori Lowe, Samuel Lubell, Richard Lynch, Nicki Lynch, Keith Marshall, Walter Miles, Barry Newton, Judy Newton, Lance Oszko, Sam Pierce, Rebecca Prather, Rachel Russell, George R. Shaner, Steven Smith, Michael J. Taylor, James Uba, Michael J. Walsh, Michael Watkins, Miles Weissman, Mike Zipser.
President Covert Beach called the meeting to order at 9:16.
There was no business on the agenda. Treasurer Bob MacIntosh reported the Club's Treasury balance to be $7,172.93. Dues for the coming year are payable.
NO COMMITTEE REPORTS, DISCLAVE NEWS, OR BUSINESS CONDUCTED.
FIFTH FRIDAY PARTY: there being a fifth Friday in December, host volunteers were solicited but none volunteered. So far, no party.
CHUCK DIVINE PARTY: the other hand, Chuck Divine is holding a party at his house with lots of drink and munch, champagne and stuff on Saturday, December 17 from 8:00 PM on. WSFA is invited. His address is as follows:
Chuck Divine
[ street address censored ]
1-301-794-6436
[ email address censored ]

[ Directions to Chuck Divine's home censored ]
The meeting was adjourned around 9:45.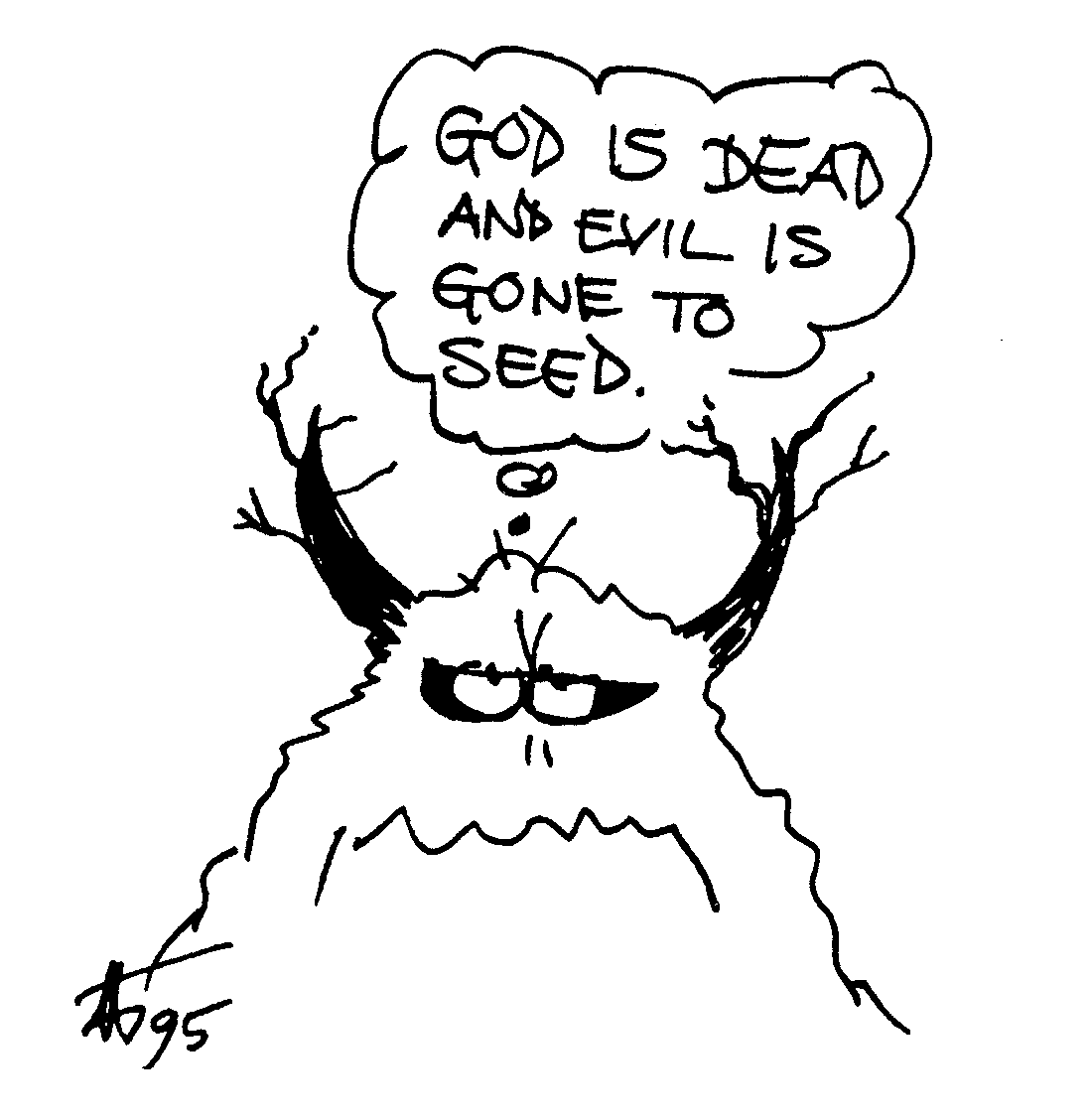 by Steven desJardins
I went to WFC with low expectations, based on late progress reports and poor communications with authors I'd talked to, and was pleasantly surprised. With the exception of registration, every department was smoothly run. The con suite was well-stocked, conveniently located, and a good place to meet friends and acquaintances.
A sour note early on was the theft of 22 paintings by Don Maitz and Janny Wurts from a Federal Express truck. They passed the hat at the convention and raised enough money to register all the stolen paintings in an international database, but it's hard to be optimistic. A really distressing crime. As Eric Baker said, "What happened to the good old days, when people stole things like--well, art..." It would be comforting to think that this was the work of some European master criminal, and that the paintings would end up in the hands of at least one person who would appreciate them, instead of being tossed in a dumpster by somebody who didn't know what he was taking and didn't want it when he found out.
Aside from that tragedy, the art show was outstanding, perhaps the best I've ever seen. Artists come to WFC to impress editors and get assignments, not to sell artwork. A staggering array of top artists had their best work on display. Typical minimum bids ranged from $400 to $12,000, well out of my price range. I did bid on a somewhat cheaper piece, a black-and-white Liz Danforth drawing called "A Child's Defiance", which is the most expensive piece I've ever bought. (I really like it, but nobody I showed it to seemed impressed.)
Two artists who particularly impressed me are Rick Lieder and Karl Kofoed. Lieder has had two covers published on the _SFWA Bulletin_ which don't do justice to his stunning originals. Kofoed had some very striking alien seascapes. I'll be keeping an eye out for their work in the future.
The panels were mostly good, but I've been to enough conventions that it's hard to impress me. One comment I jotted down was Joe Haldeman's response to an audience member who was arguing that a writer needs to write for an audience: "It isn't even communication. Writing is sitting in a room by yourself trying to make sense of the universe."
Another comment I jotted down, because I wanted to think of ways in which I disagreed with it, was Howard Waldrop's statement that "A short story is the most important event in a character's life." (Martha Soukup's excellent "Plowshares", in _Alternate Presidents_, set during William Jennings Bryan's retirement, was the first counter-example to come to mind.)
The interview with Publishing GoH Lloyd Arthur Eshbach was fascinating, and I'm glad I made the time to see one of the key figures of early SF history. Eshbach founded Fantasy Press, which was not the first small press, but which was one of the most successful (even though it ended in bankruptcy). His first book was E.E. Smith's _Spacehounds of IPC_, and the total initial investment was $80 for stationery and postage. Enough advance orders came in for the signed numbered edition (Eshbach's innovation) to pay the entire cost of producing the books. He went on to produce 45 more books, including the Lensman series, and was successful enough to persuade larger publishers that science fiction was worth looking into.
The worst panel I attended was "Symbolism in Fantasy and Horror Illustration". Tom Kidd started off by saying that he never used symbolism. Rick Lieder hardly spoke at all except when the moderator asked him a direct question, and then his answer was, "I agree with Tom."
The memorial Saturday night for Roger Zelazny was well worth attending. The speakers were determined to remember the joy that Roger brought to everyone around him, and the organizers arranged to serve ice cream sundaes in the back of the room. This prevented the evening from bogging down in gloom. Instead, there was a precarious balance of laughter, sorrow, remembrance, and grief. I remained for about two hours, long enough to renew my appreciation of Zelazny's greatness.
I ate most of my meals with Eric Baker and Rachel Russell. For some reason, we had five people at every meal. Most places could handle this, but it threw the hotel restaurant into fits.
I didn't have a chance to stop by the ATM before dinner one night, and so after paying $15.60 to cover my share of the bill I had exactly thirty- seven cents remaining. After everyone else paid their share, Rachel solemnly handed back my sixty cents. I looked at the coins in my hand, then snarled, "I don't need your pity!" ("Yes you do," she said.)
One moment I remember is speaking to Connie Hirsch, who was sprawled bonelessly on the sofa. "Your cat-masters will be pleased," I told her. "You have learned their lessons well." (I didn't actually say that, but I should have. One of the advantages of con reports is you can make the past more spontaneous than it actually was.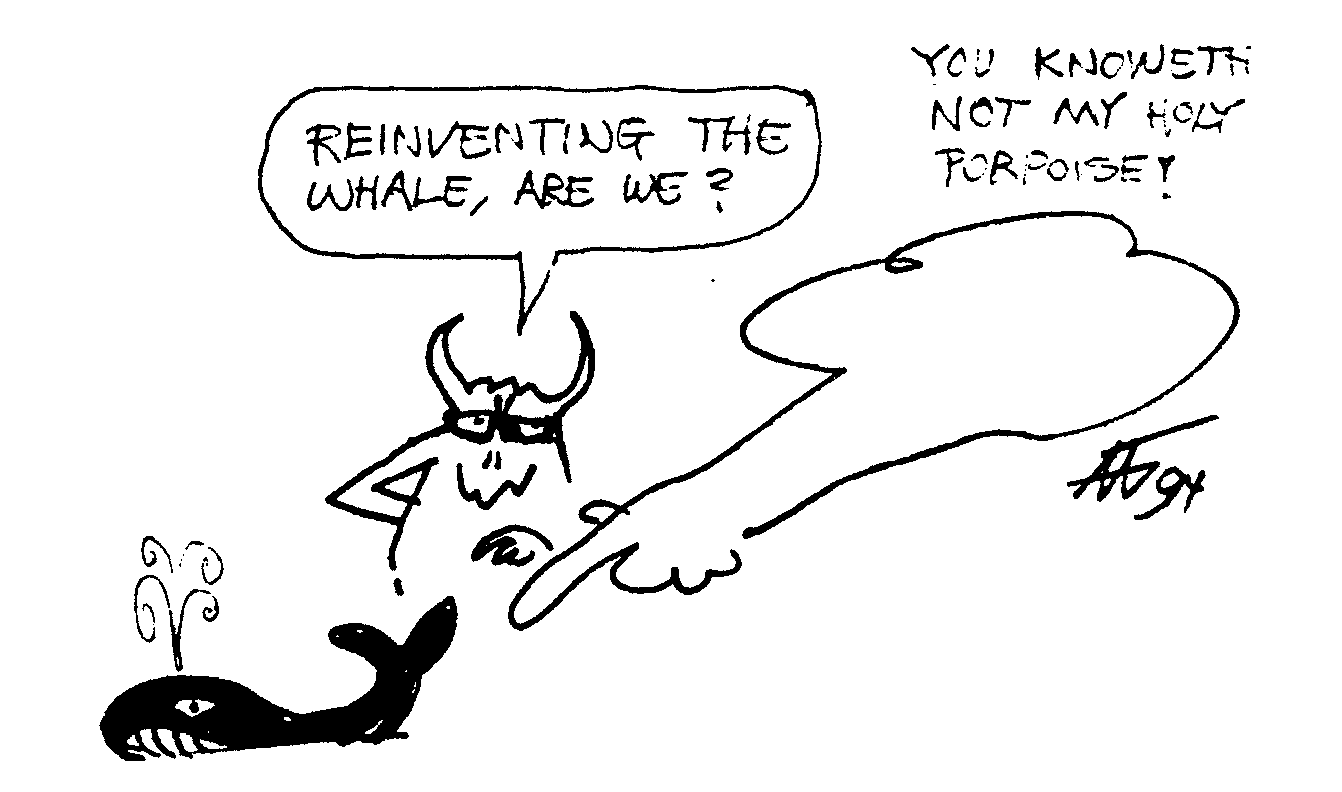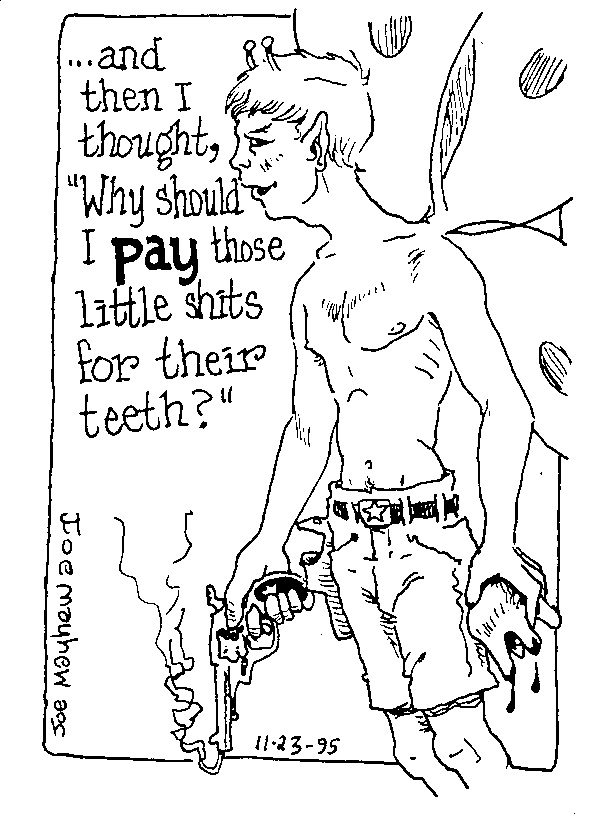 Reviews by Samuel Lubell
We readers of science fiction like to call it the literature of the future and point to ways its ideas make us think. When the aliens land, when time travel is invented, when computers take over the earth, only science fiction readers will have imagined out the possible consequences and be prepared. Science fiction can consider the ramifications of anarchy, the impact of new inventions, and the outgrowth of possible solutions to today's most pressing problems.
But there is another side to science fiction, a more childish appeal to the desire for power-- the desire to do things that others can't. The author speculates: "Suppose a person could instantaneously teleport from place to place" or "What if I had magical powers and could fly" or "What if we could invent geniuses who could work 24 hours a day without sleeping." Yet while the notion of people with special powers may seem straight out of comic book, like any other idea what matters is the author's treatment of it. These books run the gamut from comic bookish superheroes to speculations on the meaning of humanity in both senses of the word.
THE ULTIMATE SILVER SURFER an anthology of short stories by various writers based on a Marvel Comics character allegedly edited by Stan Lee but actually put together by Byron Preiss Multimedia Company (published by Boulevard Books $12) is not a book I normally would have picked up. However since one of the authors in it gave me a free copy on condition that I review it (hint to publishers: send me books) it occurred to me that this how magazine reviewers operate, they review books sent to them.
The normal problem with books based on media characters is that when the character is licensed the authors' scope is limited. Not only can you not kill the character or the supporting cast, you cannot make any mental changes in them either. This precludes most true storytelling, showing growth and development in the character, and normally leaves only two options, either tell a plot driven action-adventure story or invent a new character and tell a story of how that new character is affected by the licensed character.
Many of the stories in this book take these two routes, but some invent a third thanks to a quirk in this particular character. According to the first (very poorly written) story, Norrin Radd served as a "herald" to a powerful planet-eating alien for whom Radd found new planet-snacks. But thanks to a group of earth superheroes and a blind women, he grows to understand (and pity) earthlings and decides to help them defeat his master and save the Earth. This background gives the story writers something to work with as they tell of this spaceman's reaction to humans and getting to know humanity better, his overcoming his guilt at helping to destroy other planets, and his alien nature.
For example the second story "To See Heaven" tells of Radd's encounter with war refugees (at first he can't tell if they are human since they are so different from the Americans he knew) and his own feelings of exile as he assists a doctor trying to save the refugees. In this story he doubts as to whether he made the right choice at saving a planet where there is so much ugliness. Another well-written story, "Improper Procedure" by GEnie's own Keith DeCandido features a well developed character, that of a police lieutenant who befriends the Surfer when the alien, not distinguishing NYC police uniforms from the thousands of strange clothes worn on this world, blasts a police officer who was trying to shoot a kidnapper. This story features a well thought out view of the Surfer's alieness -- of course he's claustrophobic in a New York City apartment, he lives in space-- and good use of humor. In "The Tarnished Soul", an otherwise good story marred by forgetting that Radd is an alien (the story includes the Greek fates and an American courtroom), the Surfer is forced to confront his dark side.
There are a couple of good adventure stories including "The Broken Land" about a man who redeems himself by caring for others and "A Game of the Apocalypse" about a religious assassin. But far too many of the stories are spoiled by unbelievably clunky writing. For example in "Godhood's End", the author has the Surfer say "I came here out of curiosity, but I stayed because I wanted to save future generations of your people." Many others are forgettable. Especially disappointing is "Sambatyon" about a planet where the ten tribes of Israel settled, disappointing because the part of the culture that isn't biblically based is 1990s America despite having no contact with Earth; the author could have done much more but instead throws in a meaningless fight scene. On balance, I'd say this book isn't worth $12, but fans of the comics will enjoy it.
Steven Gould's JUMPER (Tor Books) features a teleporting hero who discovers his powers when his drunken father beats him (he suddenly finds himself in the library where he feels safe) and when he escapes being raped by truck drivers after running away from his abusive father (back to the library.) Right from the opening, the reader knows, strange power aside, he's not from the glittery four-color world of the comics but inhabiting real life. He's a runaway, unsure of himself and of what he can do. Worse of all, without a diploma or a social security number (which he has no idea how to get) he cannot find a legitimate job. So he does the obvious and uses his powers to rob a bank of almost a million. (He never questions the morality of this theft, just his odds of getting caught, "How the hell are they going to catch you, even if they had your fingerprints, which they don't? If they did catch you, what jail would hold you?")
Morality aside, this book is a lot of fun as Davy finds more and more innovative use of his powers (which seem not to be powered by anything) such as jumping to a library halfway across the country just to look at the clock. Much of the early section concerns a growing romance with an older woman (some angst) in college (more angst). This leads to the question of what he should tell her about his powers and the source of his wealth. He tries to find out how his teleportion works and worries that his father may have the same ability. However, halfway through the book there is a tragic event that turns the book into superheroics as Davy uses his powers against a bunch of terrorists and is pursued by the National Security Agency.
What holds JUMPER together is Davy's character. He is real and the reader seems he grow and mature. He makes mistakes, does things with his powers that he regrets and worries about becoming violent like his father. The book stays in his viewpoint, first- person, with all his emotions and insecurities spelled out. Even when the book shifts to more action, this sense of self-doubt caused by his father's abuse is not lost. The author is careful to anchor the wonder and strangeness of Davy's in the real world of child abuse, wife-beating, and terrorism. While striking back at the terrorists and the NSA who see him as a terrorist, he is really striking back at his father. In this regard, the book makes an ideal transition for readers leaving YA fiction and entering the world of more adult science fiction. Highly recommended for anyone interested in a mix of fun and serious elements.
Nina Kiriki Hoffman's THE SILENT STRENGTH OF STONES (AvoNova $4.99) is a very good book, but not quite up to her earlier THE THREAD THAT BINDS THE BONES which is one of my all- time favorite books. This new book is set in the same world (although this is not mentioned on the cover) and features members of the same family of people with special powers although none of the characters of THREAD appear.
The book, told in the first person, is about a young man's encounter with a mysterious family and his own self-identity. Nick clashes with his father who demands he spend all his time running the family store. The little free time he has is spent spying on others renting a country home. When a new family moves in with a very pretty girl, his spying finds several oddities such as their very intelligent pet wolf, Willow's ability to make water glow, and an invisible young girl. But it turns out that Nick has abilities of his own including a "supersalesman" ability to talk people into buying things they don't want (which he realized was wrong so stopped) and to see Willow's family when they think themselves invisible.
Nick is drawn into their world when Willow invites him on a date and, not knowing how to dance, does something so that "Suddenly we were dancing just fine, her steps matching mine with a prescience that was eerie. I felt peculiar, as if I had four legs, four arms, two hearts, and an imperative: music was the brain that governed my actions." He is taken as a "fetch" (mind controlled servant, albeit with a very long leash) by Willow's brother, the rebel in the family and attacked several times by Willow's aunt to try to keep him from interfering in their affairs. And ultimately Nick learns more about his full nature and forms adult relationships with his father and mother.
Still, compared with THREAD this novel, although very good in itself, disappoints. Part of the problem is that the author and publisher appear to be undecided as to whether this is a YA book or not. The text of the back of the book is terribly misleading, making it seem like an R.L. Stein YA story (I'd hardly call Nick wicked) but the front shows a boy watching a naked girl working magic (admittedly a scene from the book.) Furthermore, while THREAD was notable for its many strong and sympathetic characters, its revealing of understandable motives for even the villains, and its well-thought out and explained world of "powers and presences", this book has not enough in any of these respects. Nick, Willow's brother, and to a certain extent Willow are convincing characters but none of the adults really stand on their own, especially Willow's family who are never given credible reasons for their actions. Also, while it is interesting (and totally believable) that Willow and her brother take their magic for granted and see no reason to explain the terms they use even though Nick doesn't understand them, the first time reader will be as confused as Nick.
My recommendation here is to read THE THREAD THAT BINDS THE BONES. Then, depending on how much you like it go on to THE SILENT STRENGTH OF STONES.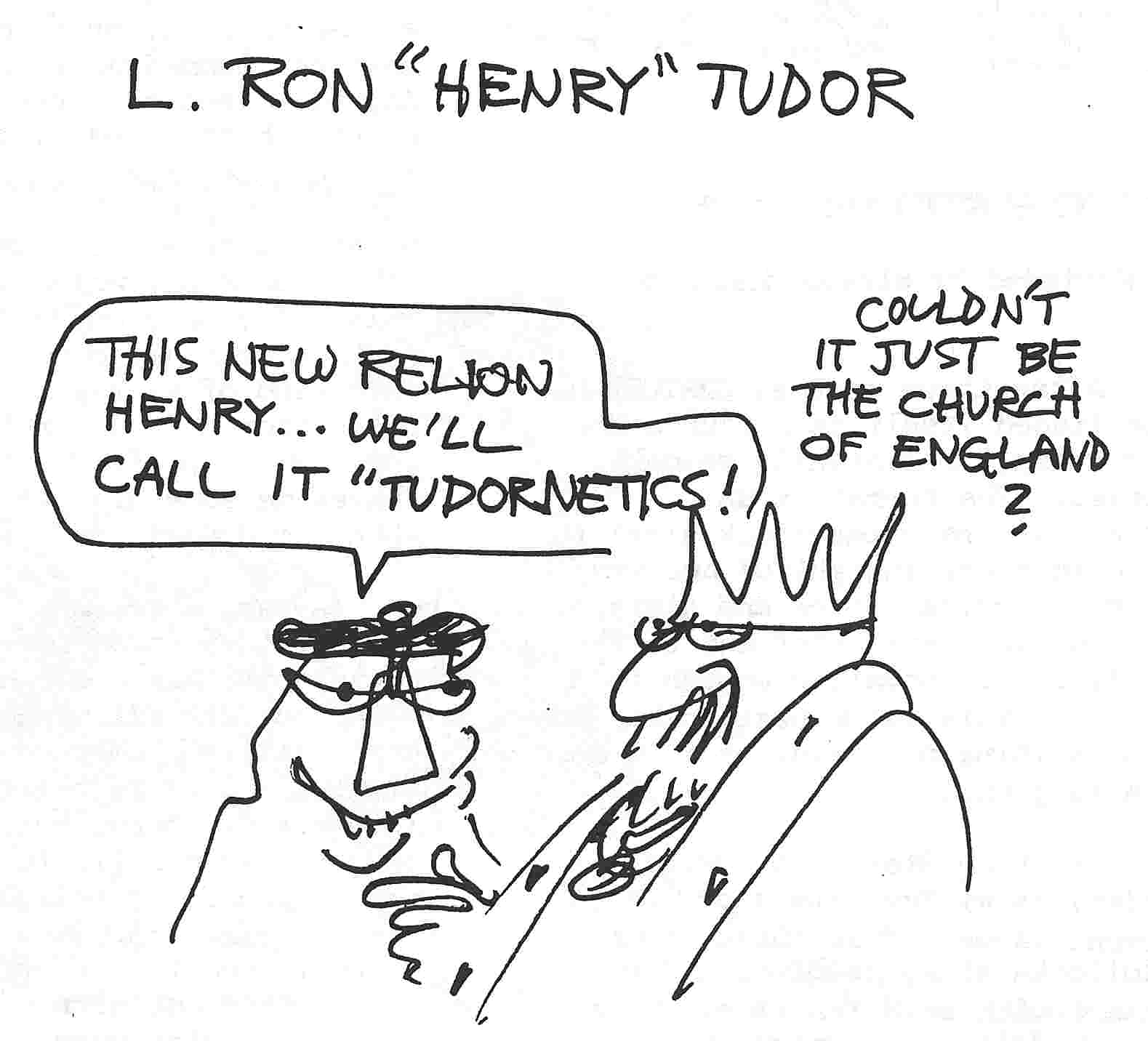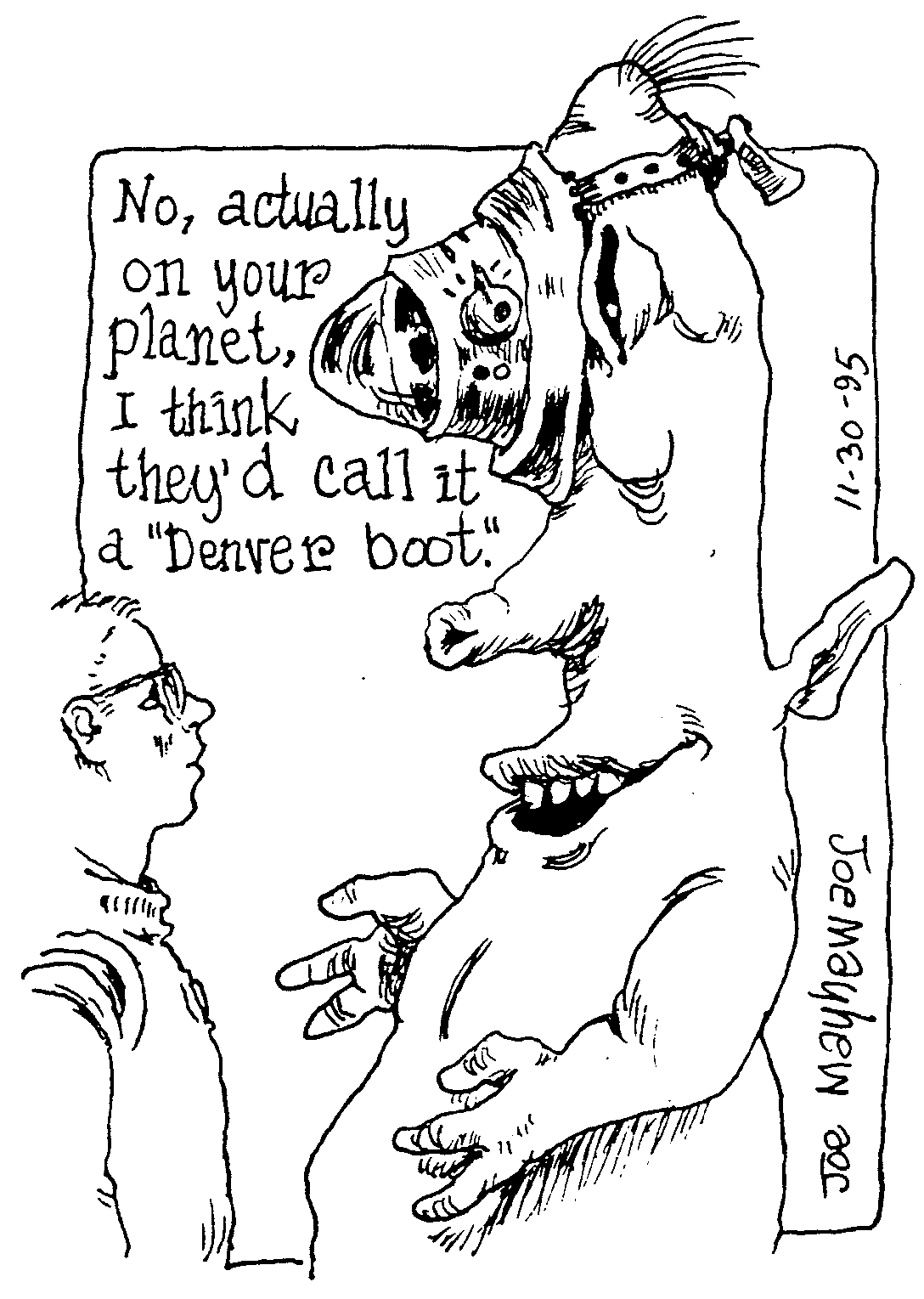 Reviewed by Steven desJardins
After three issues, CENTURY has established itself as a source for intriguing, consistently readable stories. The format is an attractive trade paperback size; the editorials are insightful and wry; the biographical notes and story introductions are brief and to the point, but informative enough to satisfy. This is unquestionably the most exciting new magazine I've seen in a long while.
"Bedtime Story", by David Phalen, is my favorite story in the current issue. This twist on the Goldilocks story involves a first contact with an alien race, where human meddling has unexpected consequences, and relies on a framing story to give it a wistfulness and a philosophical depth that leaves the reader thinking of the nature of the stories we tell our children, our descendants, and ourselves.
Maya Kaathryn Bohnhoff's "The Sons of the Fathers" felt similar to me, in the twist it gave a familiar situation. In this case, Bohnhoff examines Islam's notorious disdain for women, and asked what would happen if God decided to take a hand in the matter. The portrayal of a reluctant prophet and pigheaded resistance is done with considerable grace and good humor, and this is another story well worth reading. (However, it didn't satisfy me quite as much as the Phalen piece. There's a class of science fiction readers who think that a good story should have exactly one layer of hidden meaning, or an obvious point that can summed up in one sentence. Anything less they rightfully regard as unsophisticated, and anything more disconcerts them, because it raises the possibility that they might not have the right answer. "The Good Pup", which made the Hugo ballot a couple of years ago, was a particularly ham-handed example of this kind of story, and "The Sons of the Fathers" is a particularly good one. But I prefer a story that leaves me something to think about when I'm done.)
Avram Davidson's "The Metaphysical Force" draws upon his Jewish heritage for a story of a young boy struggling against a manipulative family environment, and finding solace in religion. An interesting story, but I round the ethnic flavor a little overwhelming, and wished for the lighter touch of his classic "The Golem". (If you haven't read that story, track it down. It's one of the greatest fantasy stories ever. If all else fails, a memorial best-of collection will be appearing in another year or so, which every sophisticated s.f. fan should snap up immediately.)
Kelly Link's "Water Off a Black Dog's Back" is a romance involving a very strange family, and is my third-favorite story in this issue. You won't find anything quite like it elsewhere, which always encourages me to give stories a couple extra points. "Below Baghdad" is my second-favorite story. The setting in the 1930's, when British colonialism dominated the Middle East, was unfamiliar to me and Gerald Pearce's rendering was precise and fascinating. The young protagonist's confidence and bluff exterior leads him into a series of adventures (romantic, artistic, and otherwise) as he grows into manhood, and his gradual questioning of Britain's colonial role is underscored by a woman's search for the truth of her father's death, and its fantastic denouement.
Carol Emshwiller's "After Shock" was the only story that was not quite satisfying for me, a magical realist tale of a woman grieving for her dead husband. The exotic transformation she goes, and the lush language accompanying it, did not quite carry me along. And Michael Shea's "Fast Food" was the only story that I quite simply disliked, to the point of not bothering to finish it. But for any magazine, five memorable stories out of seven is a remarkable average.
CENTURY is published bimonthly. Subscriptions are $15 for three issues, $27 for a full year, and $49 for two years. You may begin your subscription with any issue, including the first. The address is P.O. Box 9270, Madison, WI 53715-0270.