The Official Newsletter of the Washington Science Fiction Association -- ISSN 0894-5411
Edited by Samuel Lubell lubell@bigfoot.com

Since we have an upcoming election, many readers doubtless will be curious about how frequently their elected officers attended WSFA meetings (especially should any of these officers be crazy enough to run for re-election.)
These stats cover the Jan 1997-Jan 1998 issues. During that time there were attendance stats recorded for twenty three meetings.
The first column covers the period December 5th 1996 through May 16th, 1997 (when some offices changed). The second column covers June 6, 1997 through Dec 19th, 1997. The third column covers totals.
12/5/96-5/16/97 6/6/97-12/19/97 Totals
Pres. John 8 Pres. John 13 Pres 21
VP Elspeth 6 VP Elspeth 8 VP 14
Sec Joe 9
Sec. Sam Lubell 11
Treas Bob 8 Treas Bob 13 Treas 21
Trust Candy 3
Trust Jim 3
Trust Mike 8 Trust Mike Nelson 11 Nelson 19
Trust Mike Walsh 8
Trust Eric 7
98 Chair Joe 12 Joe 21
99 Chair Sam Pierce 7 99 Chair Sam Pierce 8 Pierce15
Please note that these stats are just a recording of past performance and constitute no promise of any future results.
by Steven desJardins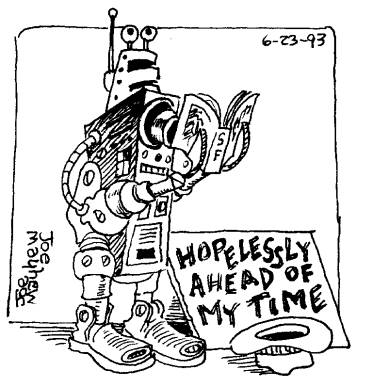 The best novel I've read this year is Walter M. Miller Jr.'s Saint Leibowitz and the Wild Horse Woman. Nobody in this tale of war, religion, and politics is entirely pure, but the best of them strive to be moral, and the protagonist's search for holiness makes this an extraordinary novel. Also worth reading is Vonda N. McIntyre's The Moon and the Sun. The heroine of this novel set in Louis XIV's court is in some ways disconcertingly modern, but if you can accept that then the story of mermaids and scientific discovery is mesmerizing.
A sarcophagus encasing nuclear wastes and the layers of protections surrounding it is the setting of Robert Reed's "The Dragons of Springplace" (F&SF, Feb. '97). This is one of those rare stories that has an epic sweep spanning centuries, as attitudes towards the bizarre structure gradually change. And some bio-engineered dragons are human as well. A powerful story from perhaps the field's most underappreciated author. "Ecopoiesis" by Geoffrey A. Landis (SF Age, March '97; http://www.sff.net/people/Geoffrey.Landis/ecopoiesis.html) is an excellent hard s.f. story about an effort to make Mars habitable, not permanently, but for a few thousand years, long enough for life to take hold. Technical wizardry combined with grand vision make this story worth seeking out.
The Horns of Elfland is the best original anthology I read last year, and Terri Windling's novella about a disabled woman coming to terms with the gradual deterioration of her body is the one story that is strongest in my memory. I recommend reading the entire anthology before voting; there isn't a clunker in the lot. A mental patient sees parallel-world versions of herself in Brian Stableford's "Inside Out" (Asimov's, March '97). Beauty and violence collide in a lushly described fantasy. William Shakespeare falls asleep drunk in a colony ship bound for the New World, and is captured by Indians, in William Sanders's nicely rendered tale of "The Undiscovered" (Asimov's March '97).
"After Kerry" by Ian McDonald (Asimov's March '97) is the story of a young woman who chooses to escape an abusive past by erasing her memories. The extent to which we can each shape of own lives is the heart of this philosophically moving story. A genetically engineered musical prodigy is nearly driven mad by visions of alternate versions of herself in Alan Brennert's "Echoes" (F&SF, May '97). Brennert is always worth reading, a remarkably humane author, and this story is one of his best.
A far-future society's elaborate code of etiquette is a thin disguise for the brutal use of power in "Guest Law" by John C. Wright (Asimov's, July '97). Exotic, dangerous, and intelligent. "No Planets Strike" by Gene Wolfe (F&SF, Jan. '97) is an unusual Christmas story, about the possible birth of a saviour on an alien world. Clowns, talking animals, a quotation from "Hamlet", and other unlikely elements mix to form a great short story.
I don't watch enough television or movies to feel comfortable making nominations in the Dramatic Presentation category, but I would like to recommend "Buffy the Vampire Slayer", the first television show in a long time good enough for me to make a point of watching every new episode. Strong characters, clever dialogue, and respect for smart people makes this show well worth watching.
The Campbell nominees who last year were in their first year of eligibility are all worthy of renomination. I particularly liked Richard Garfinkle's Celestial Matters, an esoteric science fiction story based on Aristotelian physics. Mary Doria Russell, who received wide acclaim for her novel The Sparrow, also deserves a nomination.
"Why Do You Continue to Torment Me?"
The first WSFA First Friday met at the Gillilands on Jan 2, 1998 with at least the president still hung over. "John can't talk too loud, shhh." "And now class," said someone. "We're WSFA, there is no class."
"It's the first Friday meeting. How many have already gotten your checks wrong?"
There was no treasurer present. "Check the airplanes to Brazil." "No check the freight trains."
Mike Nelson, in his role of Disclave Past, said. "I've given you all the money. Why do you continue to torment me?" Sam Pierce said there was $9 of interest because the check was turned over at third Friday.
Dis Present (Joe), said there were 266 members. He also had an amendment to the constitution. The procedure is to read the amendment this meeting and vote next meeting. He spoke to Sam Pierce about the budget. He read the staff list and told everyone to ask, "Why aren't you on it?". He created positions that are new where there were people willing to serve. Mike Nelson will be photographer. "World Con is a one time thing. Disclave is the hand of the ghod that drives our beer wagon."
Disclave 99 had nothing to say. Disclave 2000 was missing. The entertainment committee put on a riotous celebration on New Year's Eve. The club thanked the committee for arranging for the new year.
There was no old business but some new business. Joe Mayhew had an amendment to the Constitution. WSFA's convention was moved to the same data as the WSFA officers election. Joe read his amendment which called for the election to be moved from the 1st Friday in May to the Third Friday. The text is as follows:
------
AMENDMENT PROPOSAL
Disclave occurs May 1-3, and thus will co-incide with the annual elections. I propose that we move it to the 2nd meeting in May.
The relevant clause reads:
Article II (Board of Directors) Section B, Paragraph 2. "The election of all Directors (except the DISCLAVE Chairman) shall take place during the first regular meeting in May. Those elected at that meeting shall assume their offices at the first regular meeting in June.
We the undersigned support the following change in Article II, Section B, paragraph 2: "The election of all Directors (except the DISCLAVE Chairman) shall take place after the second regular meeting in May."
------
A question was raised as to who were valid members since the treasurer was not there to collect dues for the new year. Joe said that since the treasurer is not here, everyone is still a member from last year.
Mike Nelson suggested not having elections. Mike Walsh pointed out that they would then stay trustee <for life!>. He also asked about the wording saying second meeting since Disclave would presumably pre-empt the first meeting in May. Joe said he meant the second scheduled.
Also, Eric Jablow said that Jan 30th is a fifth Friday and volunteered his place for a fifth Friday party. This was done by acclamation and Eric was thanked by the club.
The meeting was unanimously adjourned at 9:37
In attendance: Pres. John Pomeranz, Sec. Samuel Lubell, Trust. Michael Nelson, Trust Michael Walsh, Trust. Eric Jablow, '98 Chair Joe Mayhew, '99 Chair Sam Pierce, Bernard Bell, Alexis and Lee Gilliland, Chris Holte, Nicki and Richard Lynch, Lance Oszko, Kathi Overton, Rebecca Prather, Tom Schaad, Steven Smith, Lee Strong, Michael Taylor, Baby New Year, Madeline Yeh, Kit Mason, Meredith Wagner.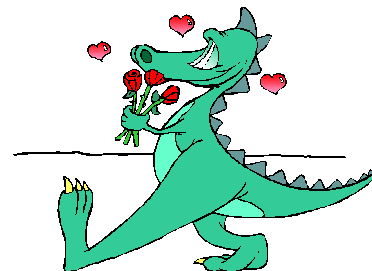 Science fiction fans have an array of special excuses for when they are caught cheating on a spouse (or country).
1. Blame it on the movies - I fought terrorists after seeing Air Force One . I had a romance while seeing The American President. Now, after seeing Wag the Dog, I'm doing a cover up.
2. Alien mind control.
3. Vodoo. You remember that doll Quayle bought that was anatomically correct...
4. Love Potion Number Nine
5. That wasn't me, that was my clone.
6. I had one too many Pan Galactic Gargleblasters
7. Subliminal messages from the tv set
8. I had to do it or these aliens would have blown up the Earth
9. It was me, but I didn't cheat. It was a version of me from the future after you are already dead
10. It was my counterpart from a parallel universe
Date: Wed, 28 Jan 1998 04:57:31 -0500
From: jim anderson <storm@bhfi.1st.net>
Organization: Baron's Haven Freehold, Inc.
To: bungalow@radix.net
Subject: Hi folks
I just wanted to drop a line to say hello to the WSFA crowd.
As you probably know I moved out of the area rather suddenly due to some unexpected changes. Since I now live in Ohio I haven't run into any of the local group since I moved.
I hope everyone is well and things are moving smoothly for the club.
For those that are interested, my latest short story to hit the shelves is now available in issue 33 of Haunts Quarterly.
James W. Anderson III CEO
Baron's Haven Freehold Inc.
A Medieval Living History Site, Theme Park and Organic Farm
Separate areas for 15th century England, Yorvik, Celtic, and Fantasy.
We recently received the following message from a Romanian SF Club. I'm printing it here in hopes that members of the club will correspond with this lonely outpost of fandom.
Date: Fri, 28 Nov 1997 19:16:42 +0200
From: Chris Fotache <chris@fx.ro>
To: bungalow@radix.net
Subject: Romanian SF Club
Hi there!
I represent the first Romanian SF club in Romania, and I'd like to see if we could make any collaboration between our societies.
Our name is Altherna Terra SF Club, we are based in Bucharest, and you can see our site at http://atsf.fx.ro
May the Net be with you,
Chris Fotache
The First Monthly WSFA Competition
by Eric Jablow
"What, you don't find pointy-eared, pointy-fanged faeries sucking the sap from a maple tree sexy?"
"Because, they have something for everyone: men like lesbians, women like elves, Goths like vampires, and masochists like 700-page books."
"Finally, a vampire book Anne Rice couldn't have done."
Above, three responses to Martin Morse Wooster's question in the Jan 25th Washington Post Book World, "Why do people read 700-page books about lesbian vampire elves?" Submit an answer, not exceeding 50 words, by February 27 to erjablow@cais.com or by postcard (typewriter, please) to Eric Jablow, 13457 Higgs Court, Herndon, VA 20171. The winner will receive a book from Eric's library. Runners-up will receive a one-year subscription to the WSFA Journal. Honorable Mentions will receive a two-year subscription to the WSFA Journal.
Preliminary Ballot
Novels
A Game of Thrones, George R.R. Martin (Bantam, Aug96)
Acts of Conscience, William Barton (Warner, Jan97)
An Exchange of Hostages, Susan Matthews (Avon, Apr97)
Ancient Shores, Jack McDevitt (Harper Prism, Apr96)
Bellwether, Connie Willis (Bantam, Apr96)
Blameless in Abaddon, James Morrow (Harcourt Brace, Aug96)
Catch the Lightning, Catherine Asaro (Tor, Dec96)
Celestial Matters, Richard Garfinkle (Tor, Apr96)
City on Fire, Walter Jon Williams (Harper Collins, Jan97)
Clouds End, Sean Stewart (Ace, Aug96)
Corrupting Dr. Nice, John Kessel (Tor, Feb97)
Crota, Owl Goingback (Donald I. Fine, Apr96)
Devil's Tower, Mark Sumner (Del Rey, Oct96)
Drakon, S.M. Stirling (Baen, Feb96)
Exodus From the Long Sun, Gene Wolfe (Tor, Nov96)
Expendable, James Alan Gardner (AvoNova, Jul97)
Firestar, Michael F. Flynn (Tor, May96)
God's Fires, Patricia Anthony (Ace, Apr97)
Groogleman, Debra Doyle & James Macdonald (Jane Yolen Books, Sep96)
Higher Education, Charles Sheffield & Jerry Pournelle (Analog, Feb-May96)
How Like a God, Brenda Clough (Tor, Mar97)
Humpty Dumpty: An Oval, Damon Knight (Tor, Sep96)
Instrument of Fate, Christie Golden (Ace, Apr96)
King's Dragon, Kate Elliott (DAW, Feb97)
Kings of the High Frontier, Victor Koman (pulpless.com, Jun96)
Lunatics, Bradley Denton (St. Martin's Press, Jun96)
Memory, Lois McMaster Bujold (Baen, Oct96)
Murder in the Solid State, Wil McCarthy (Tor, Aug96)
One for the Morning Glory, John Barnes (Tor, Apr96)
Palace, Katharine Kerr & Mark A. Kreighbaum (Bantam, Jun96)
Shadowdance, Robin Wayne Bailey (White Wolf, Mar96)
Shards of Empire, Susan Shwartz (Tor, Apr96)
The Fortunate Fall, Raphael Carter (Tor, Jul96)
The Moon and the Sun, Vonda McIntyre (Pocket Books, Sep97)
The Ringworld Throne, Larry Niven (Del Rey, Jun96)
The Sweetheart Season, Karen Joy Fowler (Henry Holt, Sep96)
The Wood Wife, Terri Windling (Tor, Oct96)
Tomorrow and Tomorrow, Charles Sheffield (Bantam, Jan97)
Widowmaker, Mike Resnick (Bantam, Aug96)
Wildside, Steven Gould (Tor, Apr96)
Novellas
"Abandon in Place", Jerry Oltion (F&SF, Dec96)
"Candle in a Bottle", Carolyn Ives Gilman (F&SF, Nov96)
"Chrysalis", Robert Reed (Asimov's, Sep96)
"Loose Ends", Paul Levinson (Analog, May97)
"Primrose and Thorn", Bud Sparhawk (Analog, May96)
"The Funeral March of the Marionettes", Adam-Troy Castro (F&SF, Jul97)
"The Weighing of Ayre", Gregory Feeley (Starlight, Tor, Sep96)
Novelettes
"Amateurs," Tom Ligon (Analog, Jul96)
"Broken Symmetry," Michael A. Burstein (Analog, Feb97)
"Changes," William Barton (Aboriginal SF, Aug96)
"Galley Slave," Jean Lamb (Analog, Aug96)
"Liza and the Crazy Water Man," Andy Duncan (Starlight, Tor, Sep96)
"Never Seen By Waking Eyes," Stephen Dedman (F&SF, Aug96)
"Saint Vitus Dances Eternity: A Sarajevo Ghost Story," Stewart Von Allmen (White Wolf, Jul96)
"Scapegoat," Susan Kroupa (Realms of Fantasy, Oct96)
"The Copyright Notice Case," Paul Levinson (Analog, Apr96)
"The Dog's Story," Eleanor Arnason (Asimov's, May96)
"The Flowers of Aulit Prison," Nancy Kress (Asimov's, Nov96)
"The God at Midnight," Thomas E. Fuller & Brad Strickland (Realms of Fantasy, Jun96)
"The Mendelian Lamp Case," Paul Levinson (Analog, Apr97)
"The Miracle of Ivar Avenue," John Kessel (Intersections, Tor, Feb96)
"The Undiscovered," William Sanders (Asimov's, Mar97)
"Three Hearings on the Existence of Snakes in the Human Bloodstream," James Alan Gardner (Asimov's, Feb97)
"Try and Kill It," Gene Wolfe (Asimov's, Nov96)
"We Will Drink a Fish Together," Bill Johnson (Asimov's, May97)
"Werewolves in Sheep's Clothing," Michael Coney (F&SF, Sep96)
"Words and Music," William Sanders (Asimov's, Jul97)
Short Stories
"43 Antarean Dynasties", Mike Resnick (Asimov's, Dec97)
"Beluthahatchi"e, Andy Duncan (Asimov's, Mar97)
"Beside the Well", Leslie What (Bending the Landscape: Fantasy, White Wolf, Mar97)
"Burning Bright", K.D. Wentworth (Aboriginal SF, Aug96)
"In the House of the Man in the Moon", Richard Bowes (Bending the Landscape: Fantasy, White Wolf, Mar97)
"Itsy Bitsy Spider", James Patrick Kelly (Asimov's, Jun97)
"Nairich", William F. Wu (Realms of Fantasy, Oct96)
"No Blood On My Hands", Pete D. Manison (Analog, Aug96)
"Orphans of Eden", Spider Robinson (Analog, Aug96)
"Peking Man", Robert J. Sawyer (Dark Destiny III, White Wolf, Oct96)
"Sister Emily's Lightship", Jane Yolen (Starlight, Tor, Sep96)
"Snowball", Jeffery D. Kooistra (Analog, Jul96)
"Sound of Angels", L.S. Silverthorne (Bending the Landscape: Fantasy, White Wolf, Mar97)
"Teddy", Rob Chilson (Analog, Jan96)
"That Cruel Pauli Exclusion", Kent Patterson (F&SF, Feb97)
"The Dead", Michael Swanwick (Starlight, Tor, Sep96)
"The Elizabeth Complex", Karen Joy Fowler (Crank 6, Apr96)
"The Hammerpond Park Burglary", Ted Reynolds (Analog, Oct96)
"The Shape of Things to Come", Marianne Dyson (Analog, Mar96)
"The Spectral Stardrive", Jerry Oltion (Analog, Nov96)
"United Powers", Kathleen M. Massie-Ferch (MZBFM, Aug96)
"Universal Grammar", Mary Soon Lee (F&SF, Apr97)
"Waking Beauty", Martha Soukup (Starlight, Tor, Sep96)
"Water Snakes", Holly Wade Matter (Bending the Landscape: Fantasy, White Wolf, Mar97)
"Where Garagiola Waits", Rick Wilber (F&SF, Apr97)
Parts of these can be downloaded at http://www.sfwa.org/awards/neb_recs.htm
Real Business and Chair-napping Done at WSFA Meeting.
The Chairman of the 1/16 WSFA third Friday announced that he loved his chair and played a game of couchsitting., "Hey, let's have a meeting. Tell the people in the kitchen to get your buns here," said John. "We're voting on your future here. You may think the future is only in books. Da da da, name the one hit wonder band." It turned out to be Trio. "Now, we're actually going to have a meeting." Expressions of shock and disbelief were heard. "It's a whooping 9:19"
The motion from the previous meeting was read. The chair ruled that any questions about the invalidation of the signatures were invalid. Perrianne asked if it would be possible to change the date of the election without amending the Constitution each time Disclave moves. John said Joe said that it was easy to amend the constitution. We don't know when next year's Disclave will be.
Alexis said that since Disclave is uncertain, we should take it one year at a time. Joe responded that "We've lost this weekend. Too competitive. There is a good chance that we won't be on Memorial Day next year. If we stay on this weekend, we won't have to change. It is easy to amend the Constitution. It just takes two meetings and a signature. You can't amend an amendment at the meeting."
Alexis asked about Disclave members being in WSFA. Joe said they were just associate members. A person said that people fooling around at cons could have a cat elected president. "And that would be a bad thing?" asked Perriane.
The treasurer reported $8,766.76. Let's go to the Bahamas. "Me and my chair will be coming," said John. "You can have the sofa too" responded the saleswoman Erica. There was a call for dues. John said that because the proposal was made last year, everyone was grandfathered in. <but I haven't even had children yet.>
Mike Nelson, in his role as Trustee, said there is an election coming up. "As you can see from watching John, anyone can be a WSFA president. Members should see a trustee to get on the slate." Mike Walsh said. "We're looking for a few warm bodies or semi-warm bodies." The Entertainment committee saw a picture of the makeover of Paula Jones.
Erica said that the last time WSFA was over we made a big mess. There were lots of bottles and cans left spewn over. It took two hours to clean. She asked everyone to clean up after everyone else. Not just themselves. Please throw wrapping paper in trashcans. "Y'all are pigs," said our president <John, not Clinton> Joe called it a case of soey genesis. John said try not to trash the host. Be nice and offer to clean up. Erica asked people not to come before 8:30 because she's still setting up. Under general circumstances clear out by 1 am, tonight by midnight because Lydia is sick. John added that "we'll be bleeding Lydia and using leeches later tonight."
Mike Nelson, in his other role of DisPast said. "You got all our cash. What about insurance?" John confessed to being lax and will get on the stick so we are insurenced. Mike said, "You don't have to call on me again." And "Pat `Anthony will be at Bucconeer."
Joe as Dis 98 said he had made an error in the number of members. We really have five a million 252 paid members. Got a couple of members. Colleen will be doing the con suite. Keith will be doing sodas. We have two rooms for the con suite so we need lots of people. We have to reinvent the con suite. He hopes to have parties on that floor. He got a cover from the artist that has a picture of "The Bears Discover Firepower" <support the right to arm bears!>. He asked if anyone would be interested in getting shirts with the cover. The answer was yes! There will be a place for filking.
Lee suggested making the chair the chair of Disclave. John ruled him out of order.
The club then returned to discussing the amendment. Discussion started with a moment of silence at the request of Erica "for the sapling that died to bring us this piece of common sense. She called for a closing of debate."
Alexis warned that amending the constitution whenever Disclave changed dates. "would give people practice at amending the constitution, which could be dangerous."
There were no other objections to closing debate and the motion was accepted by acclamation. Huzzah huzzah!
Erica pointed to the recycling bins and asked that we do our duty by the paper the motion was printed on.
Because there were new people at the meeting, John introduced himself as did all other members (some with hand motions).
Eric Jablow is hosting a fifth Friday party and had an eight page flyer with directions to his house. <He lives way, way, out in the Virginia wilderness> If you get lost dial 703-808-HELP <whoever has that number must be used to people yelling HELP>. Chuck is doing his procrastinator's New Year's Party January 31st <which was a lot of fun -your procrastinating secretary.>
Mary Bently made her first-ever announcement which fit into the meeting's recycling theme. The girl scouts are doing recycling of ink-jet cartridges. If you have any, give them to Mary or any other girl scout.
Perrianne is unemployed. This is hopefully temporary. See her if you want to be green at Balticon <as an expect in infectious diseases, she can tell you exactly what disease you would need to catch and when to expose yourself to it>.
The Science Fiction Book Club has picked up the Lensmen books. Yay! said the club.
Candy Meyers called for the meeting to be adjourned. It was unanimously adjourned at 9:57. Following the meeting John asked Erica if she was serious about letting him take the chair. She was <but he has to bring it back for meetings>. John and bunch of heavyweight lifters then hoisted the chair and heisted it right out of her house.
In attendance: Pres. John Pomeranz, Sec. Samuel Lubell, Treas Bob MacIntosh, Trust. Michael Nelson, Trust Michael Walsh, Trust. Eric Jablow, '98 Chair Joe Mayhew, 2000 Chair Covert Beach, Bernard Bell, Mary Bentley, Alexis Gilliland, Erica and Karl Ginter, Chris Holte, Judy Kindell, Perrianne Lurie, Nicki and Richard Lynch, John Madigan, Keith Marshall, Candy Meyers, Barry and Meridel Newton, Lee Strong, Colleen Stumbaugh, Michael Taylor, Jim Tracy, Shirl Phelps, Sara Miskevich, Abner Mintz.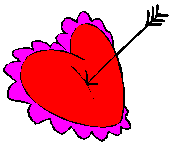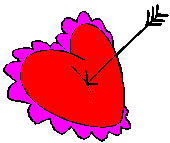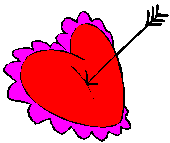 Science Fictional Leaders have quick explanations when accused of cheating on other women.
1. Emperor Paul Atriedes I (Dune) "History will call them wives"
2. Captain Kirk (Trek) "I have one on every planet."
3. Lazarus Long (Time Enough for Love) "Which one?"
4. Lazarus Long (Time Enough for Love) "Actually, she was my mother"
5. Kimball Kinnson. (Lensmen) "Lensmen cannot lie. I did nothing."
6. Delean (B-5) "One commander of B-5 is pretty much like the other"
7. Harri Seldin (Foundation) "It was historically inevitable"
8. Hal (2001) "It was a mistake of monolithic proportions"
9. Ender (Xenocide) "Jane is just a computer. You're not jealous of a computer?"
10. Luke Skywalker (Star Wars) "Leia is my WHAT!"
Overseas correspondant Lance Oszko reports that:
Gdansk Poland will host Eurocon 2000.
In 1998 the Japanese National Convention Capricon will be three weeks after Bucconeer on 29 August 1998
There does not seem to be a 1999 convention. They may be going to Australia.
In 2000 The Japanese National Convention will be called Zero-Con.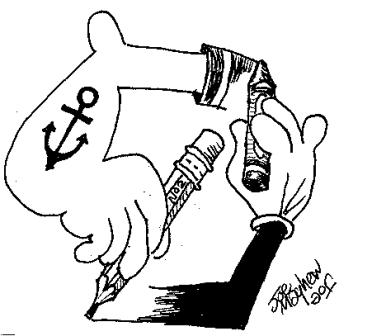 London Sunday Times Accuses Arthur C. Clarke
of Sex with Children
Here is the story that was up on the web:
From the London Sunday Times of February 1 1998
"Arthur C Clarke Sex Scandal Hits Charles's Sri Lanka Visit
by Yvonne Ridley
THE Prince of Wales's visit to Sri Lanka this week hit a new problem last night after Arthur C Clarke, the respected science fiction writer due to be knighted by Charles, allegedly confessed to being a paedophile.
The investiture is due to take place on Wednesday during the prince's visit, which coincides with the celebrations for the 50th anniversary of the island's independence.
Downing Street said last night: "As far as we are concerned the investiture is still going ahead as planned." A spokesman refused to comment on the possibility of a forfeiture of the honour by the 80-year-old author of 2001: A Space Odyssey.
Clarke's revelations, published in today's Sunday Mirror, are bound to embarrass Tony Blair, who named him in his first new year honours as prime minister.
Last night diplomats in Colombo, the island's capital, were being asked to assess the author's tabloid confession. If the report is taken at face value the ceremony is unlikely to go ahead. Buckingham Palace advisers contacted British embassy officials in Sri Lanka this year to make discreet inquiries after rumours about Clarke's sexuality and private life. They reported that, although Clarke was known to be gay, there was no evidence of paedophilia.
The British-born author of more than 80 novels, who has adopted Sri Lanka as his home, was unable to travel to Britain to receive his knighthood from the Queen because he is virtually confined to a wheelchair as a result of post-polio syndrome.
However...
According to CNN, Clarke has denied the allegations. "I am outraged by the Sunday
Mirror's allegations, and I am seeking legal advise," Clarke said in a brief statement read to reporters by his secretary, Roshan Amarasekhara. "In view of the nature of this story, I have asked that my investiture be postponed in order to avoid embarrassment to His Royal Highness the Prince of Wales during his visit to Sri Lanka," Clarke said. British embassy officials could not immediately be reached for comment.
On the web some Englishmen questioned the timing of this report (right before Prince Charles' visit) as a deliberate attempt to embarrass the royals.