Writing Science Fiction
A forum sponsored by WSFA and the Smithsonian Associates
WSFA was delighted to be asked by the Smithsonian Associates (the continuing education arm of the Smithsonian Institution) to co-sponsor a forum on Writing Science Fiction. The resulting forum drew a crowd of over one hundred people on October 22 and 23, 1999 to hear SF authors, editors, and critics offer tips for would-be SF professionals. Author William Gibson gave the keynote address, and SF critic and encyclopedist John Clute moderated the program.
Below, you will find more information about the forum, including:


Left to right: Brenda Clough, Elizabeth Hand, John Clute, Catherine Asaro, David Hartwell, Betsy Mitchell, Gardner Dozois, Eric Kotani, Roger MacBride Allen, Lawrence Watt-Evans.


(with links to their official web sites, if any)

John Clute
David Hartwell
Shariann Lewitt
Betsy Mitchell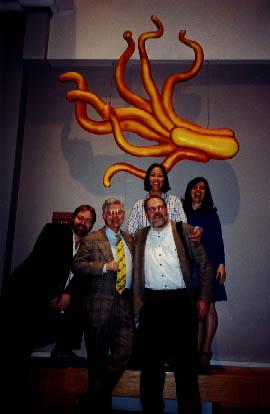 Left to right: Lawrence Watt-Evans, David Hartwell, Roger MacBride Allen, Brenda Clough, Catherine Asaro, and an unnamed giant orange squid.

WEEKEND SEMINAR: Fri., Oct. 22, 6 to 8:30 p.m.; Sat., Oct. 23, 9:30 a.m. to 5:30 p.m.
Fifty years ago, science fiction was consigned to the pages of pulp magazines with lurid covers. Today, it is a near-constant presence on best-seller lists; science-fiction blockbusters dominate movie screens; and mainstream fiction authors use science fiction elements and themes in their work.
In this seminar, panels of award-winning authors, editors, and publishing industry representatives offer practical advice to the new writer and to writers new to the genre.
OCT 22 (FRI)
6 to 7:15 p.m. What is Science Fiction and How Do I Know if I'm Writing It?
An overview of the genre. How its past informs the current state of writing; current trends foreshadowing the future. Panelists: Brenda Clough, author of several science fiction novels, most recently How Like a God; David Hartwell, editor, Tor Books; Paul Levinson, author and current president of the Science Fiction and Fantasy Writers of America (SFWA).
7:30 to 8:30 p.m. William Gibson: Making a Life in Science Fiction
William Gibson's stories have been hailed by scientists, policymakers, and futurists as visionary prophecies of a near future made by technology. His classic novel Neuromancer and his subsequent dark tales of computer-enhanced urban jungles, have set the standard by which all other modern science fiction is measured. Tonight he talks about his career and offers advice about opportunities and pitfalls for new writers. His new novel All Tomorrow's Parties (Putnam) is available for signing after the program.
OCT 23 (SAT)
9:30 to 10:20 a.m. The Building Blocks of Science Fiction
Basic elements and themes of science fiction. Overused plots that writers should avoid. Panelists: Roger MacBride Allen, author of a best-selling Star Wars trilogy and other works; Gardner Dozois, editor of Isaac Asimov's Science Fiction Magazine and Hugo award winner; Michael Swanwick, a Nebula award winner for Stations of the Tide.
10:30 to 11:20 a.m. Extrapolating the Future
How do science fiction writers imagine and portray a world yet-to-come. Panelists: Catherine Asaro, whose compelling stories based on hard science won her a Hugo nomination; Elizabeth Hand, whose novels blending science fiction and fantasy include two set in Washington; Shariann Lewitt, author of cyberpunk and military science-fiction novels; Michael Swanwick.
11:30 a.m. to 1 p.m. Lunch
1 to 1:50 p.m. The Science of World-Building
World-building techniques and resources available for non-scientist writers who want to create a new world. Panelists: Author Eric Kotani (pen name for an astrophysicist), whose scientific background is evident in his works; Catherine Asaro; Michael Swanwick.
2 to 2:50 p.m. Writing for Franchised Worlds
The practical considerations of writing SF based on already-established settings and characters (such as those from popular TV series). Panelists: Lawrence Watt-Evans, Hugo award winner for Why I Left Harry's All-Night Hamburgers; Roger MacBride Allen.
3 to 3:50 p.m. Characters: Human, Alien, and Other ...
How to create believable characters who are comprehensible to readers. Panelists: Susan Casper, a writer and editor of SF for more than 15 years; Gardner Dozois; Michael Swanwick.
4 to 4:50 p.m. The Business of Science Fiction
Getting the work published, and pitfalls to avoid. Panelists: Betsy Mitchell, award-winning editor-in-chief for Warner Aspect publishing line; Brenda Clough;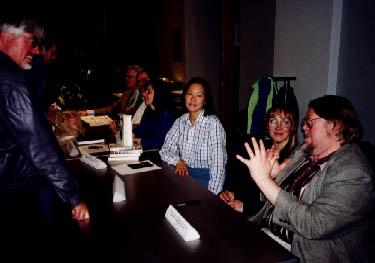 The book signing. Seated, left to right: David Hartwell, Roger MacBride Allen, Brenda Clough, Elizabeth Hand, Gardner Dozois.

During the course of the forum, a number of panelists mentioned on-line resources, some of which are collected below:

WSFA Home (frames) | WSFA Home (no frames)

This page was created 14 November, 1999. This page was last updated 24 May, 2000.